Another one in the bag! Finish number two for 2018. And this one is a dreamy pile of mohair and pink. Love, love, love it!
My quest to work through my ridiculously whopping collection of UFOs is off to a good start.  Last week, I put the finishing touches (other than blocking) on my Birds of a Feather shawl. Andrea Mowry's creation using alternating sections of Hedgehog Fibre's Skinny Single and Kidsilk Lace yarns.  Woohoo!!!  Started last Spring, when I saw the design published in Laine Volume 2, and fell in love.  Have to admit, mohair isn't one of my faves.  But the colorplay between the two yarns - you use the same shade in the two different bases - was very entertaining.  I used Teacup, which is mostly cream with tiny flecks of brown and (of course) pink.  Mmmmmmm!  The ethereal mohair lace makes the color ever so subtle, almost like stained glass.  I'm also not a huge wearer of shawls.  Love to make them and learn new stitches / techniques, though.  I just might make an exception with this beauty.  Asymmetry meets fluffy and pink.  And its ample in size to wrap around, and around, and . . .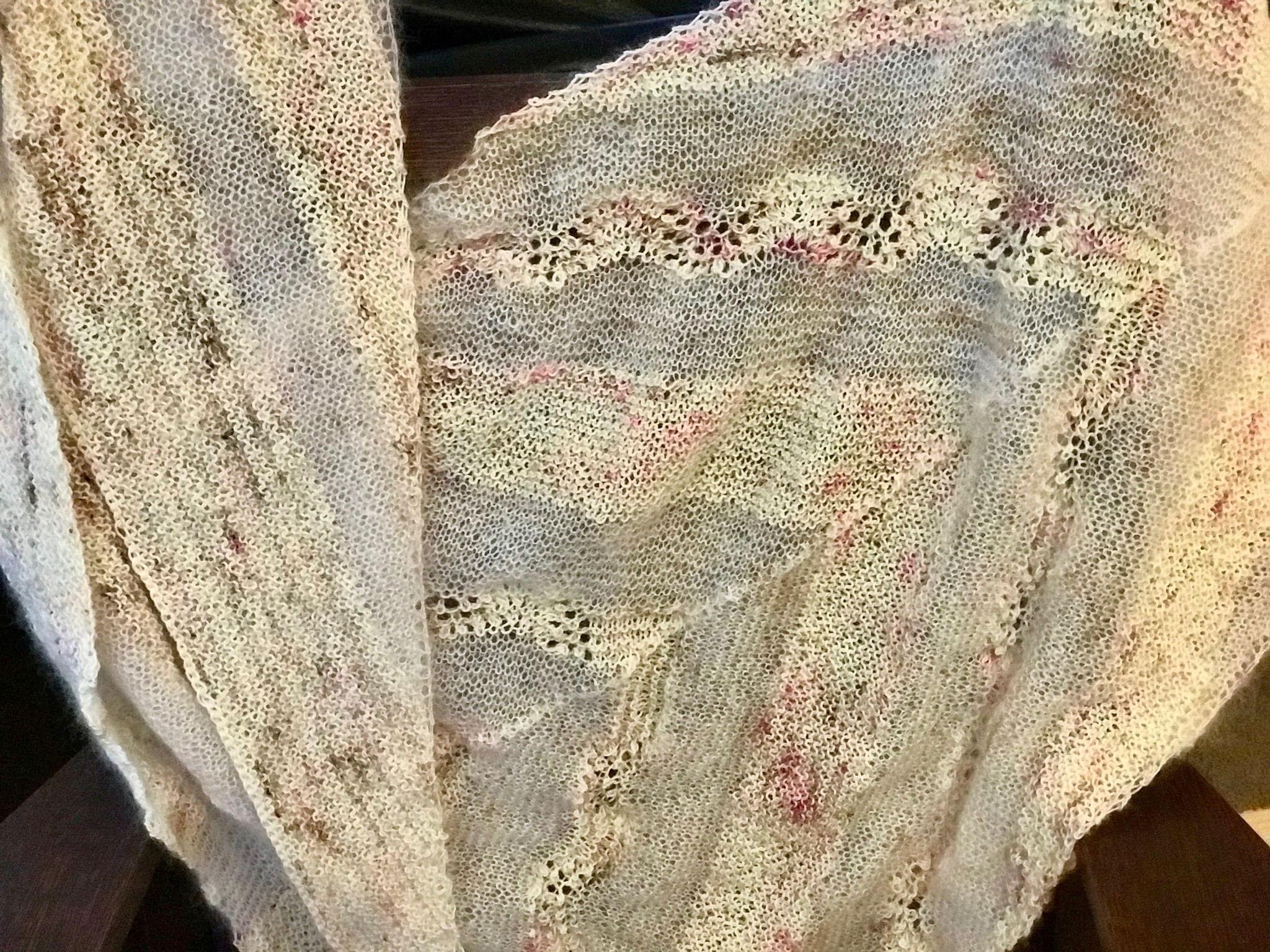 What next?  Well, I'm guessing that the RCYC Mystery is going to impede my progress just a smidge.  But I did pull out my Find Your Fade, also started last spring.  Having a very similar stitch pattern as Birds of a Feather, thought it'd be a natural transition.  No memorization required.  Same knitting, different colors.  And speaking of colors.  Ha!  So funny how a few months can change one's preferences.  Find Your Fade uses 7 different colors.  As I relaunched my knit, I found myself wondering what I was thinking last April.  Those colors look awful together!  Result?  I've swapped out all but 2.  Yikes!  No harm, no foul, though.  The only thing bigger than my mammoth sized UFO collection is my stash.  A mini yarn store in my craft room.