What's the best way to follow up a long, intense, yardage eating knitting project? Knock out a hat, of course. But when I do it, its hard to knit just one.
I'm a sucker for a new, cute hat. On the latest cover of a magazine or book, in a newsletter, or on someone's head – when I see it, I immediately start mulling over color and yarn possibilities. I've even been known to base purchasing decisions for the store on the emergence of a new hat design. What is it about a hat that gets me every time? Might be the short time to get it from start to finish (of course, unless you're like me – having multiple hats going at once). Or a chance to try a new yarn or technique, perhaps. It's not that I look good in a cute hat, because I don't. Whatever the enticement, I'm definitely hard pressed to pass on a good hat knit. Here's what's on my plethora of short needles right now:
Izel. Veronika Jobe's hat pattern featuring a stretchy, wide twisted rib brim and a beautiful colorwork motif. Since we started carrying Spincycle's fabulous new yarn, Versus, I've been scratching my head for inspiration. Scratch no more. Paired with the lovely, rustic silk infused Acadia from the Fibre Company, I've got 2 Izels underway – one gray and white Versus ("Slow & Steady") with burnt orange Acadia, the other powder blue and gray Versus ("Ebb & Flow") with creamy white Acadia. Lovely yarn, lovely design. So fun to knit!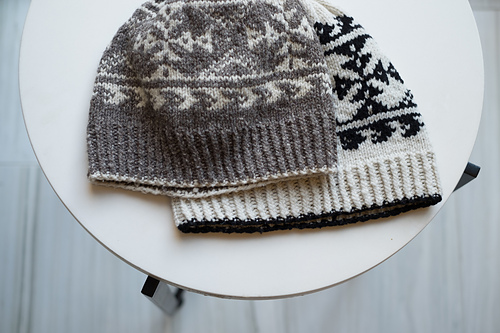 Eshaness. Designed for Wool Journey by Amber Platzer Corcoran, this stunner is a modern twist on the classic Shetland Isle stranded colorwork, with simple, easy to memorize geometric patterning. And wouldn't you know it – shown in not one but two color combos of Jamieson's Spindrift; so crunchy and wonderfully Shetland. There's two more hats in my queue.
Bousta Beanie. Another Shetland inspired hat using Spindrift, this one designed by Gudrun Johnston for the 2017 Shetland Wool Week. Using all the colors found in Shetland – blues of the sea, mossy greens and browns of the hills, bright pops of wildflowers and lavender heather in the Scottish summer – this slouchy hat is styled to pull down over your ears against the cold and windy Shetland (or Oregon) coast. You can almost hear the bagpipes when you close your eyes whilst knitting (a wee dram 'o scotch enhances the experience, too).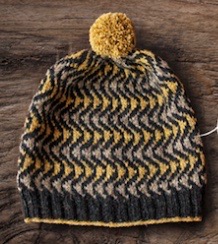 An Anne creation. A customer returned a skein of Tosh Sport in one of my favorite reds, Blood Runs Cold. Can't resell it, so it must become a hat. Again pairing it with an awesome skein of Versus (black and white "Suit & Tie"), I'm having a blast playing with stitch ioptions. Never get tired of looking at this gorgeous red! Stay tuned – the pattern will be coming your way.
So there's just 6 of the many hat projects I have tucked inside project bags (of which I also have a lot of, but that's another story). How great is that. Pattern, yarn and cute little project bag at the ready – just grab and go. Love, love, love a good hat project.