Holidays are over, so its selfish knitting time. What will it be? Socks!!!!!
It's no secret - my favorite thing to knit, besides bobbles, is socks.  A long-lived passion of mine.  Those teensie weensie needles.  The plethora of colorful soc yarns.  And no scarcity of wonderful sock patterns.  What better way to welcome a new year, and some selfish knitting time than picking up and knitting a great pair of socks.  My zeal for knitting these lovely little toe warmers was reawakened this past week as I prepared to teach a group of knitters how to knit socks.  I always like to have an example of each step to show folks - samples are worth so much more than mere instructions or words.  And of course, I have a whole basket of socks in various stages of completion.  A cuff in the beginning stages of ribbing to show how the magic loop works.  Another project ready to add the heel flap, then demonstrate how to turn a heel and work a gusset.  And of course, a toe ready for the Kitchener stitch to be worked.  Yup, I had them all; or at least was very close.  Perfect opportunity to make some progress on them all.  So what lovelies did I discover in the bottom of my Sock UFO basket?  Some real beauties.
For the Cuff / Ribbing.  For the past two years, I've subscribed to Helen Stewart's (aka Curious Handmade) annual Society of Socks Club.  Six fabulous sock patterns released over the course of a year.  The last release in the first year was a simple yet elegant design, Red Robin Socks.  The cuff and toe are knit in one solid color, with the body of the sock knit in another.  And Helen is a master of simple patterns that are more than stockinette, but easy to execute.  This one is a 4 round repeat - 3 rounds of knitting, then one patterned round.  I had finished one sock, then, as often the case in my knitting life, got distracted and moved on before knitting sock number two.  I had started it, though, with 5 rounds of 1 x 1 ribbing complete.  Perfect!  My rose pink cuff was the star of my sock class, introducing to sock newbies how to knit small circumferences with a really long needle.  And its pink!
Turning the Heel.  When I dug through my overflowing basket of partially knit socks, I was surprised at how many socks I'd knit just past the heel, then abandoned.  Light bulb moment - I love knitting the heels!  Watching as the short rows magically produce that little curve, then picking up the heel flap stitches and turning it into a real sock.  But no help to me in my quest for a sample sock, ready to show sock knitting newbies how truly amazing the heel magic works.  I did find one, however that had a finished cuff and one of the three pattern repeats complete. Stephanie Van Der Linden's 'Route 66 Socks,' from her book "Around the World in Knitted Socks."  This was a project that had been pulling at my heartstrings to finish (or at least to play with for a while) for a while.  It's my first foray into stranded colorwork in socks.  Unlike Stephanie's balck and white, I knit mine using Knitted Wit's Pixie Plied 'PDX Carpet.'  A splash of bling, and colorful green, purple and red, giving a nod to our beloved airport colorscheme.  This past week, I plugged in my earbuds, dialed up a new audiobook (from Sally Goldenbaum's Seaside Knitters Series, Murder at Lambswool Farm), and finished the leg of my Route 66 sock.  All ready now to share the magic of creating a knitted heel.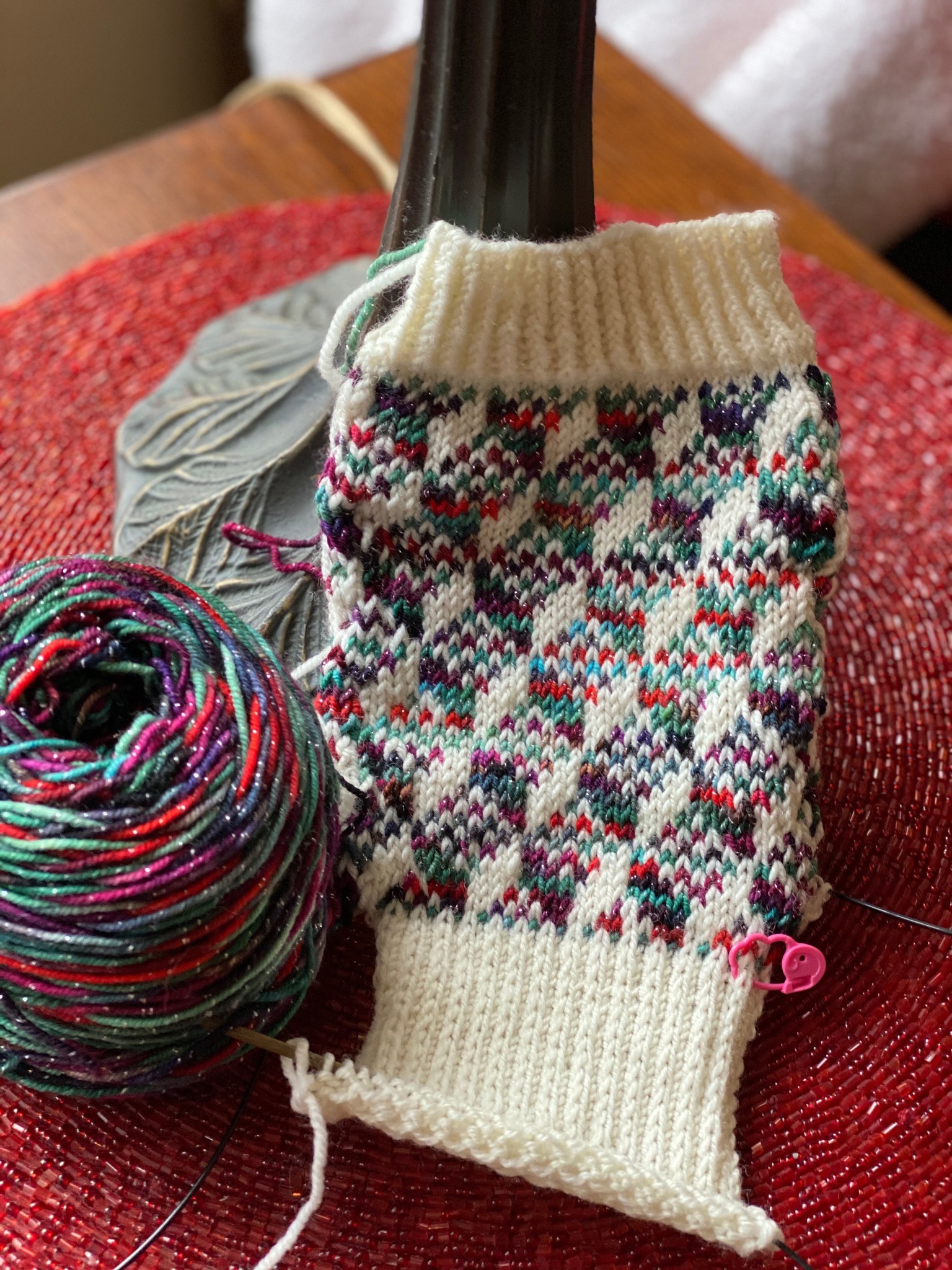 Toe and the Kitchener Stitch.  Surprise, surprise.  A new design, released on Christmas Eve, caught my eye, and my needles.  Iced Sugar Cookies from designer Danielle Jorge.  And perfect timing, just as selfish knitting truly begins.  No shocker that there's now a pair on my needles.  What is astonishing is that I've stuck with them, and they'll be ready for a toe by he time my class reconvenes.  Yes, them - I actually did both socks at the same time, on two separate needles.  All set to prove to skeptical knitters that the Kitchener Stitch is no big deal.  Unlike the colors Jorge used, I opted for a brighter pop.  I had a skein in my stash; a lovely and special one that came all the way back from the Edinburgh Yarn Festival a few years ago.  Yet another pair of socks nearly complete.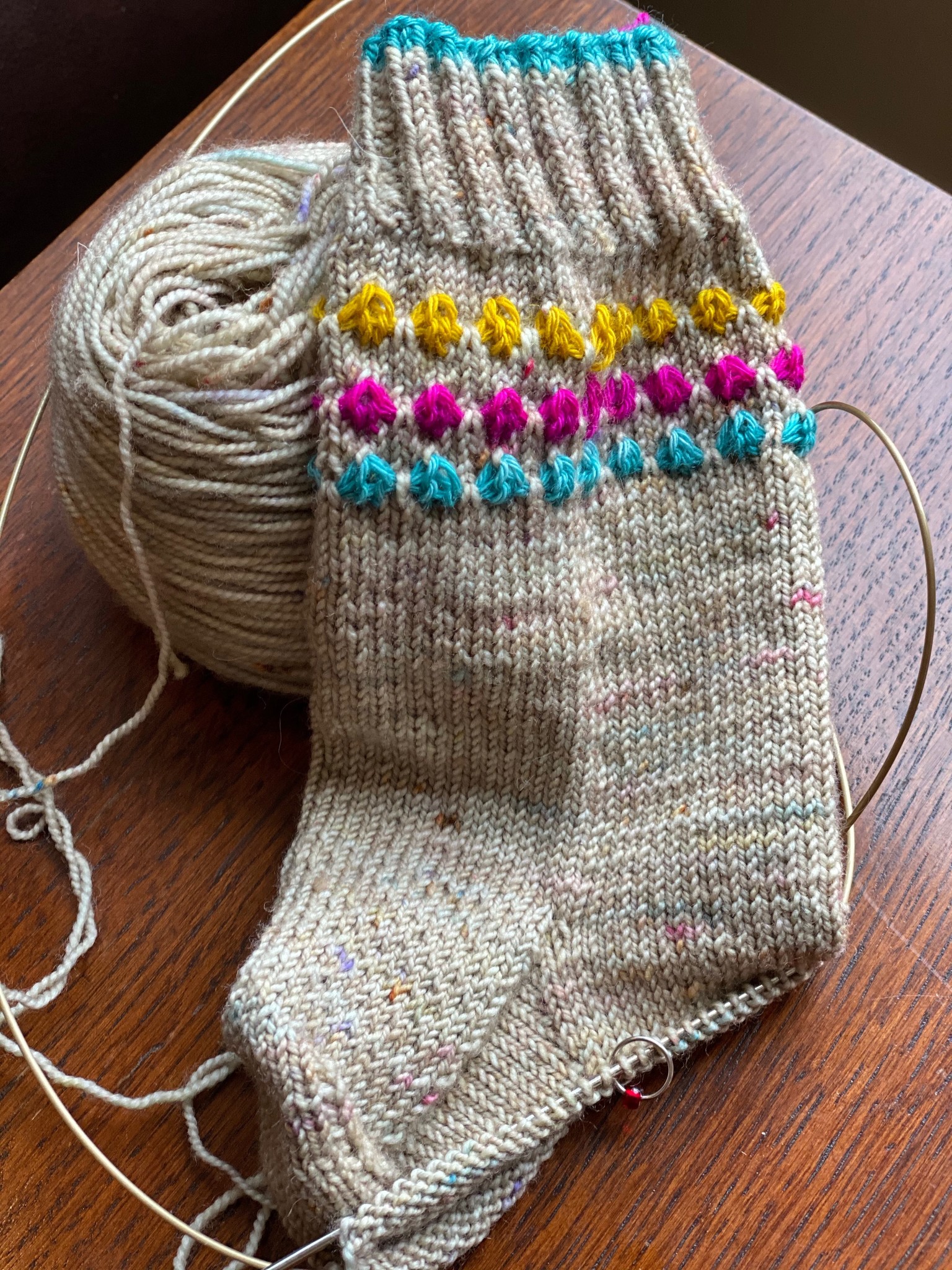 Finally, as is always the case, the old blossoms into new.  As I worked through my UFO socks, I discovered other irresistible designs and yarn.  Another sparkly, eye-popping skein from Knitted Wit (Pixie Plied Sundress), a delightful colorwork pattern that's been sitting in my cue for some time now (Coop Knits' Alfrick), and a beautiful anklet I stumbled across recently (Lyne Socks designed by Dawn Henderson).  Just as my basket empties, so it becomes full again.  A happy predicament, for sure!