Beautiful (and sometimes just silly hot) weather, gorgeous, colorful sock yarns, inspiring new designs, and those teenie tiny needles. This summer has drawn me back to my original passion - sock knitting.
I'm pretty sure I've mentioned at least once how much I love knitting socks.  Sure, I enjoy those mystery shawls, the occasional hat (although I rarely wear them - bangs and hats just don't work for me), a challenging fair isle journey, or the occasional sweater.  But my true love (in the realm of yarn, that is) are those sassy little toe warmers.  And those crazy small needles.  When I first started knitting socks, I avoided anything smaller than a 1 or 2 at all costs.  But now, give me a double aught any day.  Those extra tight, super defined stitches are to die for.  And what better time to knit socks - summer!  Each year, the warmer months are accompanied by a plethora of sock yarns and designs.  And 2021 did not disappoint.  Here's just a few of the beauties gracing my needles.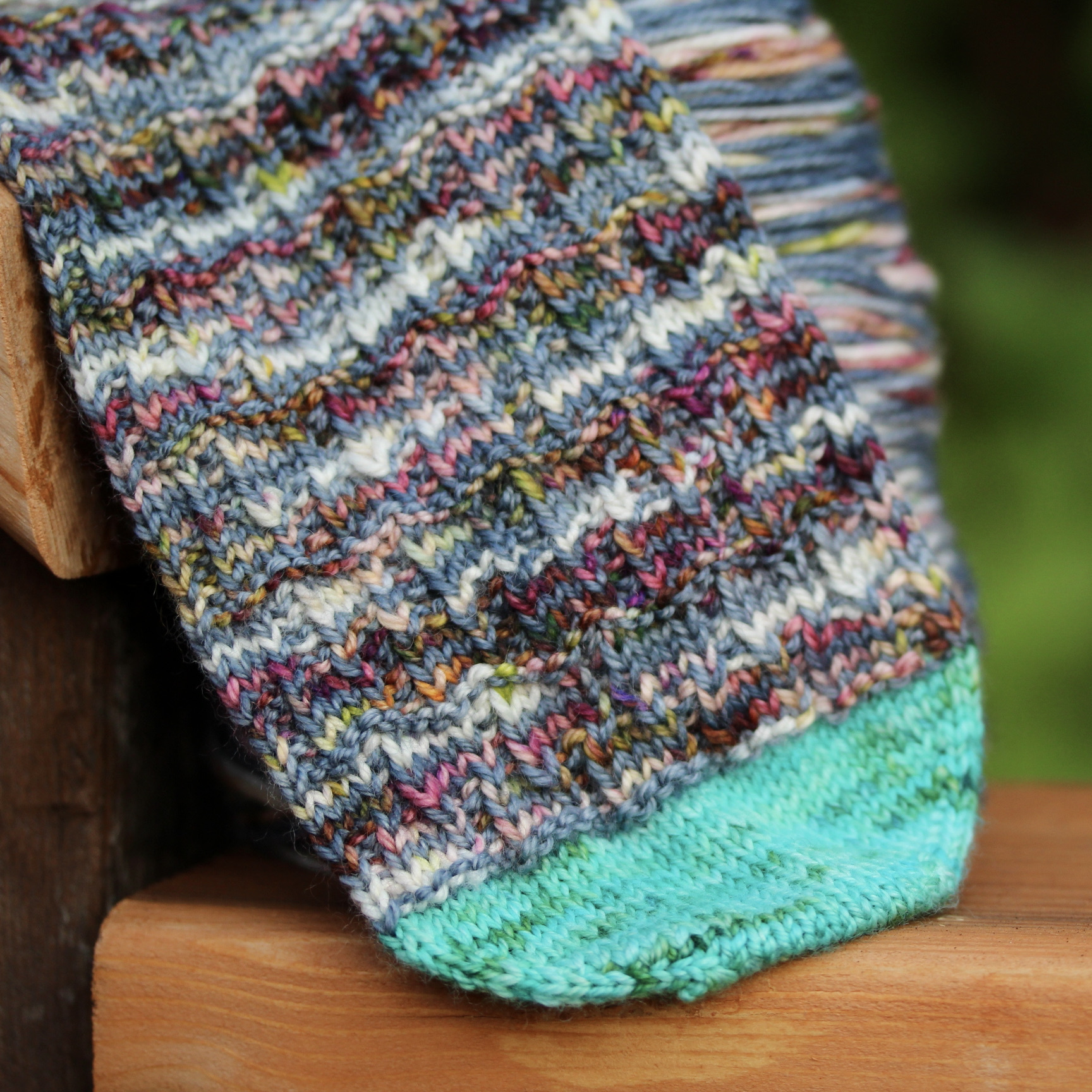 Sock It! Club August.  Hooray!  I love this annual promotion from Dream In Color.  4 fabulous color combos, with a full skein and coordinated mini.  Last year, I offered up my own Vanilla patterns with each release.  This go round, I'm knitting up some of my favorite designs and sharing with y'all. The August colorway, inspired by a park and walkway in Chicago, is working up beautifully in Shanno Squires design, Lickity-Split.  A fun, easy to memorize basket weave-ish pattern.  And a really cool heel.  It's knit toe up, with a gusset that increases from the center of the sole.  Wacky!  I'd not ever done one like this, but love it.  May try to incorporate the technique in a new Vanilla pattern.  And the color is awesome!  A really pretty grayish blue, with ever changing pops of white, yellow, golds, browns, and (you guessed it) PINK!  Thank you Dream in Color and Shannon.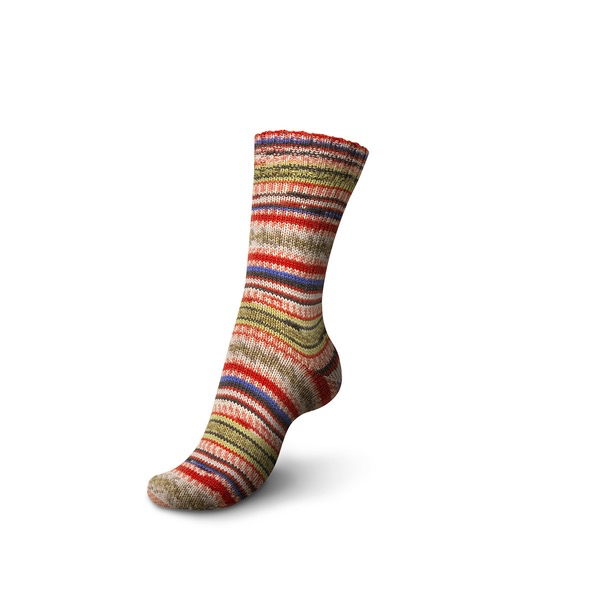 Lofoten.  From those fun Norwegian knitting guys.  Initially, I thought this was just another Regia self-patterning sock yarn.  Then I watched Arne & Carlos' YouTube video, describing their inspirations for the colorways.  Two guys in a vintage 1968 white Volkswagen bug, traveling around the Lofoten Islands - an archipelago in Northern Norway known for its dramatic scenery, northern lights, the midnight sun and quaint little villages.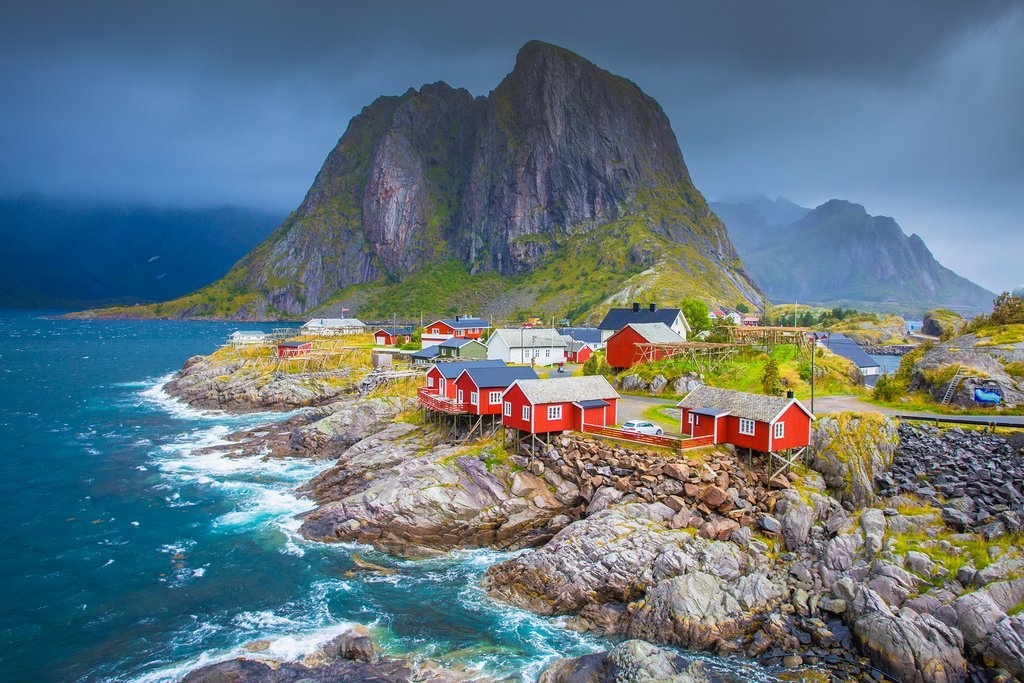 My Norwegian heritage kicked in, I cast on a quick to knit Vanilla toe up sock, and watched in amazement as the Land of the Midnight Sun unfolded before my eyes.  Each colorway is inspired by something they saw on their adventure.  I chose Roest - inspired by a beautiful little fishing village, with red and gold houses and green grass thatched roofs.  You can watch their video here.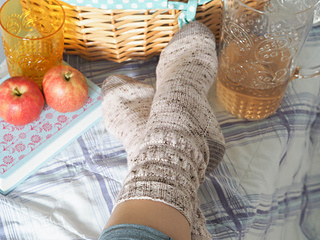 Picnic Blanket Socks.  I've lauded Helen Stewart's Handmade Sock Society on several occasions.  If you haven't knit one of her sock patterns, just do it!  They are super well written, and very fun to knit, with her signature Curious Handmade Percentage Checklist Pattern™ format, which I adore.  Picnic Blanket Socks are from the Sock Societ's 4th year collection.  I'd been looking for the perfect design for our newest sock yarn, Woolly Cabin Tweed Sock, and this simple sock with ruching around the ankle fit the bill.  The final sock in the Sock Society 4 was just released, so these patterns will soon be available individually.  But hey, get the whole kit and caboodle.  They're all phenomenal designs.  I've yet to pass one up, although I have a lot of single socks.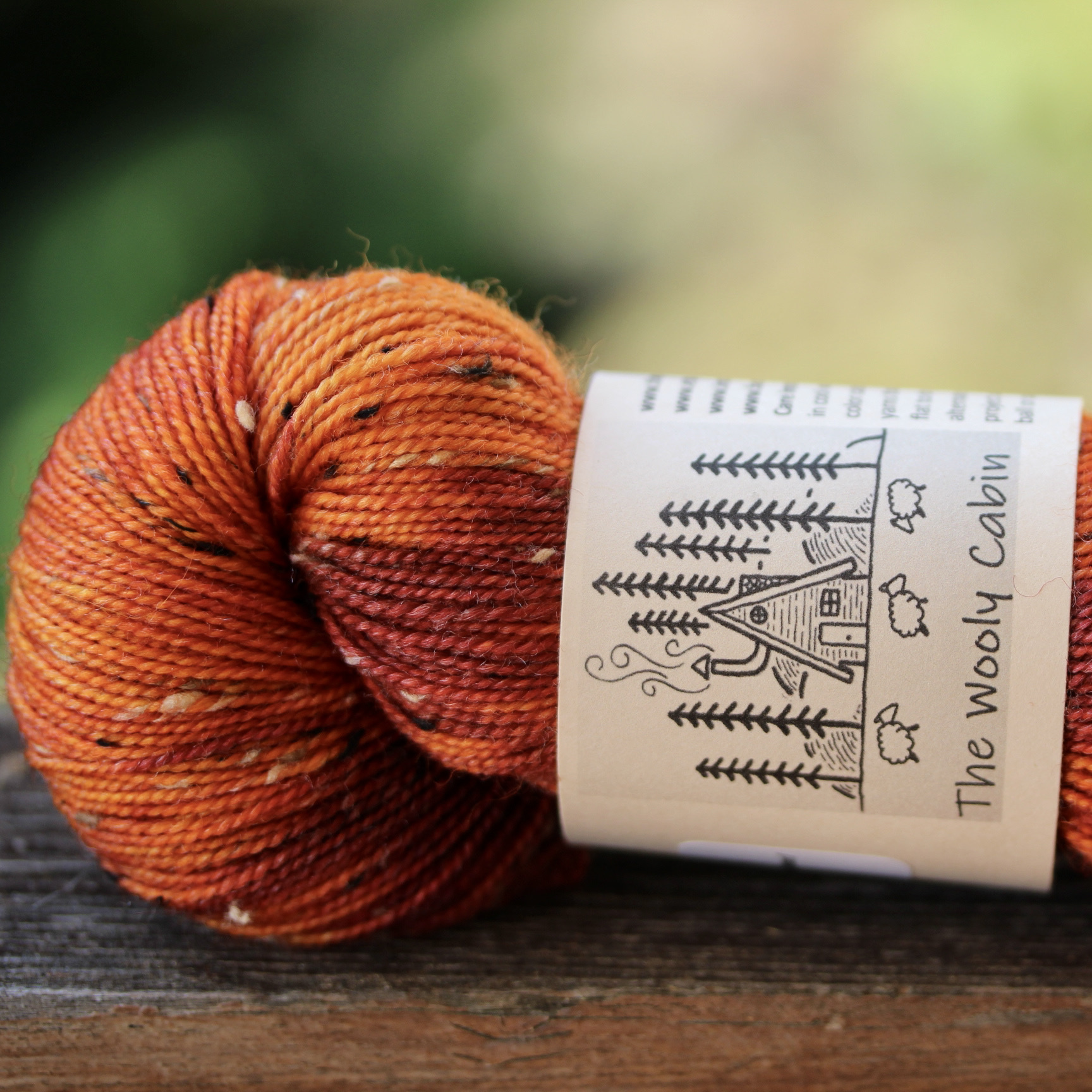 There you go.  3 of my summer sock adventures, with more sure to come.  Here's to sock knitting!