Ghosts and goblins, creepy skeletons, trick-or-treaters, pumpkins, black cats, candy corn, a knitted witch hat, . . . Wait, whaaaaat?
As I've mentioned, I'm a sucker for a new pattern.  Throw in a bit of holiday whinsey, and I'm hooked.  Last spring it was Romi's little hats for colored Easter Eggs.  While watching Elf a few seasons back, it was the hat that Jovi wore to sing Christmas carols.  And I just finished the first of 24 Nordic sweaters for my Arne & Carlos advent calendar.  So when I came across Hunter Hammersen's "Ensorcellment" pattern . . . well, you can guess.  'Ensorcellment' means the act of enchanting; the state of being under a spell.  Oooo, spooky.  What fun!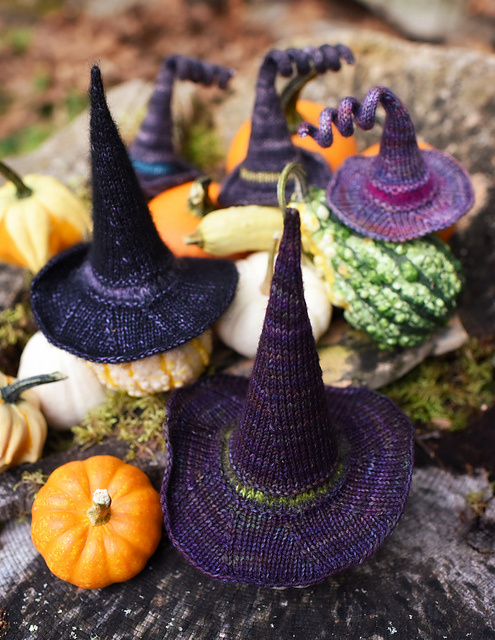 Almost as fun was the stash dive to find dark purple and neon green yarn.  Not an easy task, given my propensity for knitting all things pink.  But I found a long ago purchased skein of deep, dark purple yarn; Caper Aran in the colorway "Black Tulip" from String Theory.  Super nice to knit with, too, with a splash of cashmere.  Lucky me!  The neon green for the hat band was a little harder.  I finally found a mini skein (actually a color sample) from MadTosh.  I doubled it up and added a strand of mohair for a truly bewitching look.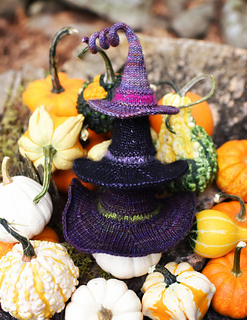 Hunter suggested using craft wire to make the brim really stand out.  Something completely new to me.  Yay - a new crafty skill.  Good ole Amazon got it to me the very next day.  It was a little trickier to use than expected.  I held the black wire along my needle as I cast on; very slow going as the wire kept beding and escaping from beneath the stitch.  And it took me a couple restarts, as the wire wriggled out as I knit around the first few rounds.  But eventually I got it, and what a fun knit!  Might have to do another.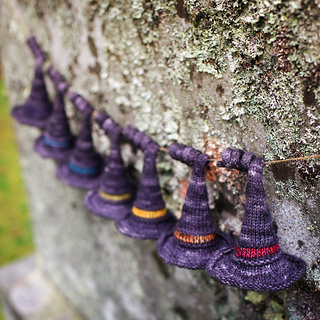 Hunter's pattern allows you to use any weight of yarn, and offers four different sizes of hats, with lots of variations for the brim and point.  Mine took a day (after the few restarts) to complete.  The perfect stash dive, halloweeny project.  Your pumpkin deserves a new hat!