One of my favorite places to visit, both in person and virtually through knitting. And hooray! Even locked up during the past year +, those amazing 'makker' folks across the pond delivered over and over and over again! While I couldn't go in person, Scotland (and Shetland in particular) was a constant presence in my life at home.
Years ago, hubby and I spent a glorious 2 weeks visiting the UK.  Starting in London, we sailed up the east coast, around the top near Shetland, then back down to London along the west coast of Scotland and Ireland.  An experience I still reminisce about.  Walking the Royal mile in Edinburgh.  Finding a cozy pub (and yarn store) in each town we visited.  Castle after castle after castle explored.  A distillery or two.  And thoroughly enjoying attempts to translate what locals were saying to us when, supposedly, they were speaking English.  What a beautiful, intriguing yet difficult to speak or understand the Gaelic language is.  One of the highlights was wandering into a Jamieson's of Shetland retail shop in Cornwall and admiring the gorgeous Fair Isle knitwear.  Had there been one in my size, and there wasn't this little voice in my head saying "you can make that", . . .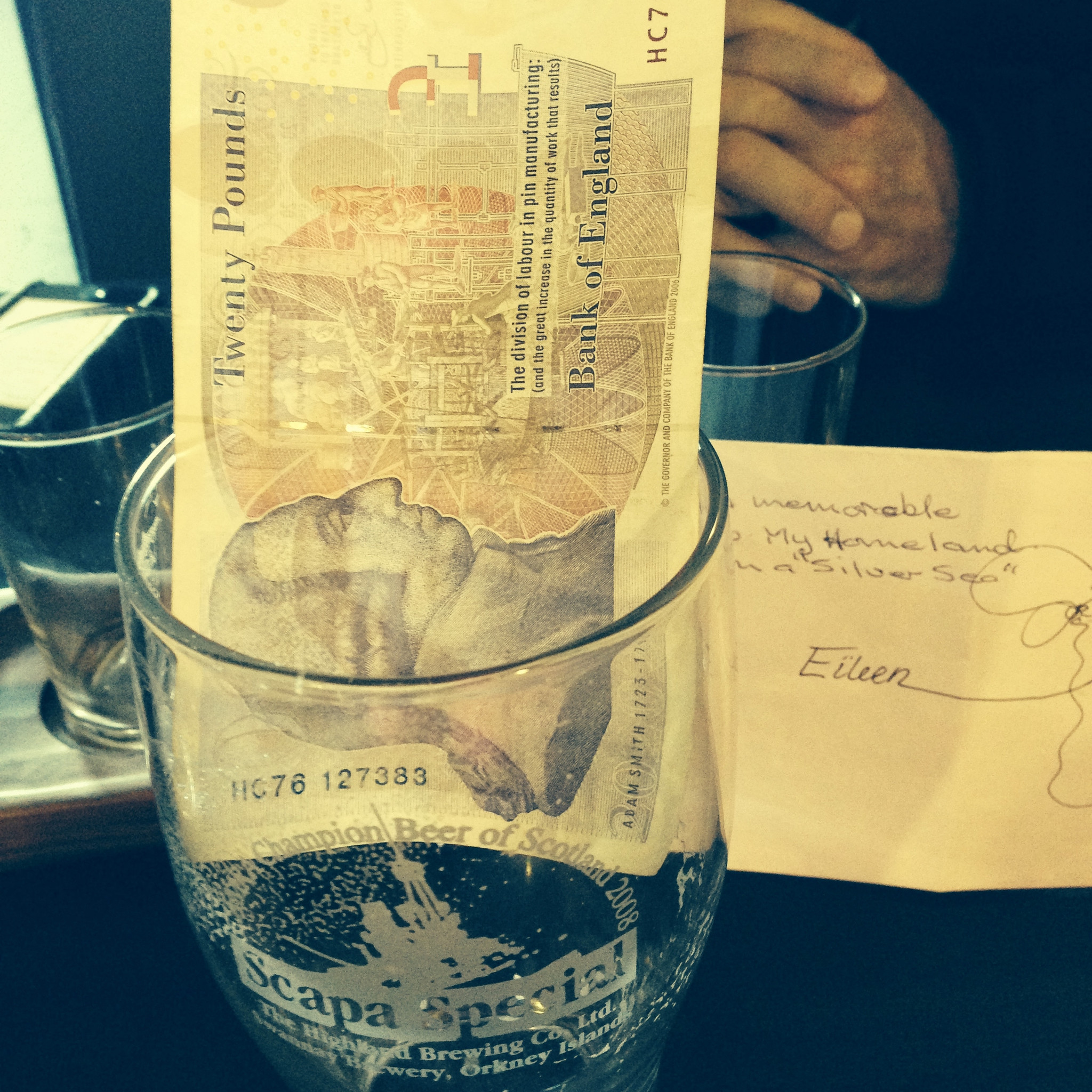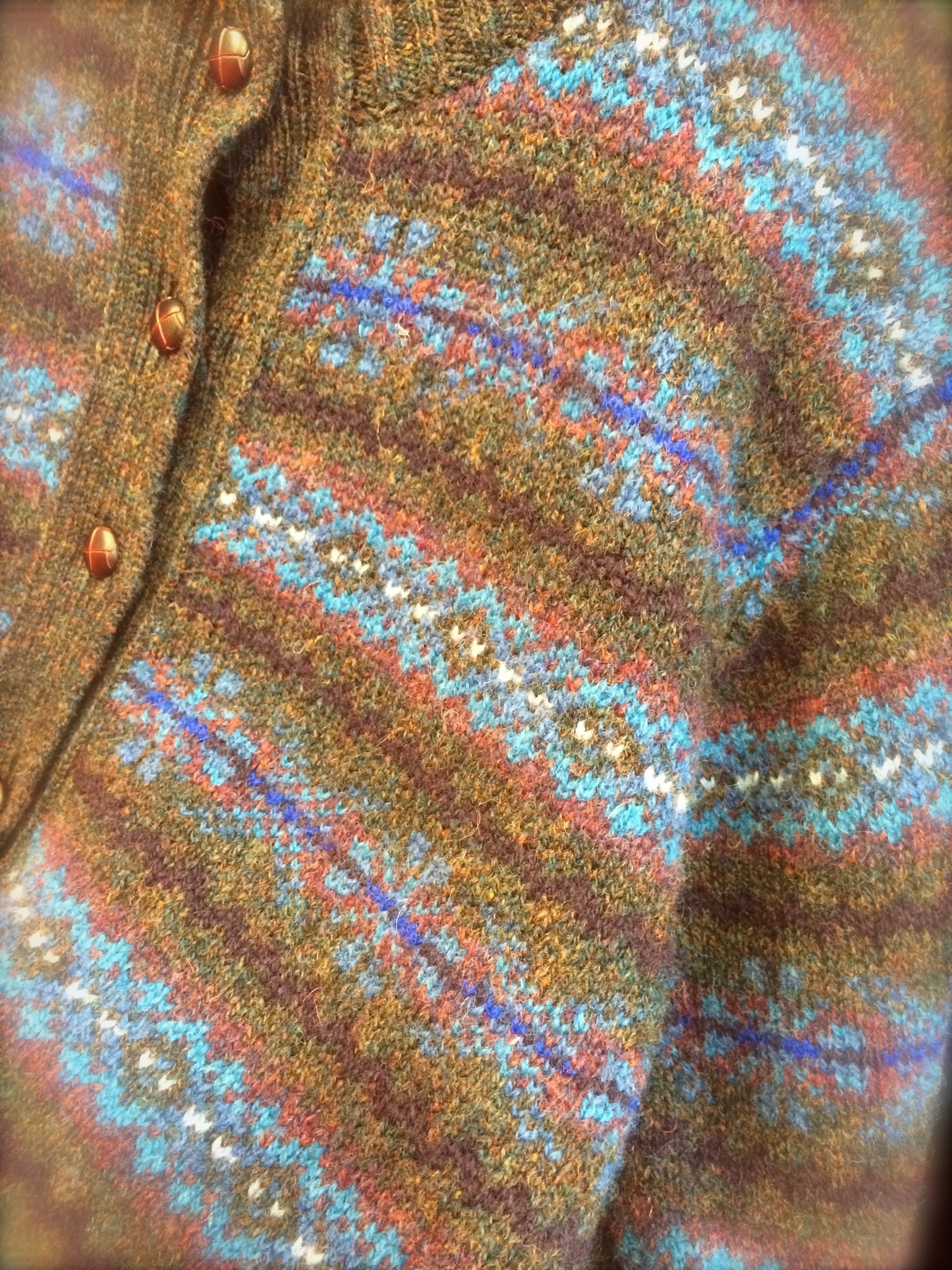 Over the past several years, I more than once suggested to my family that we leave this crazy country of ours and move to a sleepy, remote village on the coast of Scotland.  Somewhere that the internet is spotty, and there was no cable news.  Disconnected.  Peaceful.  My husband and I in a 'castle' (more likely a small cottage that's all ours, but hey - your home is your castle) overlooking cliffs and the ocean, with sheep and goats for my dogs to chase around each day.  A short walk or bike ride to the village that has a single pub for locals to gather.  Each night, a pie and a pint, or a basket of fish and chips.  Ending the day with a wee dram and a pile of knitting in front of a roaring fire.  No sensational daily drama, beyond which distillery makes the best single malt, or the scorn when someone drops an ice cube in.  When the pandemic hit, my suggestion of an alternate place to call home became louder and more frequent, but to no avail.  Then the borders closed, and I was left to devise new ways to live that imaginary life in Scotland.  And that I did.
Shortly after the shutdown, Shetland Wool Week released their 2020 pattern, "Katie's Kep."  I made two - a rare occurrence as I struggle to finish things before starting another project, and nearly never knit the same thing twice.  But I cannot resist knitting things with this wonderful yarn!  Woolly, sticky, and colorful - close your eyes and you can also smell the sheep as you knit.  And what pure delight watching the design unfold.  Kind of like watching self-striping yarn unfold as you knit a pair of socks.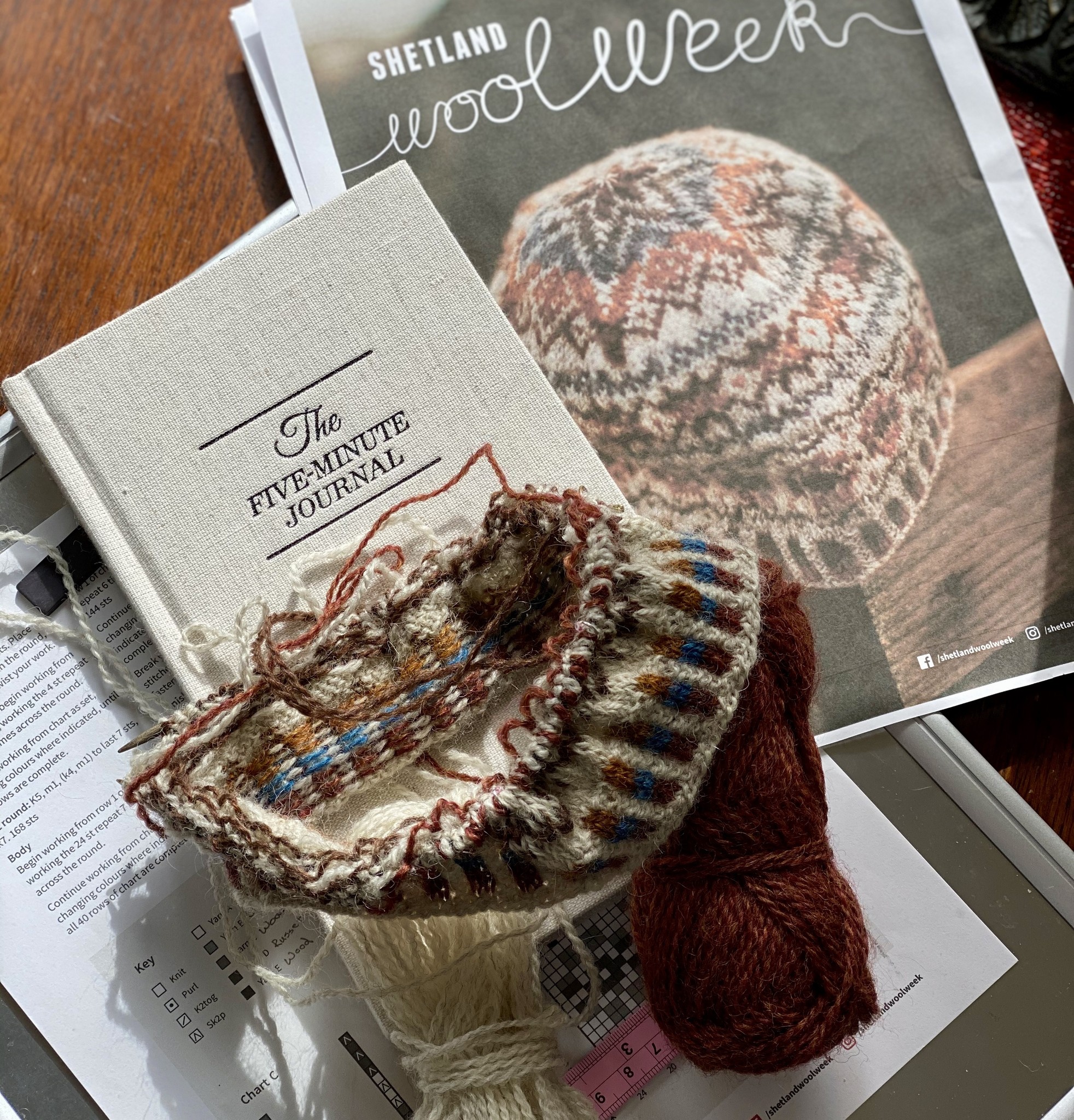 Then the books started pouring out.  The Shetland Wool Adventure Journal Volume One - a Shetland native's answer to the shutdown of her island tour planning company's shutdown.  Thank you Misa for such a delightful virtual tour of your gorgeous Isles!  Mary Jane Mucklestone's Fair Isle Weekend came out shortly after, followed by the Shetland Wool Week Annual 2020, and Knitting from Fair Isle (Mati Ventrillon).  All phenomenal, and enticing works of Shetland designing.  Unfortunately, the pandemic threw a wrench into the Shetland wool yarn supply - a mill shutdown, paired with folks stuck at home wanting to make all these lovely new designs created an incredible rush on Shetland yarn.  Lucky for me, I'm a yarn hoarder (aren't we all), and have an incredible stash of Spindrift.  Not such an adept sense of color though.  My original stabs at creating a color palette ended in what looked like a basket of Easter eggs.  But hey, with time on my hands at home, I had fun playing.  And no worries for the rest of you, as things are opening back up, and the yarn is once again flowing from Shetland.
And here we go again - with a new design from Shetland that is.  Wilma Malcolmson, once again the Wool Week Patron, released the new festival pattern at the end of April.  "Da Crofter's Kep," inspired by her father - a crofter who spent his life working the lands of Shetland.  But oh dear, in 5 different color combinations.  Argh!  I did not need that kind of temptation!  The actual design is stunning.  Wilma's combination of colors gives the kep an illusion of a beam of light shining down on the top.  Simply Brilliant!  Ah, thank you Wilma and Shetland Wool Week for once again transporting me away from this hectic challenges of everyday life.  To a place where I can pretend that I live in a castle on the cliffs of Scotland, dogs at my feet by the fire, and hands joyously play with needles and beautiful, colorful Shetland wool.  Hooray!  One part of that vision is reality.  Buiochat!