Woohoo! A comfy chair on the beach, toes dipped into the sand, Mai Tai within reach, and a pair of tiny needles whirring away, enjoying the tropics. Life is good once again.
On Monday, my family finally were able to sneak away for some well deserved r & r.  Checked into two condos on the coast of Maui just north on Ka'anapali.  Loaded up the fridge with pineapple juice, Pog, and snacks to last a week.  And stopped at Costco on the way out of the airport for the necessities - more food, and rum.  Coconut rum, Dark rum, spiced rum, regular rum, . . . I'm gonna be OK.  As I'm on holiday for the next week or so, this blog post will be ongoing, with a recount of my daily Hawaiian adventures.
Day 1 & 2 - Getting into vacation mode.  It's so tough to flip the switch, but I'm gonna work really hard to get 'er done.  Arrived at our condo and were greeted by three beaming granddaughters (they arrived 2 days earlier).  Pizza, pool time, then fell asleep on the lanai watching the stars.  Aaaaah!  I did get quite a lot done on my DRK Everyday socks whilst on the plane.  6 hours of knitting, interspersed with napping - practice for the 'chillin'' ahead.
With a 3-hour time difference, sleeping in meant 6am.  No worries.  There was a gorgeous sunrise to take in with my morning Kona Joe, along with a few rounds of sock knitting.  The rest of the day was spent playing in the sand, swimming in the ocean (and pool), shopping for the perfect Hawaiian t-shirts, and a little knitting.  Did I mention how delightful it is to knit on a lanai on Maui?  Nothing complicated, given the influence of those yummy Mai Tais.  Here's what I accomplished in the first two days in paradise - my sock using the September Sock It! yarn from Dream In Color.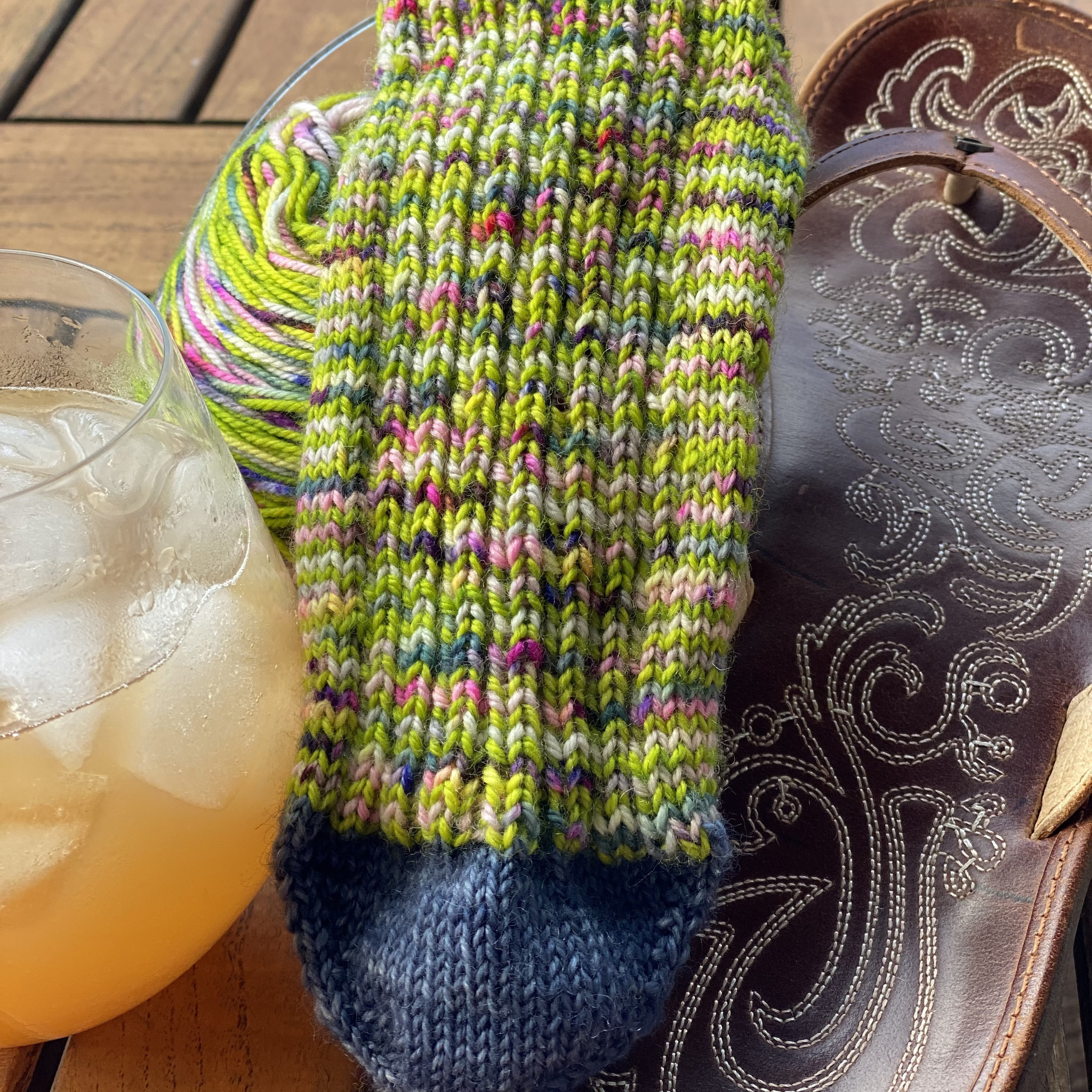 So that's the beginnings of what's sure to be a wonderful memory maker of a trip.  I'll do my darnedest to update this chronicle every few days.  There are scuba diving trips, a catamaran voyage, some zip-lining, a bike ride from Haleakala crater, and lots of good eats on the itinerary.  Check back often to catch up on all the fun being had.
Mahalo!