It always looks so nice when someone else puts it all together. But hey, it's time to jump in with both feet, figuring out how to make my Fair Isle design shine. Here goes!
In the past few years, I've grown more and more enamored with colorwork.  Initially a technique I avoided because it looked too hard (similar to my avoidance of cables until I realized, duh, how simple they are), I first took it on in that long ago Madrona class with Mary Jane Mucklestone.  My personal challenge to learn something new.  The supply list required I bring 5-6 contrasting colors of Shetland fingering weight yarn to make a pair of wristlets.  No problem; we had lots Jamieson's of Shetland Spindrift in a plethora of pretty colors at the shop.  I chose all my favorites - white for a main color, with two shades of pink, a spring green, lavender, and yellow.  So excited to dive in and learn a new skill.  However, I quickly realized that stranded colorwork was not the only thing I had to learn; I was not so adept at color theory either.  As my wristlets unfolded, I suddenly had what looked like two Easter Eggs on my arms.
Fast forward to the present.  And the recent explosion of must-have books out of Shetland - Mary Jane's new Fair Isle Weekend, The Shetland Wool Adventures Journal Volume 1, Knitting From Fair Isle by Mati Ventrillon.  The most prescient (at least for me) was the 2020 Wool Week book.  And a full page spread of  Katie's Kep creative color combinations from around the world.  Wow!  Inspired by so many lovely versions, I decided, hey, I can do that.  Why be confined to following which colors the pattern says to use?!  Oh ya, Easter Eggs.  So rather than starting from scratch, I thought I'd take one of the versions pictured on those two pages, and tweek it a little, making it mine.  The one that really drew me in was a gorgeous golden yellow version, matching a loaf of turmeric bread.  It had shades of blue as the contrast, with a little white and gray.  So maybe substitute a bright pink for the white, and change the light gray to a medium charcoal.  Not having all the colors I needed (and wanting someone to validate my choices), I contacted the distributor and sales rep for Jamieson's of Shetland for input.  Both questioned my choice of yellow as the main color.  Apparently, yellow is not so popular for main colors.  Hmm?  Not confident in my own ability to combine color, I relied on their opinions, and chose a more neutral main color, still pulling in the blues and yellow, with a pop of red rather than bright pink.  It turned out pretty.  Definitely not an Easter Egg, but not one of those show stoppers that inspired me to venture out.  Kinda wish I'd stuck to my original idea to use yellow.
Not to be thwarted, I pulled out my Alice Starmore Book of Fair Isle Knitting for tips.  One of the things she noted, and that I've come to notice in patterns, is that many combinations are inspired by real world experiences.  The yellow hat I liked was perched next to a loaf of turmeric flavored (and colored) bread.  Hmm?  The colors used in Buness, a new tam design in Mary Jane's latest book was inspired by the fields of sea-pinks (locally called banksflooer) - fields of summer flowers on Fair Isle.  OK, maybe an inspiration from nature would help me better combine colors.  And there it was.  Driving through my neighborhood, taking in all the gorgeous, almost flourescent red and orange maple trees, it occurred to me that those colors would make a stunning hat.  I could capture those colors I adore so much, and have them with me year round.  Pulled out my trusty color card, and put a new combination together - the eye-popping reds, oranges, and touch of yellow, against the stark contrast of the almost black trunks.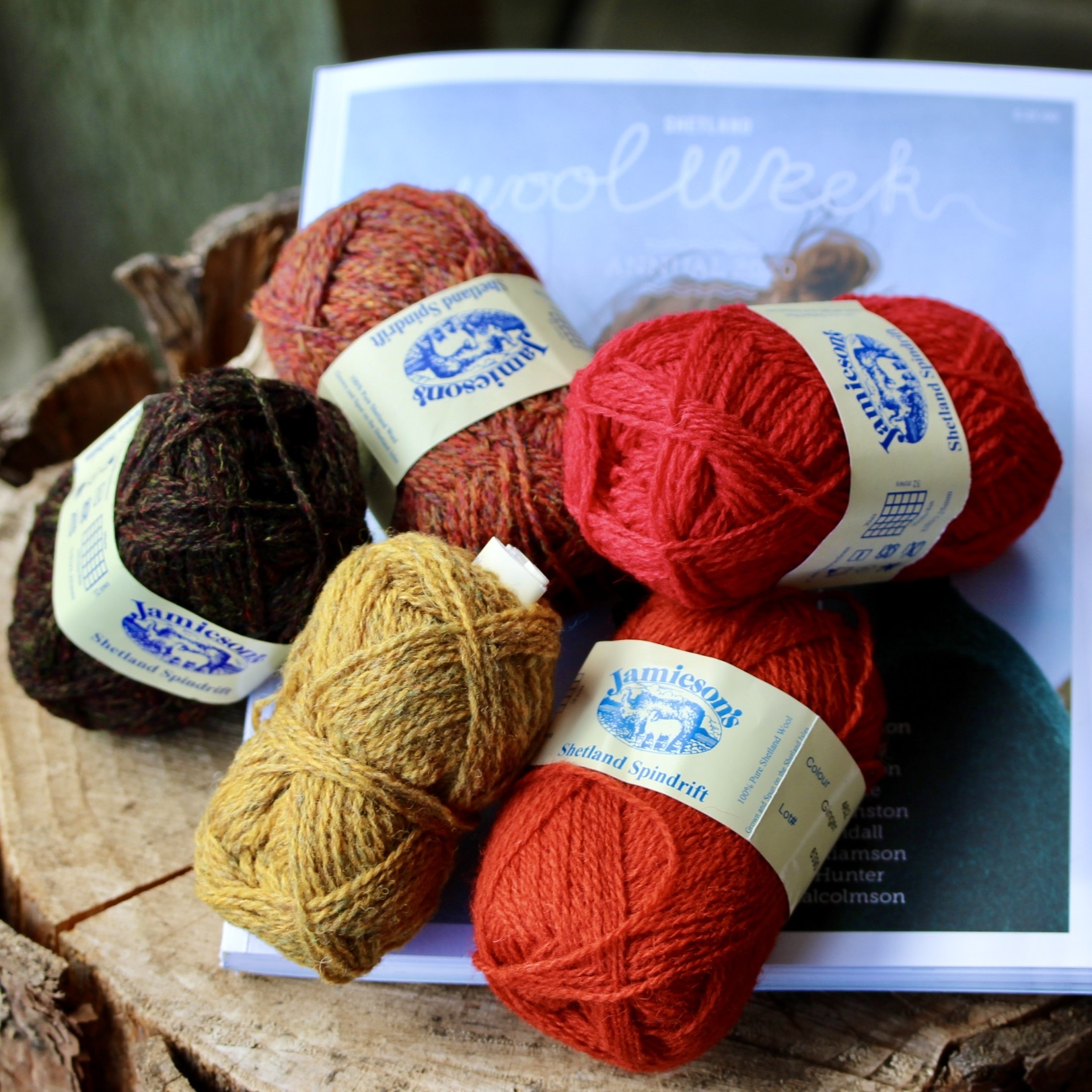 So yet another go at making a fair isle design with my own color creativity at play.  And whoa, no pink.  Needles up - knit!