An abundance of quality home time - the perfect circumstance to delve into a new knitting escapade. A lace stole has been on my list for a long while. So ready, set, LACE!
In keeping with last week's blog post, I've been diligently recording what I'm grateful for each day.  On Monday, I found gratitude that I merely have to walk downstairs to my "yarn room" to be immersed in gorgeous fiber.  My stash is something to behold (and a bit embarrassing).  As I searched for a ball to pair with my Spattergroit for the newest Romi Mystery Along (a blog post for another day), my eyes settled on the bin marked "Lace."  Hmm?  Whenever I go to festivals and retreats, I always try to challenge myself, taking classes and tackling projects that are outside my comfort zone.  So why not look at this "Stay at Home" adventure as my own personal retreat.  OK, no fellow knitters to share and commiserate with.  But I do have company - 3 loyal dogs by my side.  And I have a beautiful lace stole pattern designed by (who else) Romi.  "Lake Mist."  As I popped the lid off the bin, an explosion of color leapt forth.  At the very top was my second favorite color - a soft, minty blue-green.  The color of a glacier.  A happy, soothing color.  And a yummy, uber-soft blend of baby alpaca, silk and cashmere.  PERFECT!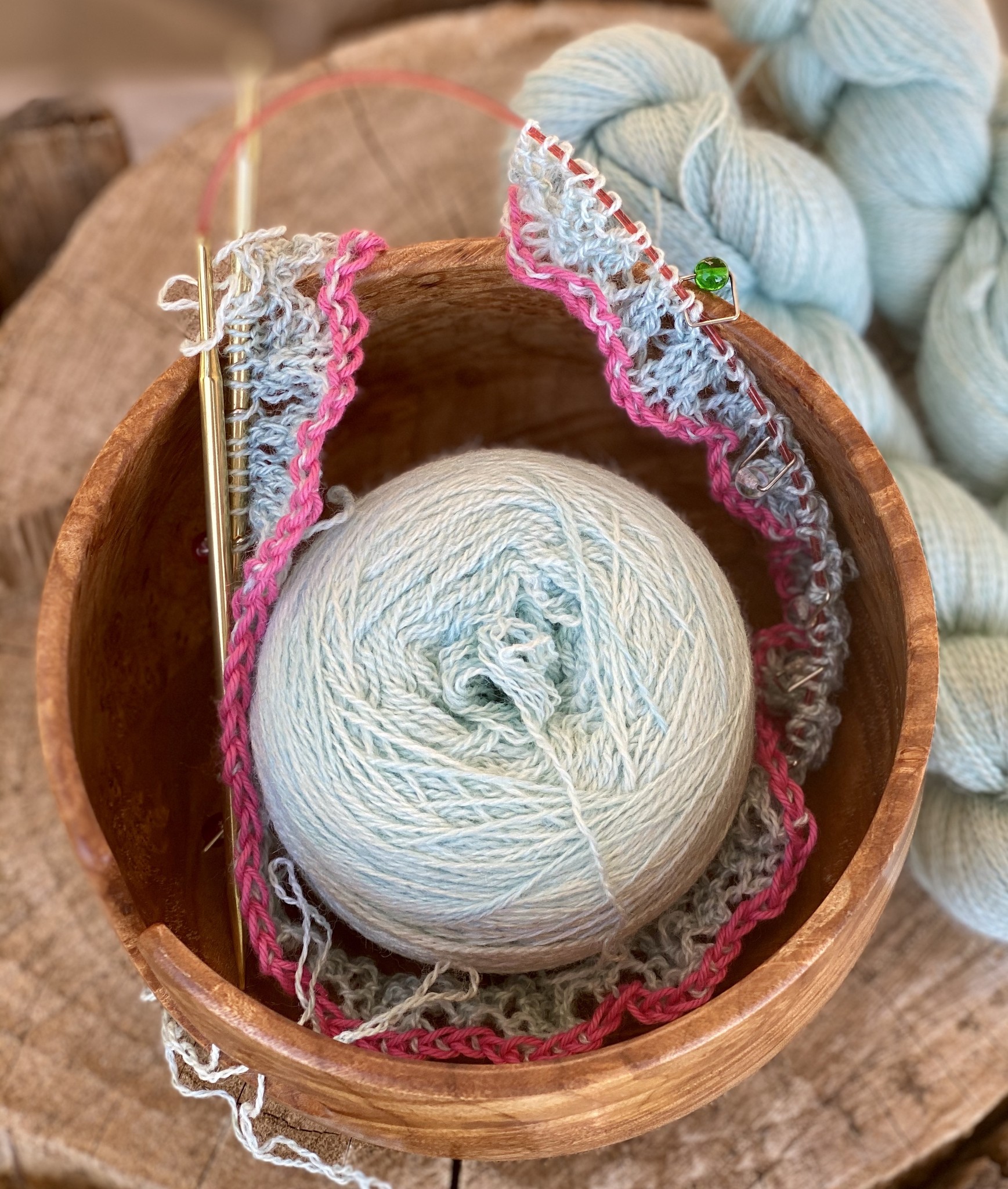 Why is this a new and challenging knitting adventure for me?  Well, as you know, I adore tiny yarn with tiny needles.  But this is teeny tiny yarn with bigger needles - size US 8.  But I think this will be a good foray into this new technique for me.  Only 89 stitches cast on, so not a monstrous undertaking.  And a long rectangle rather than a big 'ole triangle.  I can actually envision myself wearing this during the summer, draped over my bare shoulders whilst enjoying a cool cocktail on the back deck.  Will keep you posted!
Hope you all are staying home, staying safe, and finding solace in the little things that make us grateful each day.  Happy knitting!