I have a Golden Rule - no gift knitting. But what to do when your adorable 3-year-old granddaughter asks if you'd please knit her a sweater? No brainer! Whip out the pink and start knitting.
I have the delight each Friday to watch my granddaughters.  Up until a few weeks ago, that meant Sophie (5) and Claire (3) spent the day with me, watching Disney movies, baking cookies, coloring, making street chalk paintings, and all things fun while their mom and 8 month old Rosalie went to work.  This fall, however, marked the monumental childhood milestone for Sophie - kindergarten.  So Fridays are now just Claire and Gramma (I still get time with Sophie, picking her up on early dismissal Wednesday).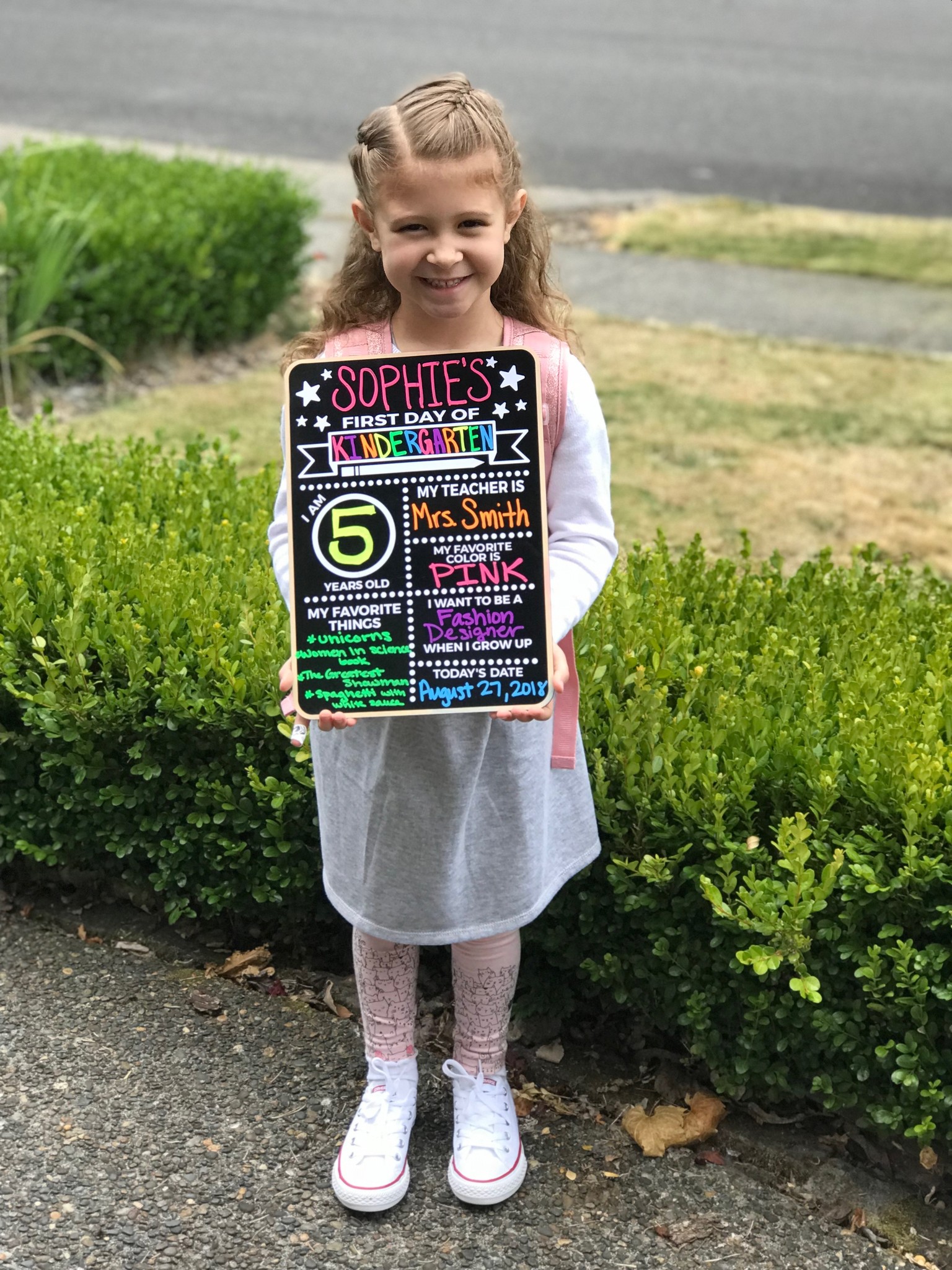 Two weeks ago, Claire arrived wearing a hand-me-down sweater from big sister.  It was the Elsa sweater I'd knit for Sophie a few years ago.  A monstrous, painstaking endeavor, as the pattern was written in Icelandic, then translated to English by someone who does not knit.  You can just imagine the hurdles to understand knitting instructions written by a non-knitter.  Yikes!  But I worked it through, and the sweater actually turned out quite adorable, Norwegian pewter buttons and all.  And its held up pretty well, despite a lot of wear (Spud & Chloe yarn rocks).  But alas, Claire is a wee bit smaller than Sophie, and it doesn't fit too well - sleeves kept getting in the way of her beautiful crayon creations and lunch.  So of course, I asked if she might like a sweater of her very own.  With that sly, irresistible sideways smile and a twinkling eye, Claire nodded with approval.  Not an Elsa sweater though, I told her.
As luck would have it, a new yarn had just arrived in the shop, and a new pattern debuted on my computer screen.  The yarn?  A For Yarn's Sake Exclusive from Madelinetosh.  Yup, a colorway developed just for me, and inspired by my three beautiful granddaughters, Sophie Mae, Claire Isla, and Rosalie Lorelei.  Gaggle of Girls.  The absolutely perfect blending of cream and shades of pink.  I'm in heaven!  And the design?  From a French designer I just recently discovered, Along Avec Anna, the pattern is called the Dandelion Cardigan - a bottom up cardi with a very unique stitch.  I had to go onto the web to learn this somewhat complicated but very pretty stitch, created by knitting into the third stitch below from 3 different spots, making a budding flower.  And very fun to do, if not a little slow going.  The stitch pattern and yarn meld perfectly together.  And whoa is me - I've been diligent to only spend knitting time on this little sweater.  Which means that after just a week, sleeves are about to be joined.  Claire and I have our Friday planned out for this week - button shopping!
Here's the kicker.  Hanna (mom of the gaggle) has an endearing predilection to dress the girls in matching clothes.  So that means not just one little girl's sweater for Claire, but a trio.  A gaggle of sweaters!  I can do this. 
The Gaggle