So proud!!! My baby girl graduated from nursing school. What better way to honor her, as well as dedicated nurses everywhere than with a Potter inspired colorway. So was born 'Hospital Wing.'
On August 18th, in gown and cap, decorated with the phrase "Life Opens at the Close" (in The Deathly Hollows, Professor Dumbledore's will bequeaths Harry the Golden Snitch he caught to win his first quidditch match; when he touched it, the phrase "I open at the close" appeared), my youngest daughter Julia received her diploma, Magna Cum Laude, as well as her nursing pin from Linfield Good Samaritan School of Nursing.  Woohoo! Mom and Dad are sure proud.  But what to get her as a graduation gift?  Hmmmm?!
To say that Julia is a Harry Potter fan is a colossal understatement.  As far back as I can remember, Harry has been an integral and important part of who she is.  As a little girl, I remember her impatiently waiting for the mailman to deliver her copy of the latest book.  Often, she'd have read it from cover to cover (for the 1st of many times) within days of receipt.  Once I think she even stayed up all night to take it all in.  I must admit, I shared her excitement.  Many a time we sat side by side or across from each other at a table, devouring the pages of adventure and magic together, awe struck.  Harry Potter was a huge part of all my kids' childhood - I only hope my grandchildren will be blessed with such a defining, tremendous literary hallmark.  Julia has numerous copies of the books in various formats - the ones sold in the US, the original British published versions, and a few early printings that I found for her at used bookstores in Ireland and Scotland.  She listens to the books on tape every day as she showers, does her hair, and puts her make-up on; she's been through the series so many times, she has many passages committed to memory.  She's visited Diagon Alley and Hogsmeade Village (at Universal Studios in Florida) numerous times, each time as magical as the last (she actually cried once when it was time to say goodbye to Diagon Alley, and only stopped when I reminded her she could come back).  One of our favorite thing to do at Harry Potter World is get a butterbeer (or real beer for mom and dad) at the Hogshead Tavern, and play Potter Trivia using an app on my phone.  Julia stumps us every time.  Recently, she finished nineth out of 200 players in a Harry Potter Trivia Pub Crawl; yes, that's a real thing.  So it only seems reasonable that her graduation gift be Potter related.  But what to get the girl who has all things Harry Potter?
Yarn!  Throughout July, we celebrated Harry's birthday month with a parade of Harry Potter influenced colorways. That gave me an idea.  A Poppy Pomfrey (the Head nurse at Hogwarts School of Witchcraft and Wizardry) inspired colorway, in Julia's name, and honoring nurses everywhere.  I contacted Lorajean (aka Knitted Wit); asked and delivered.  Julia's very own colorway, "Hospital Wing" was born.  And as you can see by her smile, she loves it!  Available in fingering and DK weights, even with a sprinkling of glitter.  Professor Dumbledore, a self-professed knitting magazine enthusiast, would surely approve.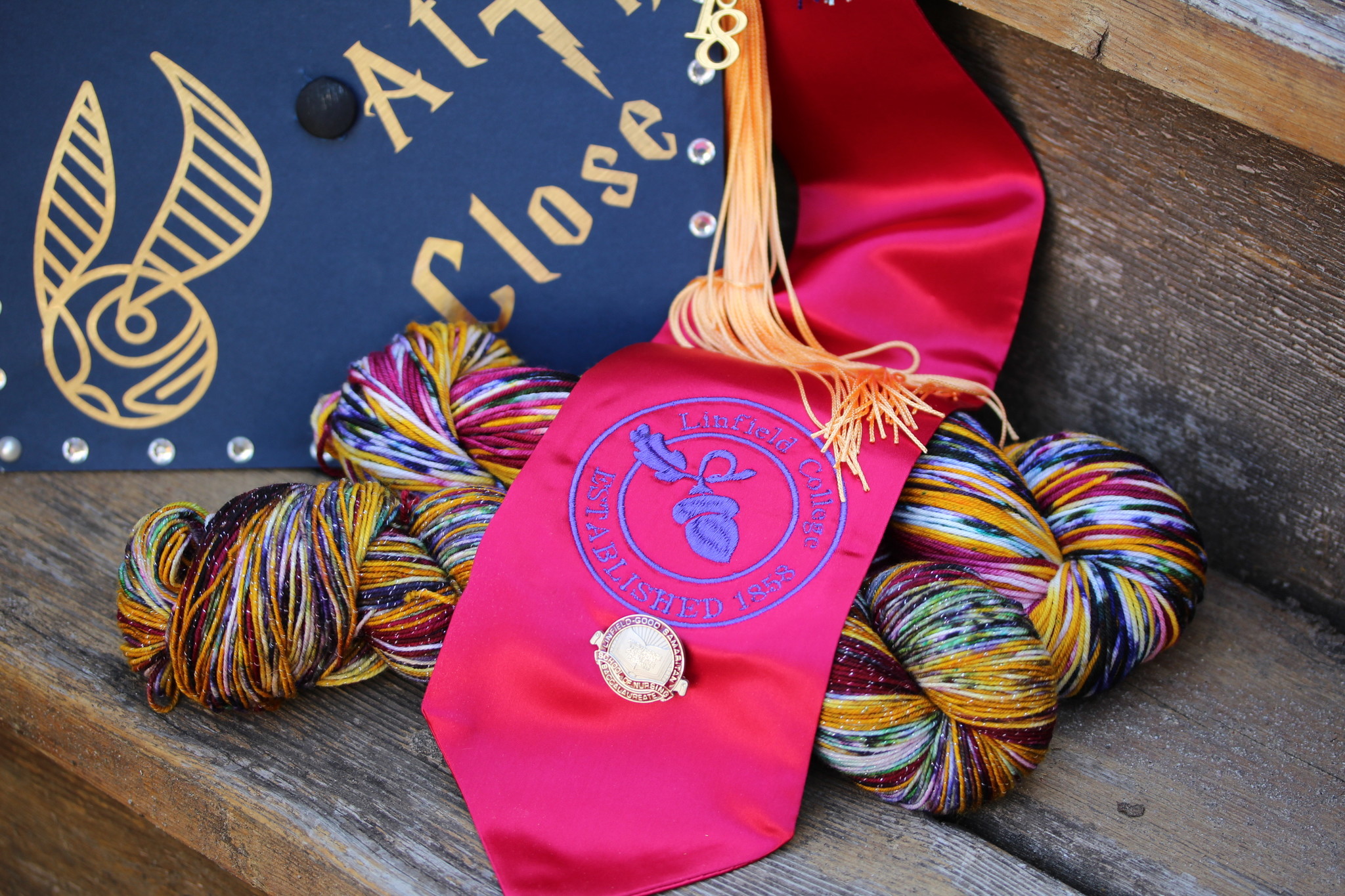 Congrats Julia!