Inclinations. That perfectly describes how I feel when a tempting new design crosses my radar. I'm inclined to ditch whatever else I'm doing and cat on anew. Exactly the scenario that unfolded after clicking on the Drea Renee's most recent e-newsletter. I was so inclined.
I should have known when I saw my inbox and an email from Drea Renee Knits.  Something tempting was likely to be in there.  And I was right.  Andrea Mowry had yet again paired up with Spincycle Yarns (a personal fave), designing a lovely new, multi-colored shawl using Dream State.  And at first blush, it looked kinda simple.  Her brand new design, the Inclinations Shawl uses 6 different colors - 2 fades made up with three colors each that are then faded and striped together.  All in Half-Fisherman's Rib.  Easy peasy, right?  Wrong. 
I had fun picking colors, mostly from the vast collection of Spincycle yarn I had tucked away for a rainy day.  A whole range of very bright colors, with lots of yellows, oranges, turquoise, warm earthy reds, and eye-popping green.  All wound up and ready to cast on, I thought I'd have a super easy, World Series watching project to keep my hands busy and out of the chip bowl.  And some fun learning a new stitch.  How hard could Half-Fisherman's Rib be, after all.  Well as it turns out, the stitch is not hard at all.  Rather fun, in fact.  Knitting into the stitch below to create a wonderfully squishy fabric.  However, the tinking kicks your butt!  I quickly found that out, having picked up my work and not recalling where I'd left off.  Several rows in I noticed my stripes were off, so the unknitting began.  Oh dear - I discovered that my usual technique wasn't working.  There were holes everywhere - yikes!  No matter how I tried, it looked horrid.  Out came the needles, and the second attempt ensued.  And of course, I soon muffed it up again, and frogged the whole thing.  Before casting on for the third time, I had the common sense to look up how to fix Fisherman's Rib.  Smart girl, Anne (although it took you to the third go-round to put that together ding a ling).  Turns out, it's a lot like brioche, having to pick up the stitch below with the just knitted stitch when taking it back.  I had to use my knitting smarts to adapt what I found, as all of the online tutorials told you how to unknit Fisherman's Rib; Andrea's Inclinations Shawl uses half-Fisherman's Rib.  If anyone knows where to find a good tutorial for tinking Half-Fisherman's Rib, please do share.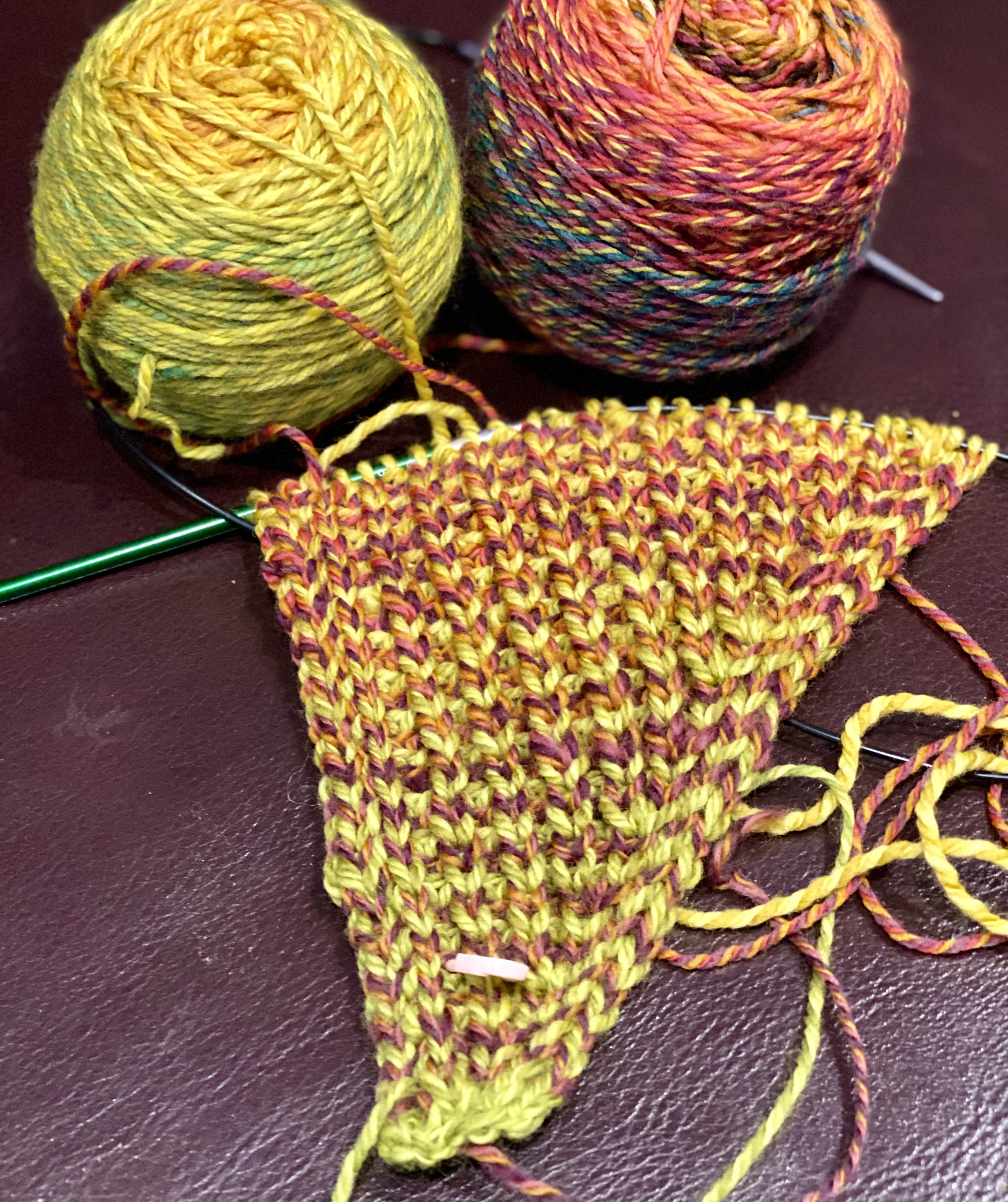 I'm on my way again, well equipped to fix my inevitable boo boos.  And it's turning out to be the enjoyable, baseball-watching worthy knit that I'd hoped for.  Let the colors unfold!