How did we get here?! As I drink my morning coffee and watch the news - fires raging across the west, this pandemic, and all the other curve balls 2020 has thrown our way - I find myself overwhelmed. And recalling my annual promises made on January 1st each year. Time to revisit.
"Peaceful, graceful, joyful."  "Love the Journey."  "Healthy, happy, simple."  These are some of the 'words to live by' I adopted at the start of new years past.  My interpretation of a New Year's resolution.  Given the tough times we're living through, I'm reminded of one in particular - joyful.  So many of the things that have always brought me joy - a trip with my husband, seeing and learning about new places around the world, shopping trips and lunches out with my daughters, my weekly knitting group - are on hold, with no end in sight.  So it's time to give that word to live by mantra some extra effort.  And really examine the little parts of life that still do bring me joy.  Here's a few.
Knitting, of course.  I cannot imagine not having my wonderful craft while having to stay home.  Since our lives buttoned down, I've been digging into old projects, and choosing things that make me smile.  Bright colored yarn is a life-saver.  Pinks, for sure.  And my second fave - blue.  The shades of blue that remind me of water and the ocean.  My latest feat a compli is local designer Kay Hopkins' Smuggler's Cove Shawl.  Two skeins of Sincere Sheep Silken Fingering (an absolutely magnificent blend of merino and silk - you must give it a try) and a Sweet Georgia Party of Five gradient set combined into a truly delightful knitting adventure.  The gradient starts with a glacier blue, and rounds out with a deep, rich teal blue.  The anticipation of adding a new color was a great motivator to keep on knitting.  And why blue, you ask?  Well, these particular water reminiscent shades transport me to my favorite worldly places - the Caribbean, the beach in Hawaii, tranquilly drift diving with my hands tucked behind my back alongside a regal sea turtle, watching the sun set at the back of a big boat with a pink Cosmo in hand, . . . The list of joyful memories involving water are endless.  So in these tough times, I choose blue to give me just a teensie weensie bit of bliss.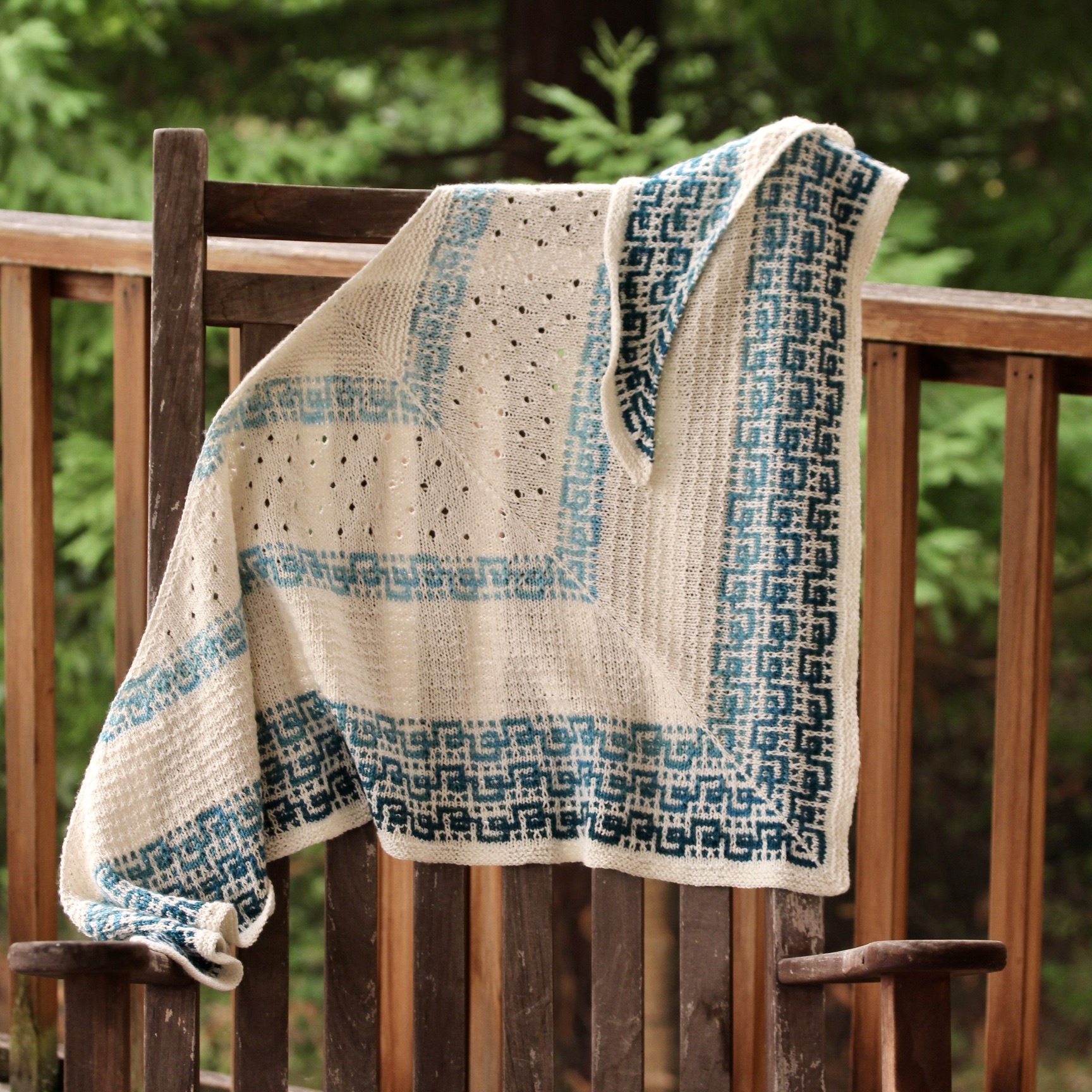 A funny movie always brings a gleeful smile to my face.  Watching the Today Show this morning, I was reminded of one of my all time favorites - Father of the Bride.  Apparently, there's a remake in the works.  Oh my goodness, so many hilarious moments.  A panicked George Banks (aka Steve Martin), sitting across the breakfast table as an image of his 5-year-old daughter Annie tells him she's met a man and is going to get married, him getting arrested for refusing to buy a bag of 12 hotdog buns when there are only 8 hotdogs in a package, the way Martin Short says "George Banks."  Endless laughter and happy tear inducing scenes.  If you haven't seen it, I highly recommend Father of the Bride and its sequel.  Sure to make you chuckle.  And bring you joy.
Daily moments with my husband.  I cannot imagine this 2020 roller coaster ride without Jay.  While the trips to Napa, Vegas, and other ends of the world are on hold, we've managed to find little ways to find delight in each day and enjoy life in the moment.  Here's an example.  We love cruising.  Check into a hotel and unpack once, then wake up in a new city every morning.  Part of our cruise routine is cocktail hour - dressing up for dinner, then sitting at the back of the boat, enjoying a martini as we watch the ocean flow by.  When the winds kicked in Monday evening, we pushed our deck chairs back a little, grabbed a martini, and reinvented cocktail hour.  OK, no beautiful scenery to look at, nor the awesome sway of a cruise ship.  But the wind, and best of all, the company made it almost as real.
Goats.  Goats give me joy.  No, I don't have one.  3 dogs was a stretch for my husband - a goat would push him over the edge.  But they're so gosh darned adorable, and just plain funny.  Especially the baby ones.  Watch this YouTube video and tell me the perils of our current world don't wash away, if only for just a second or two.  Kid reunites with mom.
In reflection, I've come to realize that committing to those New Year's words to live by are more than an annual pledge.  They actually are life lines.  Little nuggets to raise us up periodically throughout the year when things get tough.  And boy, 2020 is definitely a year to revisit those commitments often.  In writing this entry, I started by reading my January 2nd post, vowing this year to take care of "me."  Rather than going on (because this is already longer than intended), here's a link to that post.  A Year For Me.  Note the very lovely little princess pictured, as well as my thoughts.  And join me in taking care of yourself, and finding joy.  It is definitely out there to be found.