And baby makes three. My lovely daughter Hanna (and her husband John) are looking forward to welcoming their third child. A little girl! Sugar and spice, and all that's nice. They do girls well - this little angel will make daughter number 3. Yahoo! I get to knit with pink. What to make, what to make, . . .
Wouldn't you know it. A brand new book of baby blankets arrived on Monday – "60 More Quick Baby Blankets.". OH MY GOLLY, ARE THERE SOME CUTE DESIGNS!!! Easy slipped stitch patterns, intarsia clouds and critters, pockets added to store stuffed toys, and even a couple snugglies – a mermaid tail and a teddy bear hug, just the right size for teeny tiny newborns. Too many to pick from! But alas, the pattern chose me. Sheep! I adore sheep. Goats are pretty awesome too, but a cute, fluffy white sheep gets me every time. And as I leafed through the book, smack dab in the middle, 5 little sheep jumped off the page and said 'knit me.' Irresistible, for sure.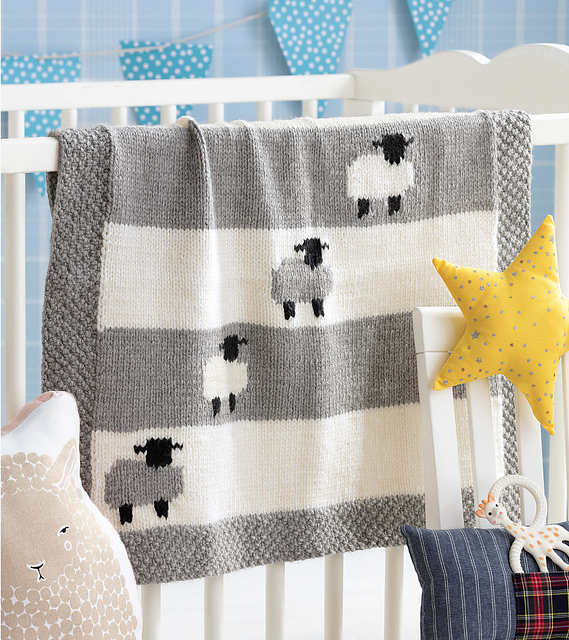 Pattern choice decided, now for the yarn. The design used grays and white, but I must have pink, so I'm substituting pale pink for the light gray borders and stripe. My hubby insists on super soft (such a good Grampa), so I started squeezing all the pink yarn in my shop. That's a lot of squeezing, given my propensity for all that's pink. Several lovely washable merinos. But then I grabbed a skein of Blue Sky Fibers Extra – 50 / 50 baby alpaca and merino wool. Hmm? Not superwash. But man oh man, is it uber-soft and squishy. Both in my hands and wrapped around that new little princess. Sorry Hanna, you'll have to wash it by hand.
So pink yarn, US 7 knitting needles, and sheep, here I come! Now all this little girl needs is a name. Mom and Dad?