Is there an end in sight? I think so. But oh my goodness, there's so much yarn. And garter stitch! Sooooo ready for some colorwork, lace work, cables, or a single skein project.
Love, love, love Joji Locatelli's designs. But wow, her 1st Mystery KAL is a doozie! Silly me, when I saw how much yarn it called for, I thought there'd be lots of leftovers. Not so. And its ever as big as promised. Two huge, colorful pieces that are about to meet up somehow in Clue 5. Fingers crossed that I won't have to go in search of more yarn.
I'm just a few rows short of finishing Clue 4, putting ,me exactly a week behind. Today's the day - hot tea, something fun on TV (House of Cards, perhaps), and puppies near by. And the weather is cooperating - just saw that not only is it suppose to rain all day, but this afternoon predicts "pouring rain." Great day to stay inside and knit endless rows of garter stitch. Ha! Hopefully, next blog will reveal a finished, very long and luscious wrap. Time to get knitting.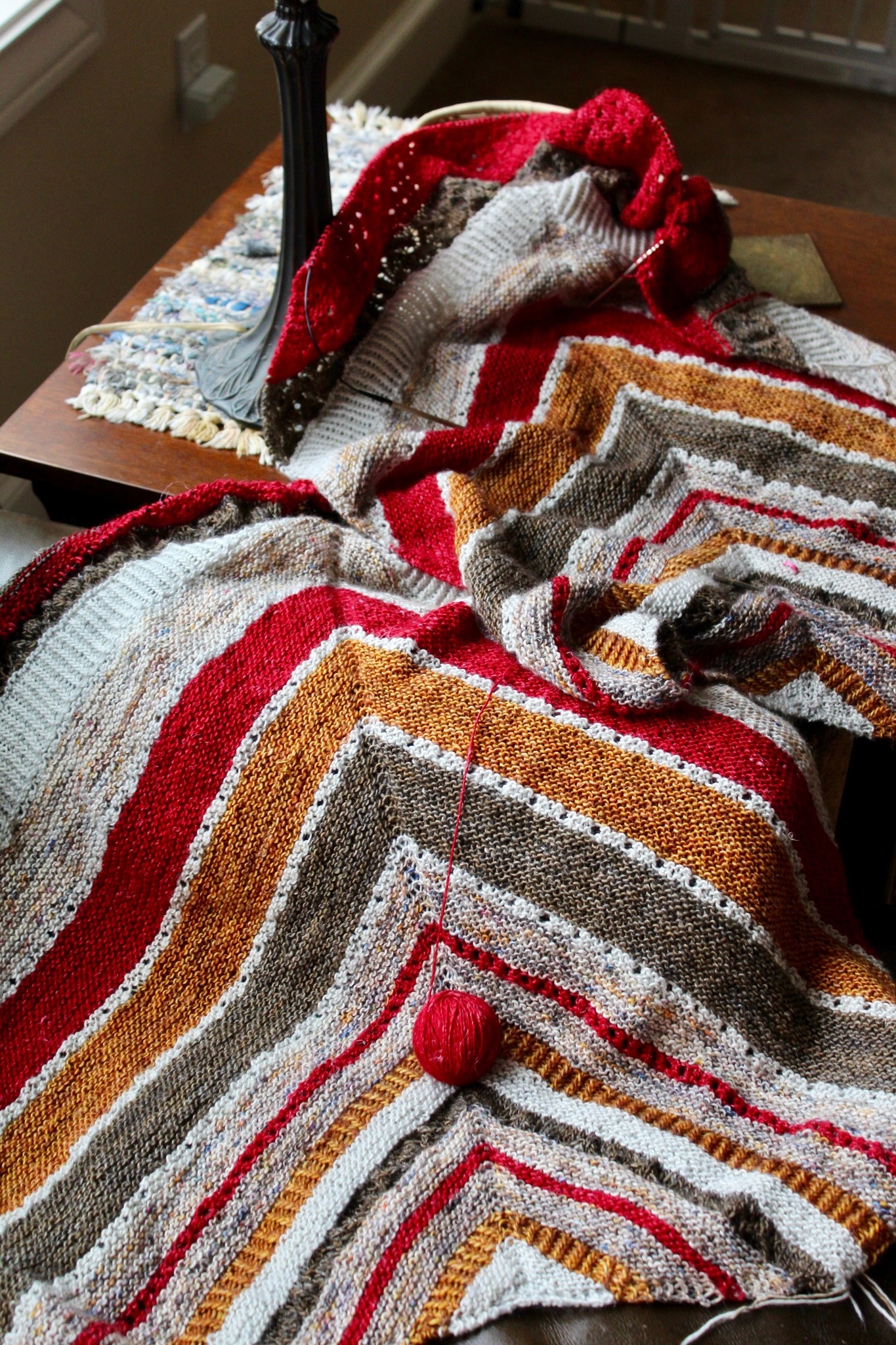 As with all my knitting projects, as soon as the finish line peeks out, my mind wanders to the next thing to occupy my needles. Several are top contenders. However, a new design from Blue Sky Fibers has captured my attention. The Albany Alpaca Cowl - a lovely, simple cowl with a classic color scheme - white base with red, green, blue and yellow stripes. While walking to our gate at PDX last week, I spied a Pendleton blanket at the new Timberline Lodge Store with that combo, and thought I could create a something with those colors. Abracadabra! My email revealed the new BSF fall collection with the perfect design. And yummy baby alpaca. The perfect 'next' after miles and miles and miles of garter stitch.