Trends come and go. The latest design feature, stitch pattern, or color craze. But there are some knitting projects that stand the test of time - the true classics. And wouldn't you know it. I have two such gems in my plethora of UFOs.
Revisiting my many sock projects, choosing a few favorites to button up, was motivating.  This past weekend, I dove into the treasure trove of UFOs that resides in my yarn room - a transformation of what was once my oldest son's room.  As I rummaged through my UFOs, I found all kinds of lovelies.  Man oh man, I have some spectacular yarn and projects in the works.  And on the flip side, there are those that I looked at and said ' what was I thinking?!'  The end result?  A half dozen reclaimed needles, rewound balls of pretty string, and a revived enthusiasm about several yet-to-be-started new projects (yarn and pattern collected and tucked in a project bag, just waiting for my attention).  But two shining stars emerged from my stash journey.  Two classics that, if finished, will never wane in beauty.  I came away, committed to giving these two prize finds my renewed attention.
The first was started probably 8 years ago.  In fact, it was cast-on and underway once, then restarted when I chose a different, more suitable yarn.  Alice Starmore's Maidenhair Shawl.  When her definitive guide to designing and knitting in the Irish Aran tradition, Aran Knitting returned to print in a revised and expanded version after a decade's absence, I was enamored.  Gorgeous cables everywhere!  Not quite ready to jump into a full-on aran sweater, I honed in on the rectangular shawl that encapsulated the same design as her Maidenhair Cardigan. A lofty endeavor, for sure - seven separate charts to keep track of as I moved across each row, knit in a different order on the right and wrong side.  My plan was to start my mornings with just a few rows.  Cup 'o joe in hand, seated by the fireplace, puppies curled up at my side and feet.  An epic, long-term project.  I started out with pink Tosh Pashmina, but the cashmere and silk didn't do the cables justice.  After abandoning it for more than a few years, I restarted the shawl, this time with The Fibre Company's Cumbria in sunny yellow Buttermere.  But alas, it got pushed aside for more pressing must-knits.  Well, my Maidenhair Shawl is once again front and center.  I calculate that, with 4 rows a day of knitting, I'll be done by next summer.  My morning routine is once again set.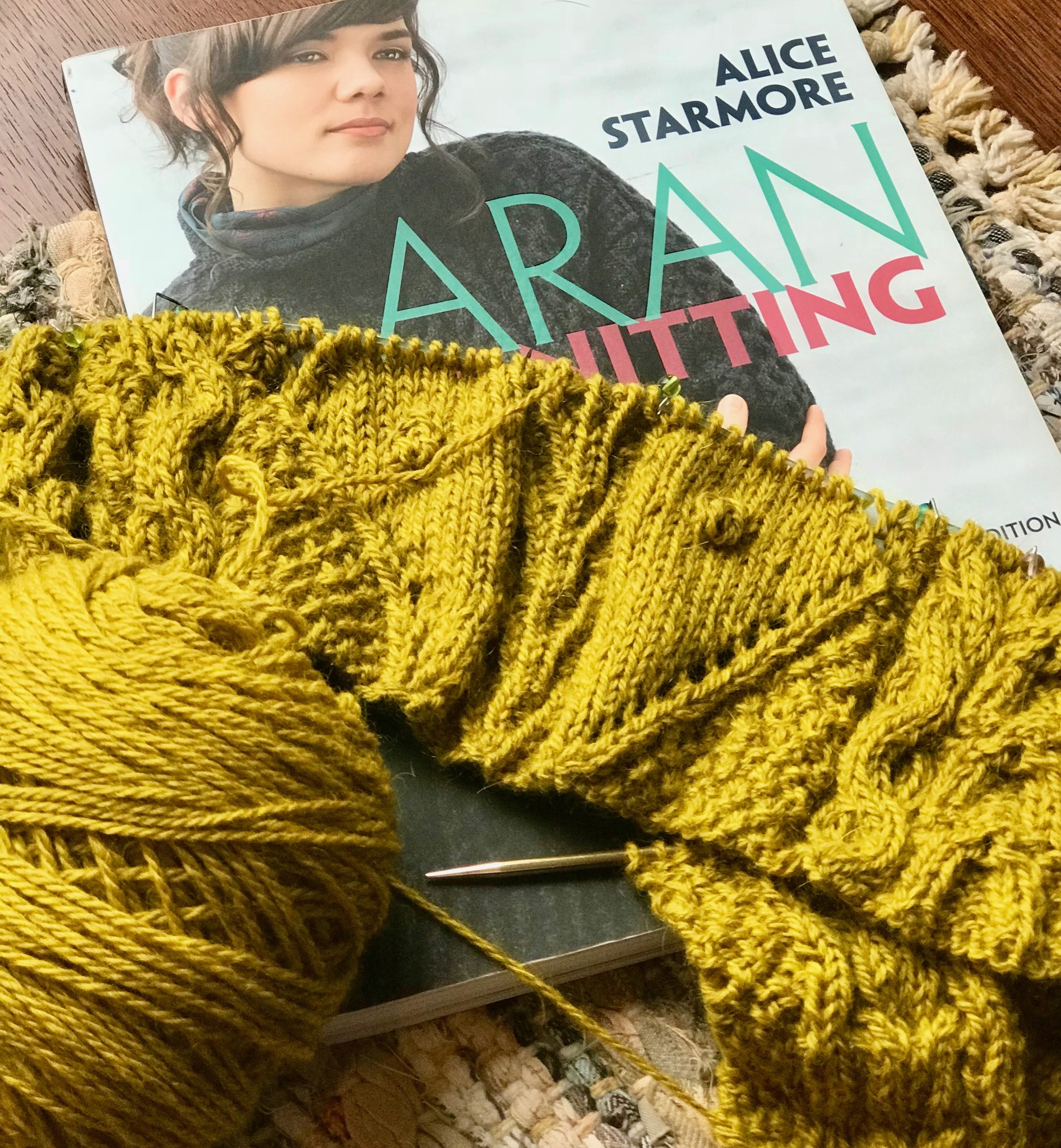 The second long-lost knitting adventure was born out of a newfound love of colorwork.  I took a color theory class at Madrona a few years back.  From the talented Mary Jane Mucklestone.  She had several of her creations with her during class, which got passed around. As soon as it landed in my hands, I fell in love with her Fair Isle Sampler Hat.  A very, very, VERY long, tall stocking hat, using traditional Fair Isle motifs, and 14 shades of Jamieson's of Shetland Spindrift.  Again, a formidable undertaking.  But as with the shawl, if I worked just a few rounds each day (making my knitted start to the day routine a bit more onerous), I'd have an impressive colorwork accomplishment to show off.  My Fair Isle Sampler Hat never did get buried like the shawl, remaining perched on a shelf in plain view, reminding me to give it some loving every so often.  And I did, every so often.  Must admit, the literally hundreds of ends to weave in was daunting.  Well, on Saturday, I whipped out my tapestry needle and got to work.  Several hours later, with all those tiny ends tucked away, the knitting commenced.  I figure that if I work 1-2 peeries (Scottish word referring to small band of colorwork) a day, voila!  Fete accompli.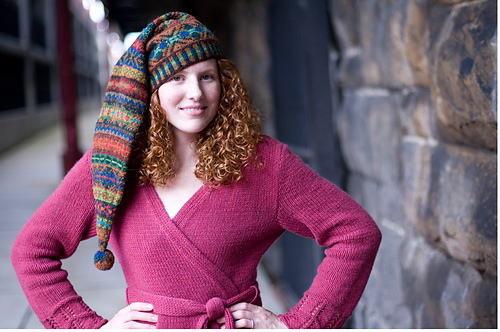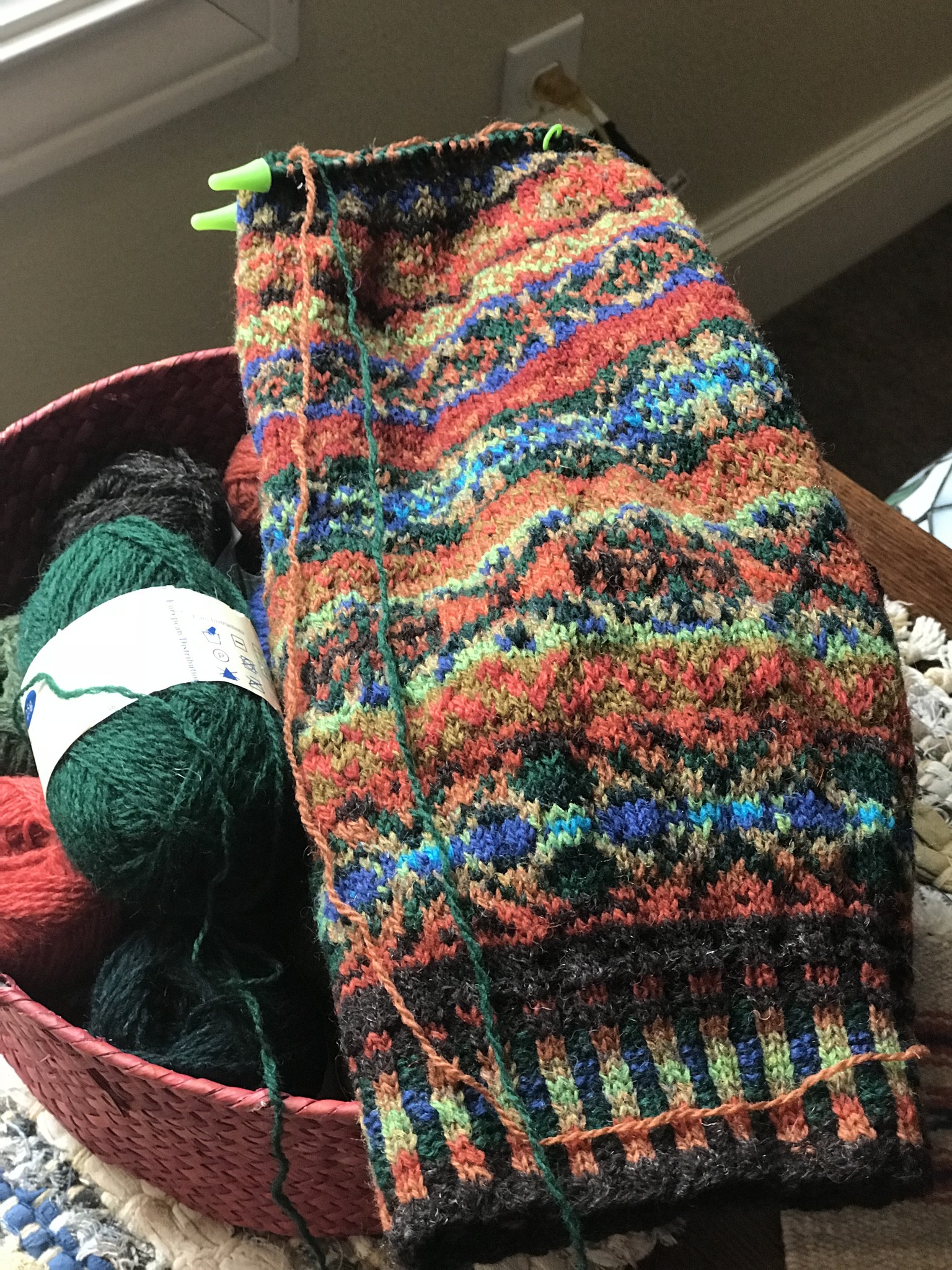 So far, four days in and I've kept up my daily knitting goals.  Fingers crossed - I can do this!