Gave it my best shot. But I'm throwing in the towel and thinking about repurposing my colorful skeins of yarn. Nope, Brioche is not my cup of tea.

Despite the powerful attraction of a Mystery KAL, Andrea Mowry's 'What the Fade' did not captivate me enough to finish the 6 clues. After restarting 5 times, and having issues following each double row (there are definitely some "artistic license" elements in my project), I made the tough decision to hang up my brioche needles. For now, anyway. I always hate to totally give up; usually opt for a temporary time-out from a challenging knit. And the colors were really fading together in a fun and beautiful way. The yarn itself is delicious (usually it's a bad yarn that makes me completely abandon something). Perhaps this shawl is not destined for repurposing just yet. But it will take a backseat, sitting all pretty and tempting in its tall wooden yarn bowl perch, calling to me to give brioche a second chance. Maybe when I'm feeling the urge to torture myself, I'll pick it up. Finish the thing, a few rows at a time. By my 100th birthday. I'll wear it at my centennial party, with bright pink cowboy boots.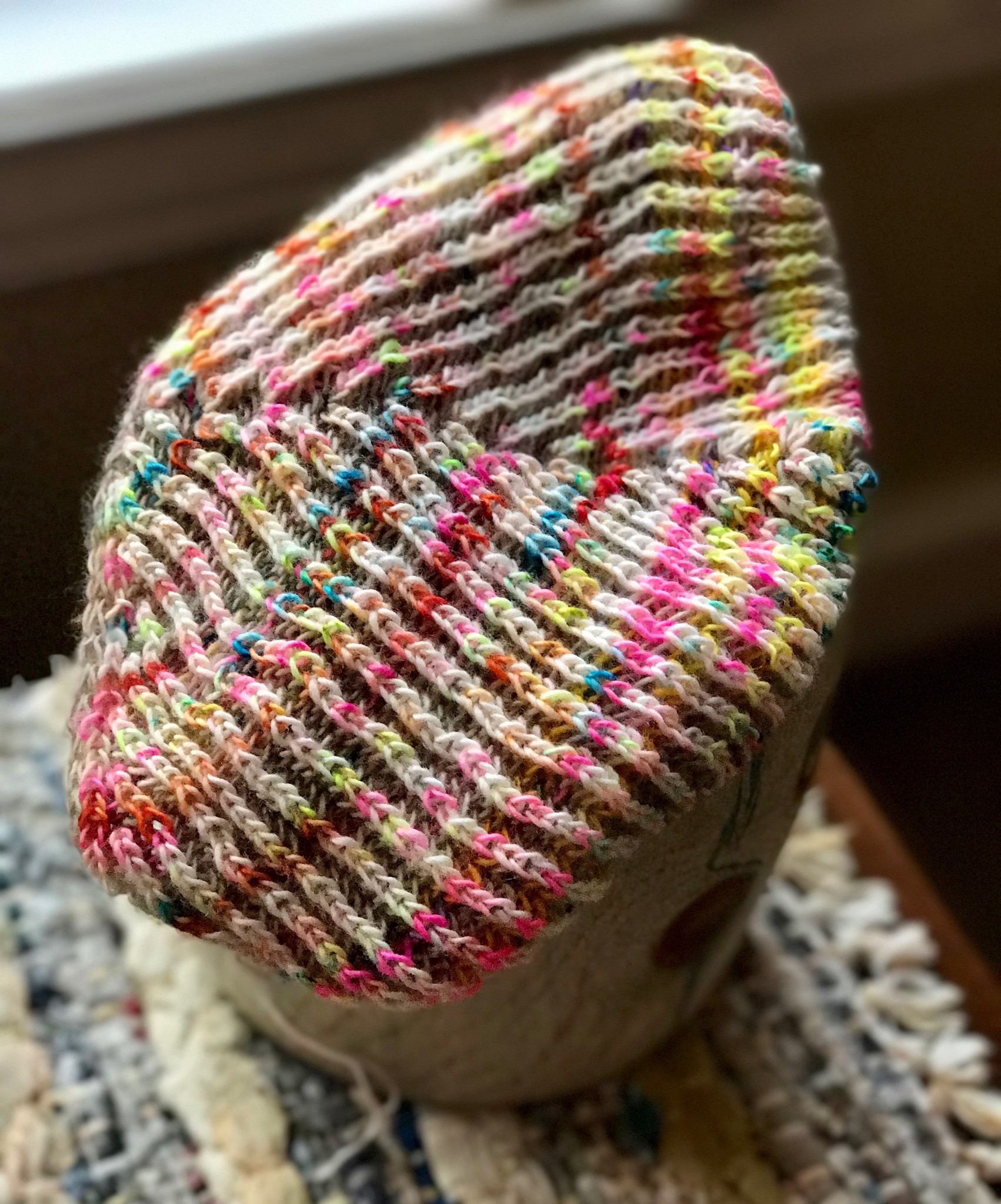 To abandon one project means there was another calling out to me in a much louder voice. "Knit me, knit me, . . ." This time it was intarsia. And alpaca. And yes, ballet pink – my favorite shade. My frustration with the MKAL made it even easier to switch gears and plow into the baby blanket for the newest granddaughter, Rosalie (Hanna and John finally settled on a lovely name for their newest little angel, expected in January). By golly, it's almost finished! Five adorable little sheep prancing across the stripes. Just have to pick up and seed stitch the side edges. Oh my goodness, this new little girl is in for a treat. I would love to be snuggled up in alpaca. Blue Sky Fiber's Extra is utterly yummy to knit with. One of those yarns you're sad to say goodbye to when casting off.
Almost finished, with nothing to knit next? Are you kidding?! That new book, "60 More Quick Baby Blankets" has sooooo many cute little ditties, deciding which one is a real challenge for most knitters. A nightmare for me. But alas, an intriguing design at the very end of the book caught my eye. Gingham Glory. The pink drew me in right off the bat. As I read closer, it hooked me. Reversible double knitting. Yet another new technique I've not tried. Perfect! Fingers crossed that I like this new-to-my-knitting-bag-of-tricks technique better than brioche. Ugh, brioche. Just saying it out loud makes me groan.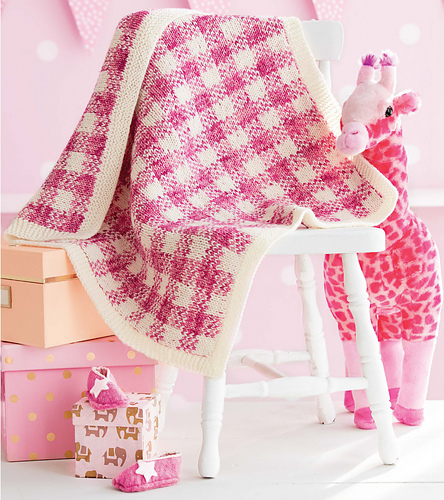 Until next week. Check in to see how my foray into double knitting works out. Needless to say, it'll be pink.