Temperature's dropping. Leaves are turning red and gold. Starbuck's is serving up Pumpkin Lattes. And my toes are freakin' cold! With the first days of Fall upon us, it's time to knit (or better stated, finish knitting) some toe toasting socks.
A self-professed lover of knitting socks - that's me.  So yay for fall and cooler weather.  Time to pull out those beloved tiny needles and plethora of gorgeous sock yarns.  But whoa is me - when I opened up the mesh bag holding my sock needles, I found lots and lots AND LOTS of empty packages.  Hmm?  The little knitting angel on my shoulder said "Anne, time to finish some of those socks you've started over the past months" (and honestly, years).  Heeding good advise, I opend up my UFO basket of socks.  What did I find?  Let's see.
The oldest pair?  Probably nearly 10 years ago, I fell in love with the toe up designs from Wendy Johnson.  The first pair I tackled was the first pattern in her Socks From the Toe Up book, Dead Simple Lace Socks. Knit in pink, of course, I have one sock done, with the second having a turned heel and more than half the ankle complete. Probably an hour or two of knitting left.  Pretty pathetic that I can't seem to cross the finish line on this one, right?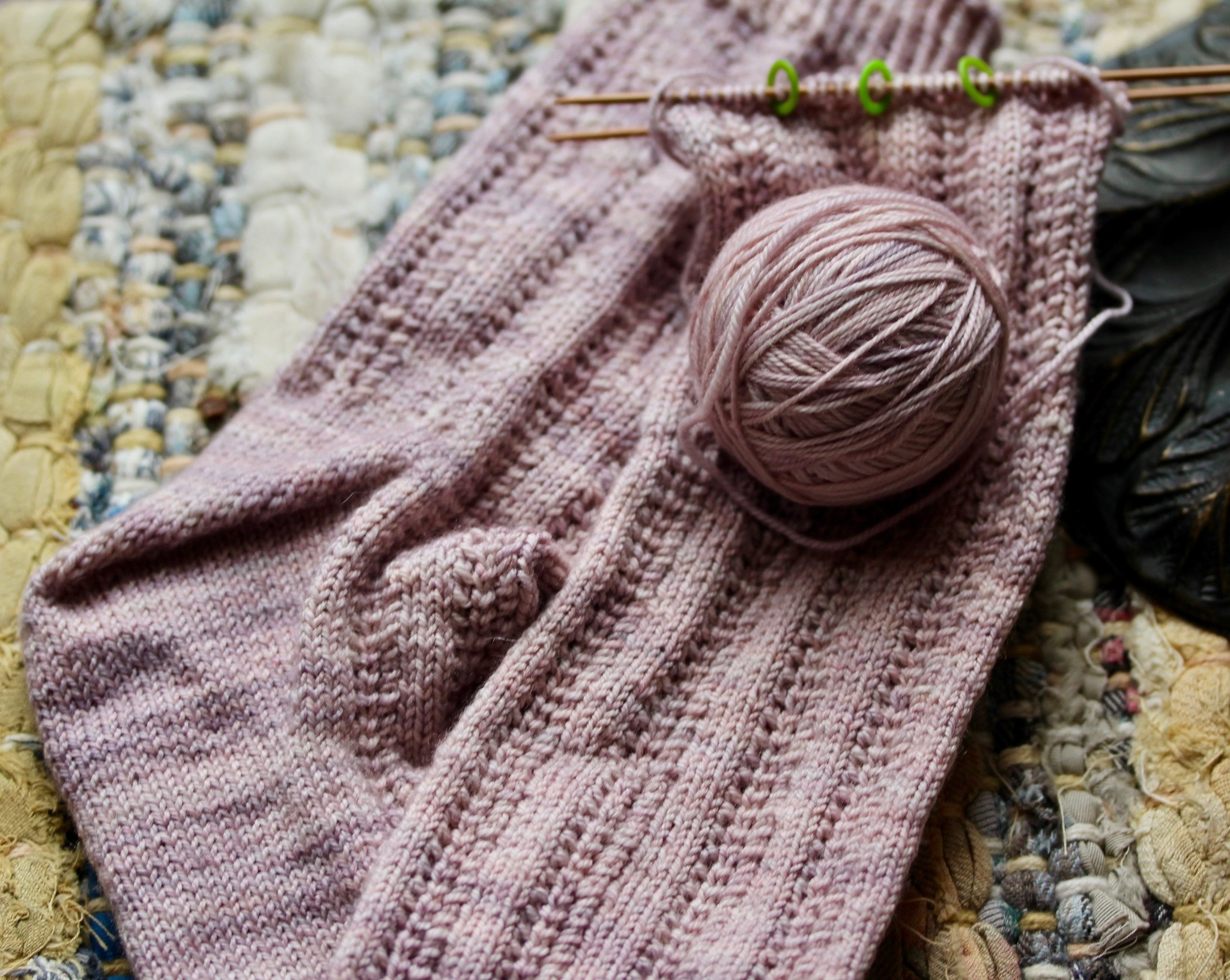 And there's the pair I took with me to Scotland 3 years ago.  Another Wendy design, this pair a fair isle stunner, Stjarnblommesockor - Swedish for "Star Flower Socks."  Again, One sock completed.  But this time, the second is yet to be cast on.  So finishing this one may have to wait until a needle miraculously is freed up from another completed pair.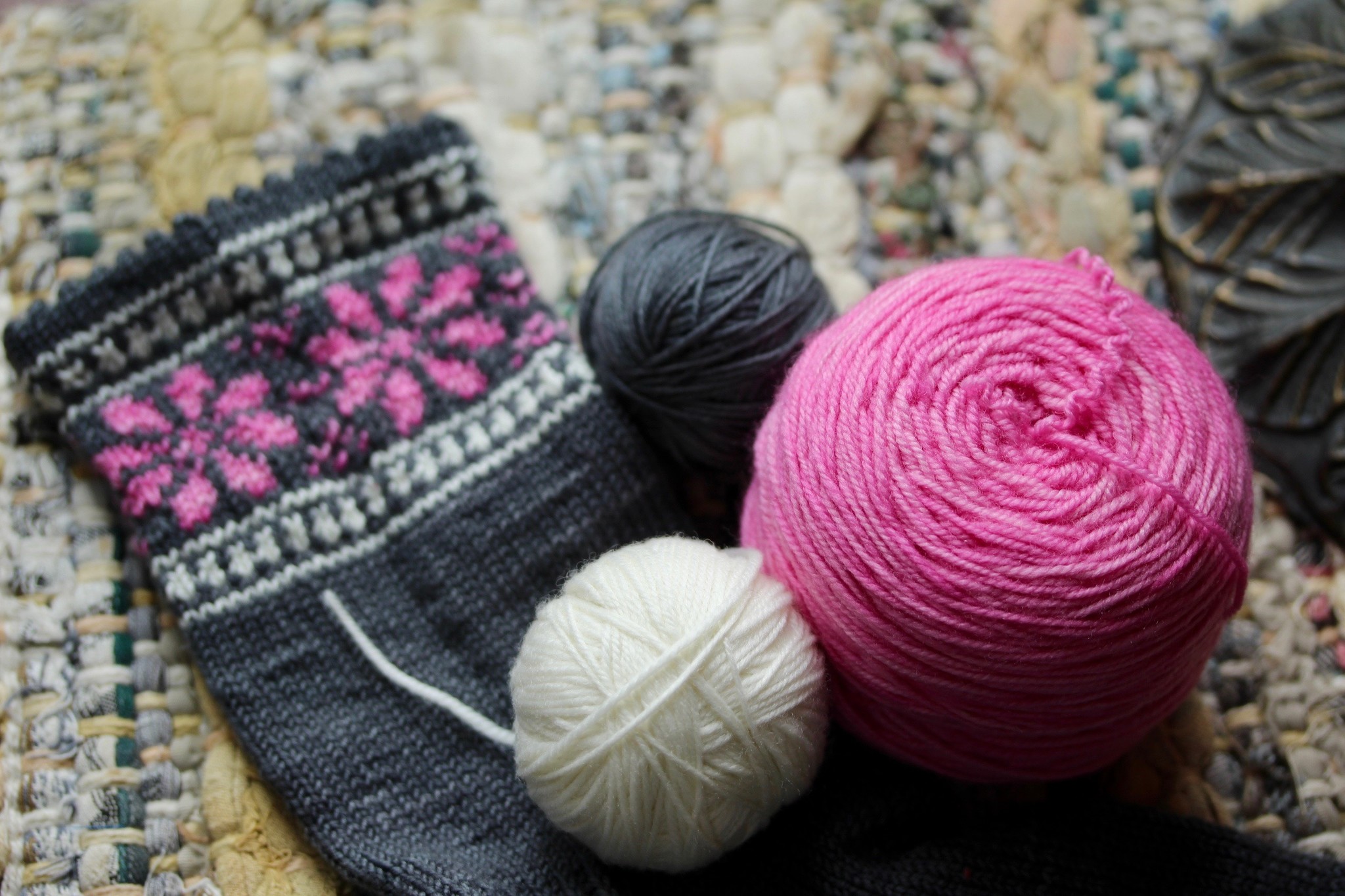 Yet another pair using colorwork are my Route 66 socks, designed by Stephanie Van Der Linden.  These are unique in that they use my sparkly Knitted Wit PDX Carpet yarn for a truly Portland look.  Much more to do here - only one sock cast on, with the cuff complete and 2 repeats of the pattern down the ankle.  But super fun, and exciting as I see the pattern and colors unfold.  This one's a strong candidate for my attention.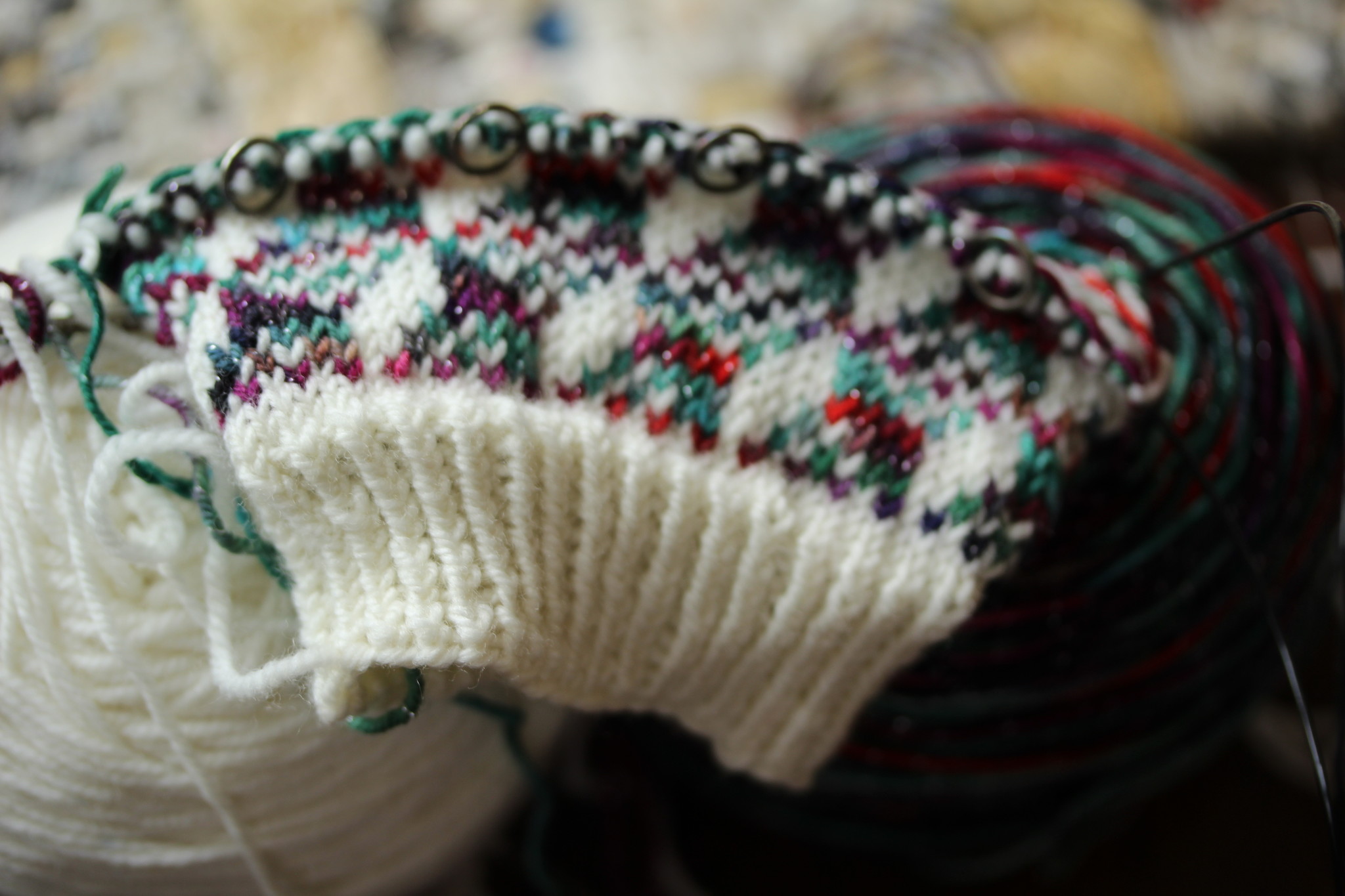 Then there's the sock club I joined on Ravelry - Curious Handmade designer Helen Stewart's Handmade Sock Society.  Every other month, a new sock design.  The 2nd release, Winter Rose Socks is a bit farther along than my Route 66 pair.  And pink yarn, again.  Both on needles, with ankles complete and both heels turned.  That means I have only to knit the foot times two, then Kitchener them to completion.  That'll free up 2 needles.  Back to their packages, or on to another design?  Oh oh!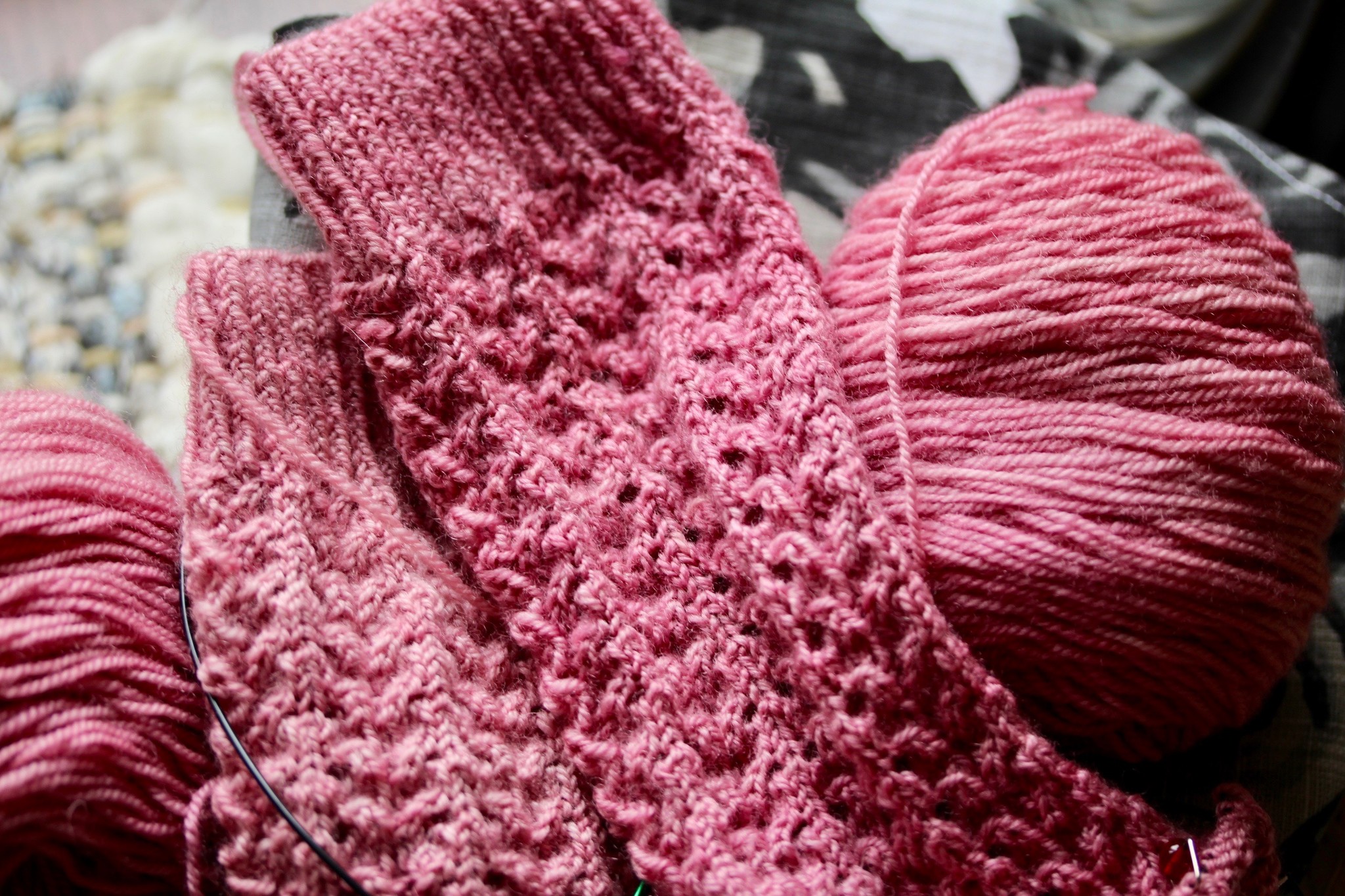 Finally, there's a delightful pair from Coop Knits' When Vampires Knit Socks collection. Renesmee with a ruffle at the top of each cuff.  I'd never done one like that, so naturally, I was intrigued.  Both ruffles are complete, and one ankle is partially knit.  Another good candidate for completion.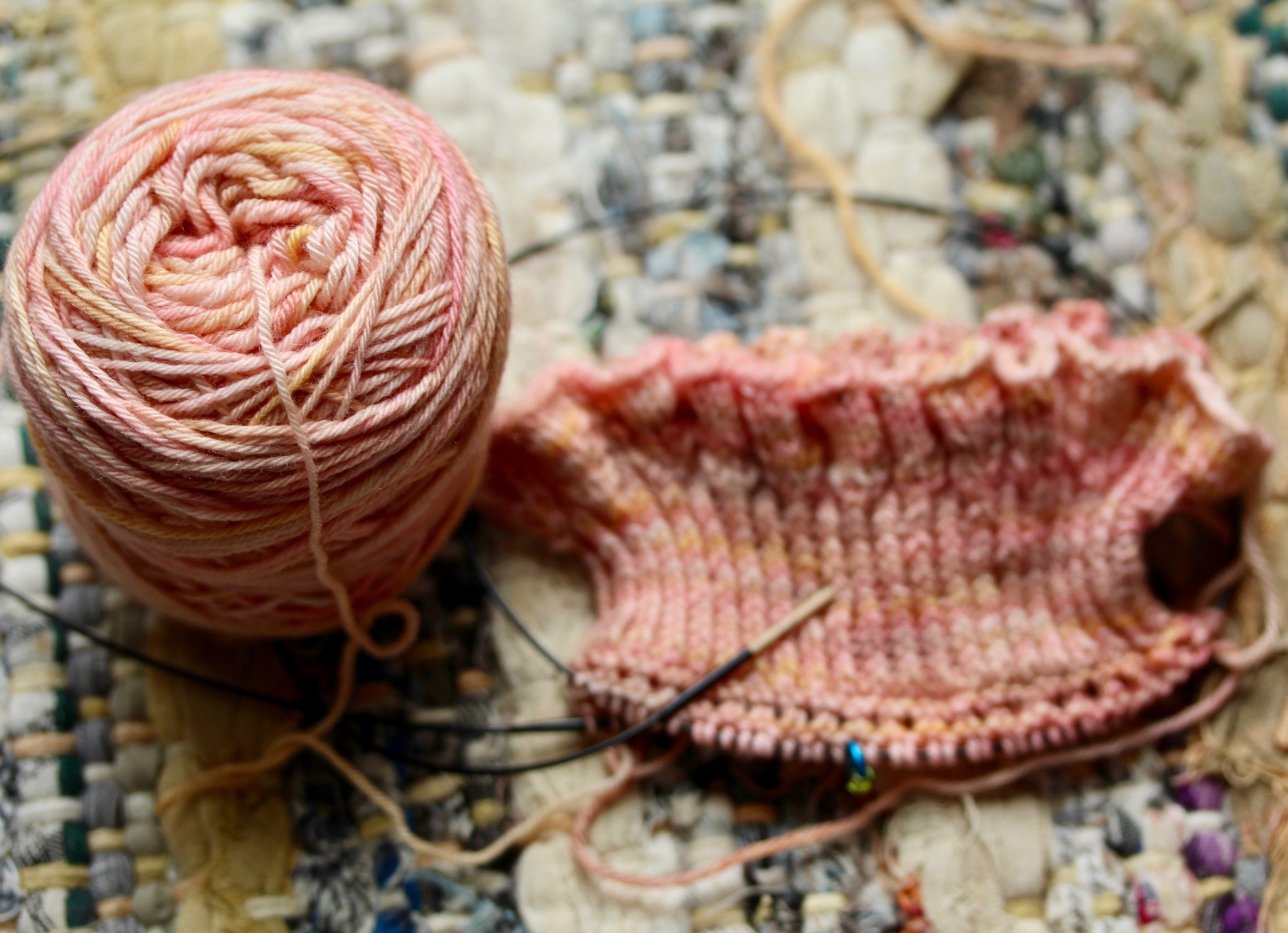 To say that was it as far as incomplete socks in my knitting world would be a gross understatement.  I counted at least a dozen empty needle packages, which doesn't even account for those tucked into the project bag with the socks.  Not to mention the unspeakable number of sock yarn skeins hiding in my stash.  But these are my favorite, so far.  And the most likely to be warming my toes in the cold Oregon months ahead.  Hooray for knitted socks.