Just when you think you have a plan . . . beware the curve ball! In knitting speak, the newest sensational pattern. No fair Joji! Oh my stars, I could use an extra hour or two in each day. Or Hermione Granger's Time Turner.
As I shared last week, my favorite knit of the year is underway - Romi's annual Mystery Shawl.  And I'm doing really well.  Clue 1 was finished on Tuesday with days to spare, and anxiously anticipating Clue 2, due out Friday morning.  Feeling quite accomplished and relaxed.  Then that ominous ping came in, alerting me to a new email.  Ooohhh noooooooo!!!  Joji Locatelli announcing her latest design release - Fading Point.
Recall my discussion last week about Joji's first ever MKAL last year.  A bear of a knit, using 5 full skeins (2000+ yards of yarn) of fingering weight yarn.  I think I kept up through Clue 2, but quickly realized there was no way to knit that much and still have a life, let alone eat, go to the bathroom, shower, . . . .  Well, her latest design again uses a ginormous amount of sock yarn - 5 skeins.  But unlike the mystery knit, this one is the full on pattern (ie, no pressure to knit 'til you drop each week before the next clue comes out).  A huge wrap that starts at both ends and meets in the middle for the finish.  Its like second sock syndrome, but worse!  Literally, the directions begin with "work 2 identical pieces, until you join everything together."  Oh, my aching fingers.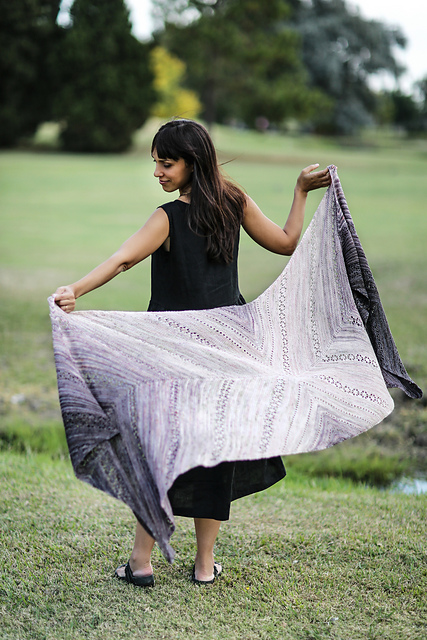 What makes this one special?  Well, Starting Point (the name of the MKAL) is beautiful, and this one is very much like it, at least in shape.  But the gotcha hook is the color scheme - a giant, magnificent fade.  5 gradient shades moving together and meeting up in the middle.  Spectacular!  And oh the color combinations one can dream up.  Which I did, of course.  Veronica of Dream In Color and I put our heads together and came up with five lovely color schemes - check them out!  The dying is underway, and there'll be kits available for your Fading Point knitting delight by the end of the month (you can pre-order on the website now).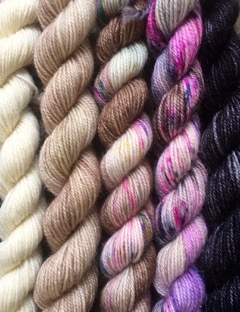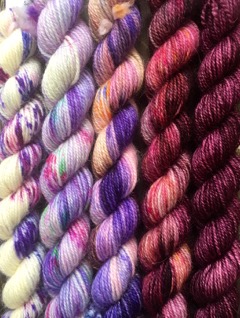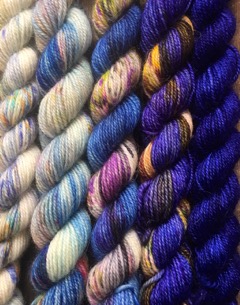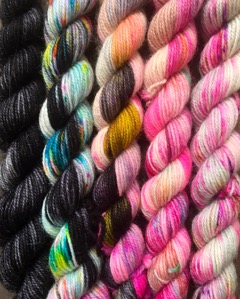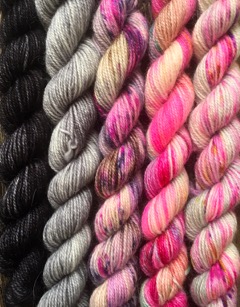 So what does this mean for my knitting schedule?  Totally blew it up.  'Cause of course I have to get one started, right?  One of the Dream combos, so you all can see how it knits up.  Well maybe, eventually.  I can not knit that fast, but will post photos of my progress through the colors.  As well as staying on track with my beloved Romi MKAL.  Holy smoke, I better get knitting!  See y'all next week.