Yet another irresistible yoke necked sweater design. Can you ever have too many! I think not.
As I usually do each year after the Crawl comes to an end, I turn to completely selfish knitting.  Nothing that has a deadline or purpose.  Just pure, for me only knitting.  Sometimes (actually quite often, knowing me) it involves something new.  And sometimes it involves picking up something already on needles.  Over the past week, I've gone through my many project bags and pile of patterns to assess what's next.  A few socks.  A gorgeous colorwork cowl.  And a whole mess of sweaters.  In the process of assessing my many WIPs, I discovered that I have a pattern - pretty much all of the sweater designs I pick to knit involve yokes and colorwork.  Yup, beautiful, colorful, pullover yoked sweaters.  Here's a few that are in progress or just a twinkling in my eye.
Feel the Bern.  So I couldn't just make a pair of mittens.  Nope.  I jumped onto the very funny 'Where's Bernie' phenomenon with Caitlin Hunter's mitten inspired sweater.  Beautiful, rich browns, with not a speck of pink anywhere.  Whaaaaaat?!  The sweater design is short sleeved and cropped.  I'm going to add length to both the arms and body.  This one is worsted weight (Manos Alegria Grande), so maybe I'll get 'er done.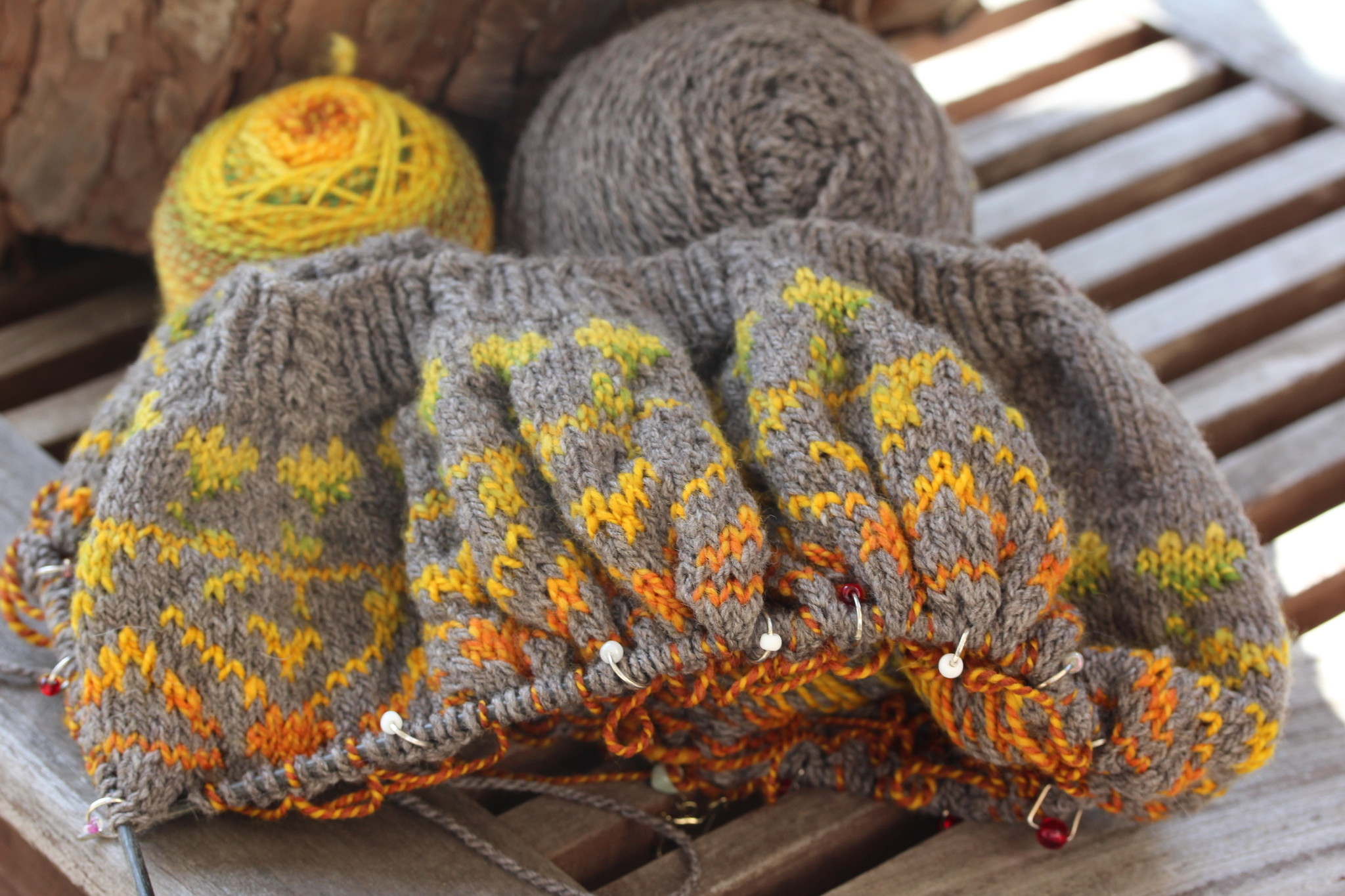 Lovebirds.  I'm pretty sure I started this one about the same time a year ago.  A featured design in one of Spincycle's weekly newsletter.  Thanks Rachel and Kate.  Another short-sleeved crop, this one designed by Kate Oakes.  My plan is to stick to the pattern, making something that I can wear during an Oregon summer.  And because it's knit in fingering weight yarn - improve the likelihood of a finished sweater to wear.  This one's being worked with Spincycle's natural dark grey Wilder and a bright, eye-popping Dyed in the Wool, Salty Dog.  Pretty summer yellows, oranges and greens.  Again, no pink.  Oh my!
I also have a couple more underway - one by Gudrun Johnston and one by Marie Wallen, both using Shetland Spindrift.  Those get a little of my attention every day; a round here, a row there.  I was really motivated in 2019 / early 2020 to get at least one of these lovelies finished so as to wear it on my August 2020 trip to Shetland.  So much for that plan.
On to the twinkles!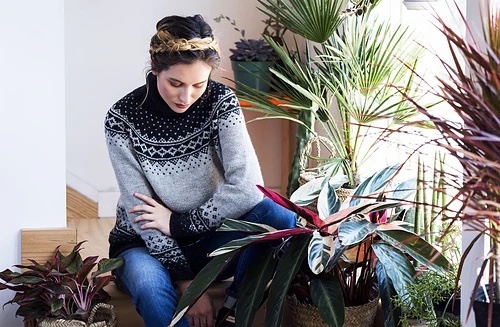 Rainier.  I've admired this sweater each and every time I go to the Kelbourne Woolens website.  It's simply gorgeous!  Dark and light grey, in a roomy pullover.  Detailed design not only around the yoke, but at the cuffs and waitline as well.  Rainier is knit with Scout - a DK weight just plain wonderful wool's wool.  I can see myself pulling this one on over and over and over again.  Rainier is now moving from my wish list to my cast on pile post haste.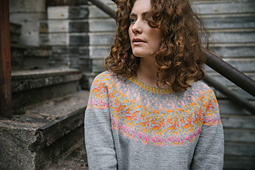 Rosehip.  And the piece de resitance.  This beautiful creation is one of the 20 designs in Anna Johanna's new book, "Strands of Joy."  Colorwork patterns worked from the top down, including sweaters and cardigans as well as an elegant dress, a hat, and a kido's pullover.  This is a must have book - if you love stranded colorwork like I do, you'll want to knit them all!  Rosehip caught my eye, again, as a featured design in a Spincycle's newsletter.  Like Lovebirds, it uses Wilder (this time light grey) and Dyed In the Wool.  Ever since the Spinsters introduced the new color Midsommar last summer, I've been looking for the perfect design, and this is it!  Finally, some pink!  3/4 length sleeves, a roomy fit, and a lovely rose pattern that's repeated at both the hem and cuffs.  This one may just take front and center on my knitting schedule.
So there you have it.  Clearly, I have a predilection for colorwork and yoke style pullover sweaters.  How many might I be able to churn out in the next year?  Hmm - depends, I think, on how many new designs cross my path in the coming months.  And the 2021 Handmade Sock Society releases, the new Wool Week hat due out in April, Romi's upcoming Mystery Along, . . . I think I'm in trouble!  But good, fun trouble, none the less.