And the quest to finish UFOs continues. And this one involves mohair. Beautifully hand-dyed, fluffy lace mohair. Sneeze, sneeze, sneeze, . . .
Andrea Mowry's "Birds of a Feather." The gorgeous shawl design debuted in Laine No. 2 that compelled me to add Hedgehog Fibers to For Yarn's Sake's shelves. Absolutely gorgeous. But oh lordy, a lot of knitting. And sneezing! This beautiful hand-dyed fiber, with a luscious blend of mohair and silk is fluffy, and ethereal, with those drifting little pieces of fuzz inevitably landing near my nose. Lots of kleenex and 'bless you' comments surrounding me as I knit this masterpiece.
That said, I do love it. The mohair, while a wee tad challenging to work with, adds an indescribably lightness and femininity to the creation. Knit with Hedgehog Fibers Skinny Singles and Kidsilk lace in the same colorway - Andrea's used Cry Baby, but I chose Teacup, with subtle splashes of hot pink and warm browns against a creamy background. On every occasion that I'm working on my Birds of a Feather in public, someone gushes over it. Which spurs me on to finish.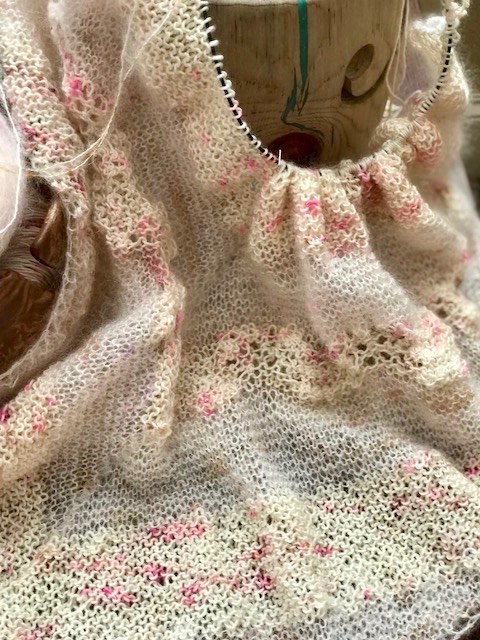 How long this "get 'er done" attitude will possess my knitting habits, I'm not sure. That irresistible new design or yarn is probably hovering nearby, just waiting to pounce and draw my attention away from the plethora of projects in my to-be-completed pile. God help me if a tempting new Mystery pops up. Until then, I knit on, head facing forward, eye on the prize.