Hip Hip Hooray! After a very long and arduous stint at home, Jay and I made our first beloved road trip. And yes, many knitting needles came along for the ride.
What a year!  Among the many things impacted by the pandemic, our annual summer road trips were particularly missed.  Especially the one where the two of us drop our son with Down Syndrome, Andrew off at Camp Stand By Me in Vaughn, Washington.  A fun-filled week of campfires, swimming, hiking, canoeing, arts and crafts, and making new friends - all the wonderful summer camp stuff.  After it was cancelled last summer, we were on pins and needles, wondering whether it would happen this year.  Yippy, skippy!  It was a go.  And he was delighted when we arrived.  Phew!
A week with no one to care for but ourselves.  What to do, what to do?!  We didn't want to go too far, just in case there was an issue with camp.  We do love discovering new good wine - I think I've shared about our jaunts to Napa a time or two.  So we decided to head for Eastern Washington and Walla Walla.  As is our usual motus operandi, we picked a new book on tape (The President's Daughter by Bill Clinton and James Patterson), loaded up the car with cooler and snacks, and hit the road.  Total drive time - 13 hours.  Perfect!  I stuffed my oh-so-essential bag full of projects for the long haul.  More than I could possibly finish, but hey, better to be prepared than without a knitting project to work on.  Two socks (and a shawl, just in case).
On the way north to camp, I started a new sock with a new to For Yarn's Sake yarn, Gemmelserie by Rauma.  The pattern, Shepherd Socks by Norwegian designer Patricia Anne Fortune screamed for traditional Norwegian wool, and I'd been looking for something other than another Selbuvotter mitten to knit.  Perfect!  Light Pink for the background, and natural ebony for the sheep design.  By the time we left Vaughn, I'd finished the ribbing and was well on my way through the sheep motif.  We headed over the Snoqualmie Pass on a gorgeous, sunny afternoon.  A spectacular drive, by the way - had to stop knitting more than usual to take in the scenery.  By the time we made our way south through the Yakima Valley and pulled into Walla Walla, I'd turned the heel and was working my way through the foot.  So naturally, as the fun stuff was over, I turned to a new sock.  You didn't think I'd finish something, did you?
A three day break from knitting came next, as we enjoyed the wonderful town of Walla Walla, and some amazing wine / wineries.  Jay's college roomie and frat brother owns a winery there, so naturally we met up.  Reininger Wines.  Some wonderful wine, and fun times, catching up on life since college.  We had a very french lunch on Friday (including bubbles), in between tasting our way through the best of Walla Walla, and enjoyed dining out at restaurants that didn't have cheeseburgers or pizza on the menu (a requirement when taking Andrew out to eat).  A wonderful first vacation break.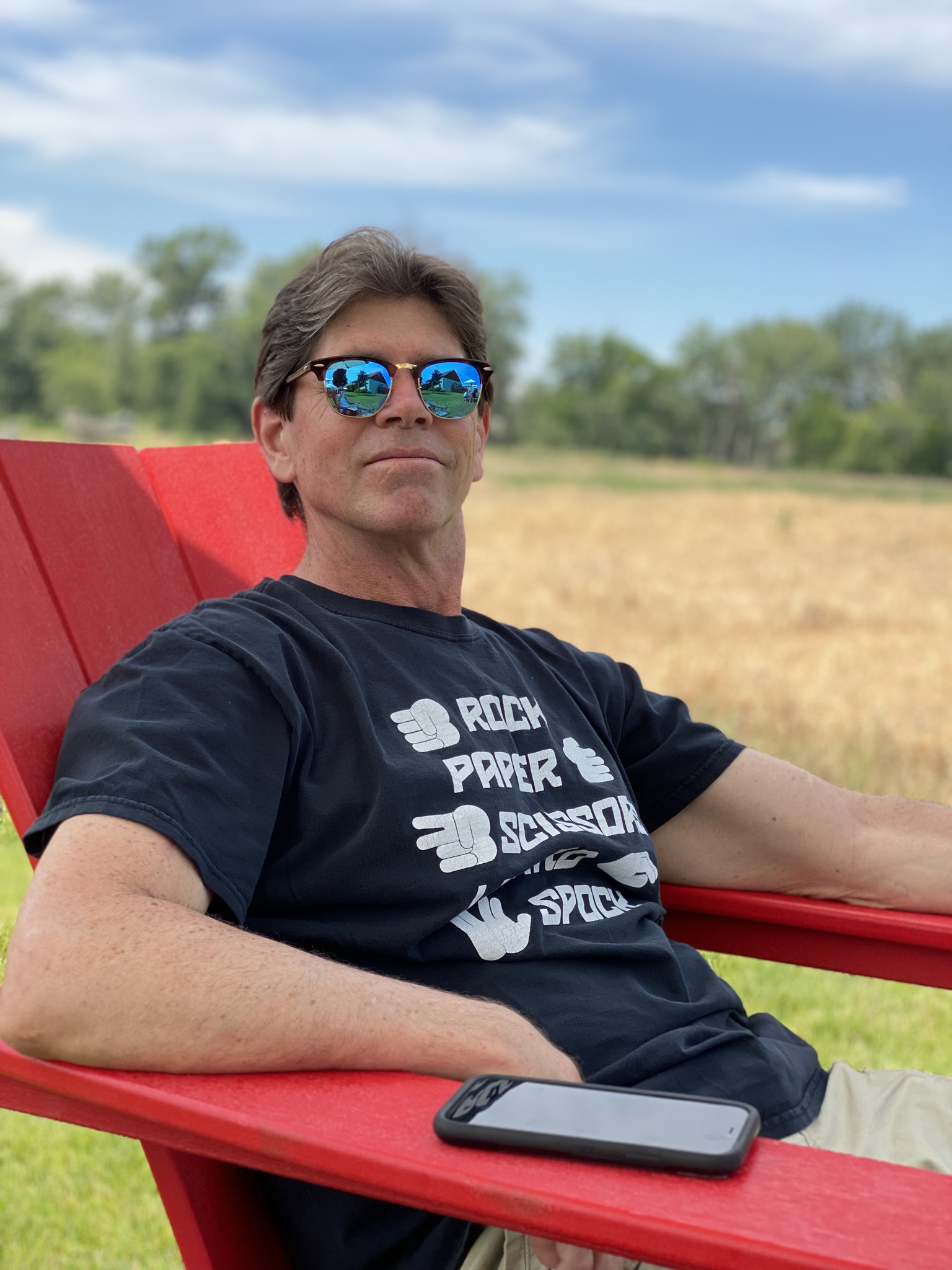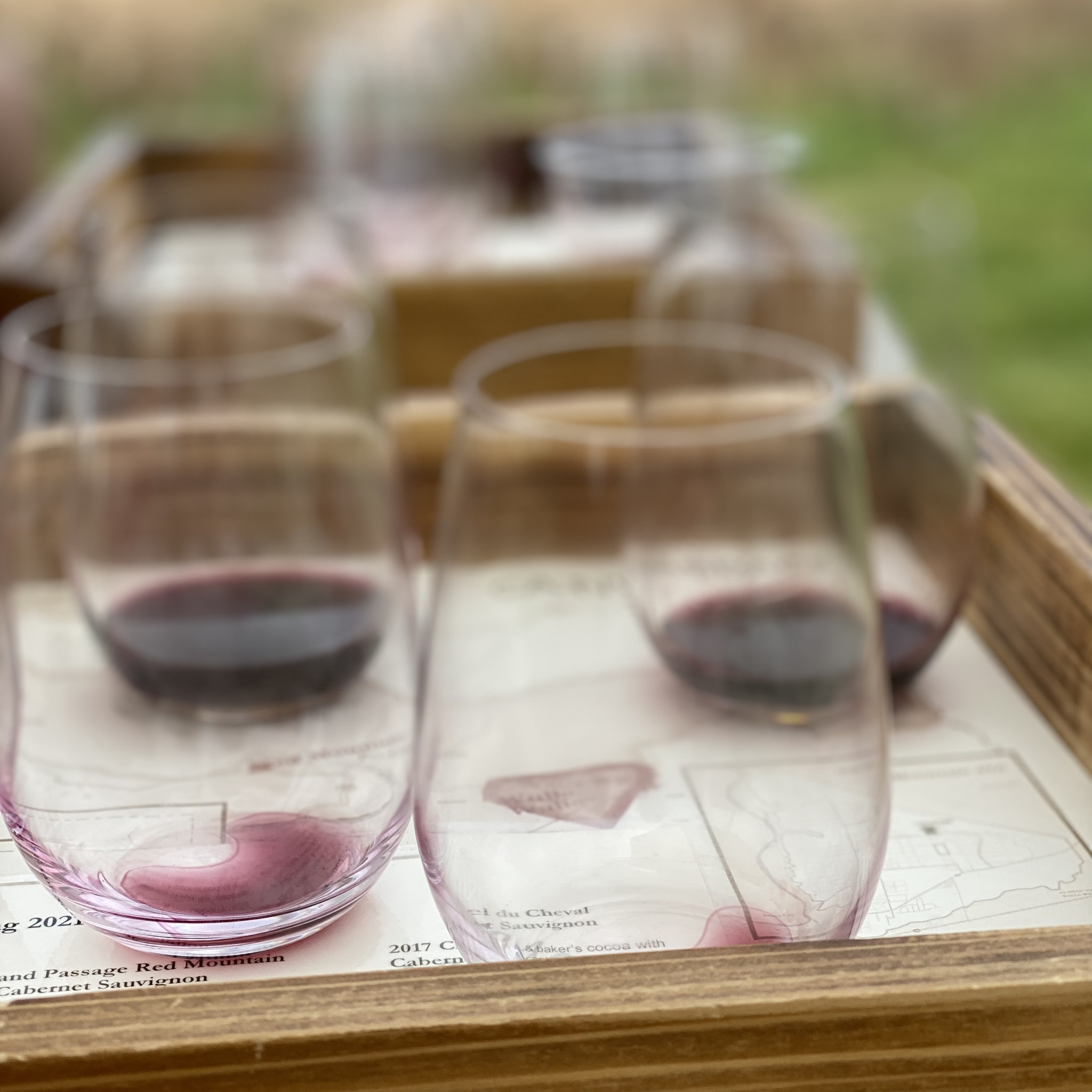 On Saturday, we packed up our wine loot (yes, we now have a replenished cellar) and headed home.  If you haven't driven through the Gorge this time of year, you're missing out.  We live in a simply awesome, beautiful corner of the world.  We crossed the river to the Washington side at The Dalles, and headed for a late lunch at Everybody's Brewing in White Salmon.  Again, a must do experience.  The view looking across the Columbia at the rock cliffs with Mt. Hood peeking over in the background was breathtaking.  And a beer and burger was pretty good, too!
On this leg of the journey, I got some more quality sock knitting in.  This time, the pattern was one of this year's Curious Sock Society designs, the Picnic Blanket Socks.   And again, a new to For Yarn's Sake yarn (or soon to be), BFL Tweed from The Wooly Cabin Yarns.  A delightful blend of 85% superwash BFL, and 15% donegal nups.  By the time we hit Portland, I'd made it through the three rouched sections on the ankle, and was on my way down the leg.  Not to worry - there was one more leg of this road trip to work through the heel.
After a relaxing Father's Day at home, and a very quiet Monday in our big house by ourselves (Jay and I couldn't remember when it was just the two of us, without Andrew or dogs, who were also at summer camp), we again loaded up the cooler and headed for Seattle.  And another of our favorite things to do - go to a Mariner's game.  Still at limited capacity, we enjoyed access to the 'vaccinated only' areas of the ballpark, which included The Pen and Edgar's Cantina.  A great view of the field and pre-game batting practice, along with a delicious, refreshing, very much missed over the past year Edgar's signature margarita.  Yum!  We enjoyed the game from great seats just above our team's dugout.  And the week was topped off with a Mariner's win!  It couldn't get any better.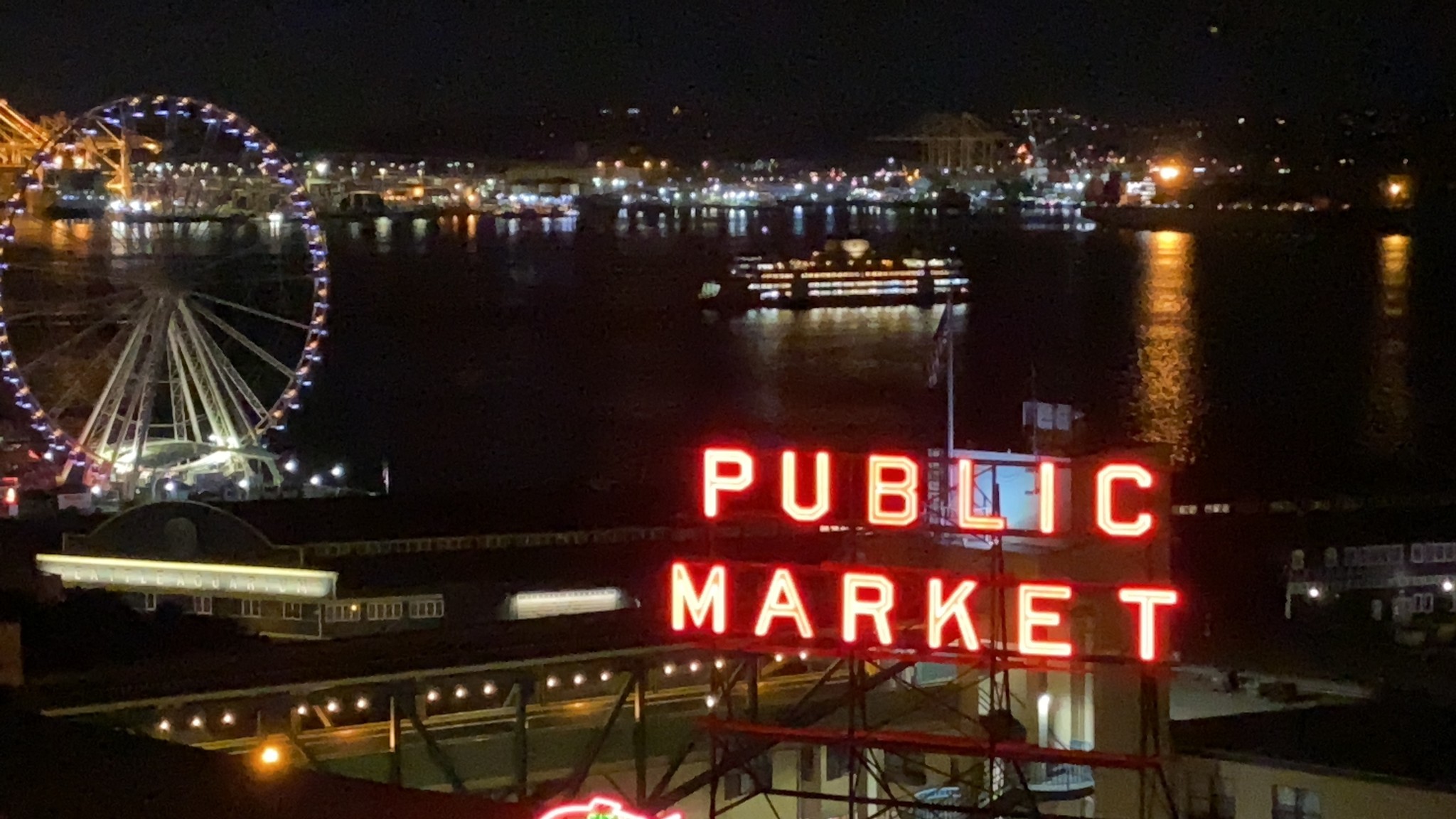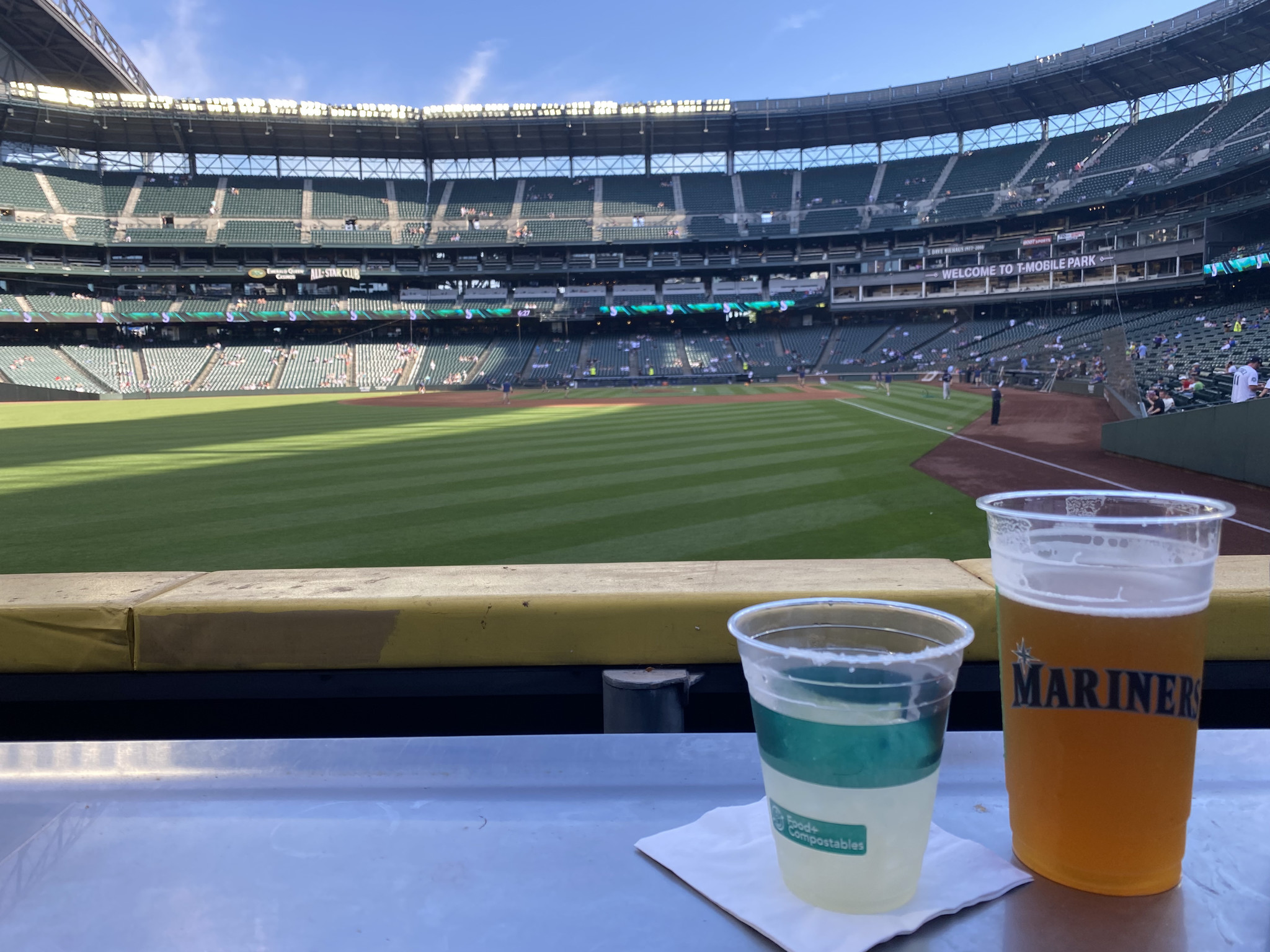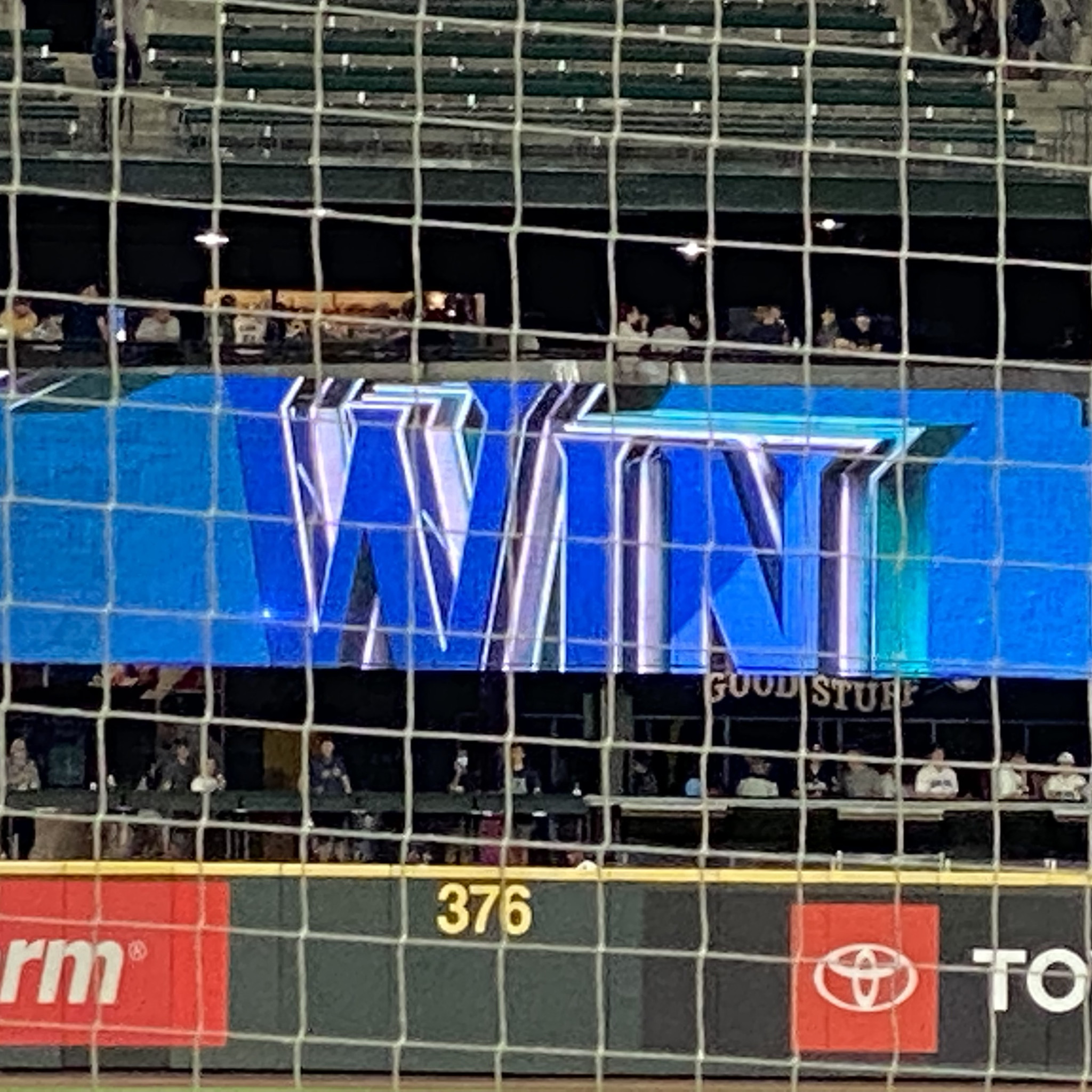 Oh wait, yes it could.  I turned the heel on my Picnic Blanket Sock on the way home. A very great week indeed!!!