And we're off . . . again! It's Jay and my wedding anniversary, which means a baseball game for two. But what to do when the Mariners aren't at home. ROAD TRIP! Woohoo!!!
Jay and I love baseball. And we love, love, love going away together, just the two of us. So a trip to the diamond seems the fitting way to celebrate our anniversary, right? Last year it was Safeco field (Mariners beat the A's - yeah!), a helmet full of Nachos, several beers served in stylish plastic, a romantic dinner overlooking the Sound, and a night in a luxurious Seattle hotel. Perfection! So this year, for our 35th, the same. Oh, but wait. How could it be? Our team is traveling. Yikes!
Not to be deterred, we're on our way to Denver. I'm pretty sure Coors Field has beer in plastic cups. And maybe even a Rockies helmet oozing cheese slathered nachos. A two hour flight and voila! We can watch our beloved Mariners lose in another venue :)
The plan is to spend two nights in Denver, then rent a car and traverse the state. My evil plan, ha, ha, ha! It takes 3-4 hours of driving to get across the mountains to our next stop - a gorgeous resort near Arches National Park. Beautiful scenery, and lots of driving (aka knitting) time. Yes!
And I'm gonna need it! Joji has a funny sense of what one can accomplish in a week. I am loving this Mystery KAL, but really Joji. Some of us have to do laundry, go to the grocery store, take the dogs out, sleep, and occasionally go potty ourselves. I finished Clue 2 only moments before Clue 3 appeared in my library. And that's with no knitting attention to any other projects. Thank goodness for a ROAD TRIP!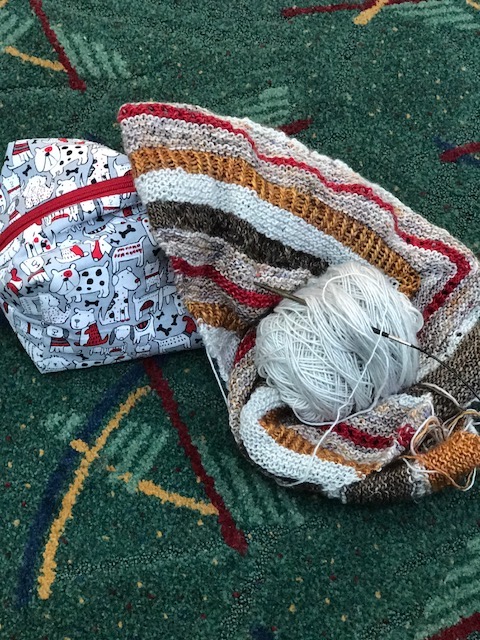 Off to bed - my Uber leaves at 5am. Check in over the next week, as I'll be posting pictures of knitting across the centennial state, Colorado.