The ultimate treat as a knitter - teaching my lovely granddaughter to knit. Life doesn't get much better!
A little more than a year ago, two of my granddaughters, Sophie and Claire spent a weekend with Jay and I.  As they ate chocolate chip pancakes and watched their favorite Disney Princesses on TV, I of course pulled out my knitting - something Sophie had seen me do on numerous occasions.  This time, however, she took an interest and asked if I'd teach her to knit.  Well of course!  The two of us made a special trip to the yarn store for needles (I had a special kid's set tucked away in my office) and to choose yarn.  Wouldn't you know it, she picked pink.  That's my granddaughter!  We wound her yarn, headed home, and sat down for our first knitting lesson.  Hmmm?  Turns out, you have to be able to coordinate two hands working together in order to knit.  At 4-years old, Sophie was quite content to just wrap the yarn around her needles, and got very testy when I offered to help her by casting on a few stitches.  "No Gramma, I can do it myself."    After giving a crochet hook a whirl (she did manage to make chains, but that was it), we decided that 5 years old might be a better time to tackle knitting needles.  Not a total loss - she got to play with some very pretty string. Turns out she's a Tosh fan.
Fast forward to May 4, 2018 - Princess Sophie's 5th birthday.  A new pink pedal bike, dinner at her favorite restaurant (Mingo, where she can watch the trains and eat noodles), 20+ friends at Chuck E. Cheese - everything a little girl could want, right?  Well, as it turns out, Sophie had not forgotten our pact to try knitting when she turned five.  And it did not take long for her to remind me.  Good for her!  We found her needles, yarn, and 'fix it stick' (a crochet hook), rifled through my plethora of project bags - again, she picked pink - then took to my usual knitting spot and got started.  Holy Smoke!  That extra year was miraculous!  Sophie let me cast on her stitches, paying very close attention.  I showed her how to execute a knit stitch twice, then handed her the needles.  And whabam - off she went!  All the way across the row with only a helping hand from me once, when a stitch slipped off her needle.  Turned her work, and she did it again.  Knitted across the row all on her own.  Amazing!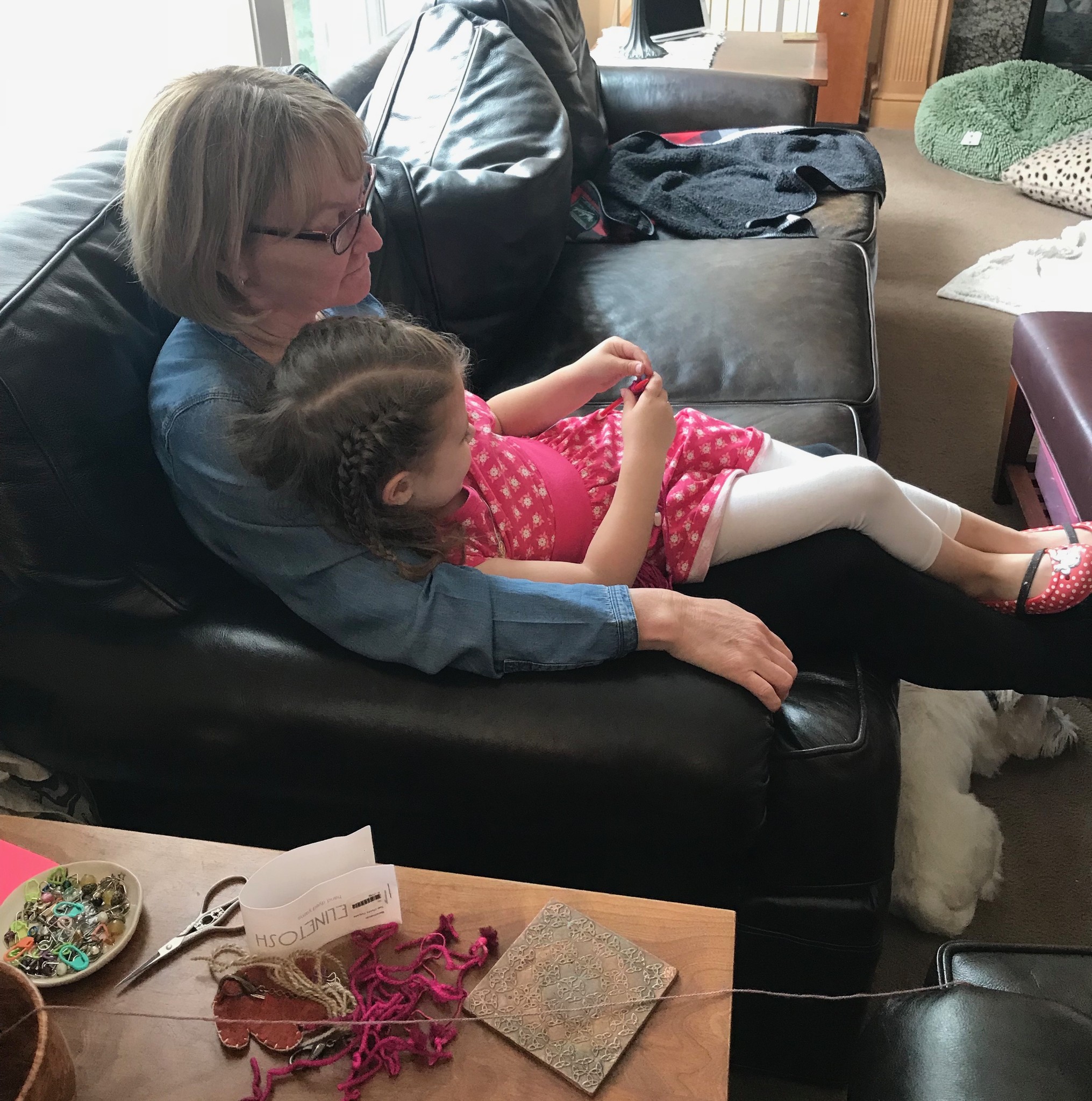 Every Friday, the two little girls spend the day with me. And without fail, one of the first things Sophie does is pull out her project bag and knit a few stitches.  We leave it at Gramma's, as mom is helpless to fix a mistake (and whoa is the knitter who can live with an unrepaired knitting mishap).  That means its slow going toward a finished scarf, and she doesn't get to practice during the week.  But to my amazement, she pulls out her work and gets going all on her own.  No reminders or help from me.  Sophie is a knitter!  Such a proud Gramma am I.