A long time in the making! I put the finishing touches on my Fair Isle Sampler hat that I started long ago. Feat accompli!
This project began more than 6 years ago, after attending my very first class at the Madrona Fiber Arts Retreat.  I chose a class that stretched my skills, and was outside my normal knitting wheelhouse.  My first foray into stranded colorwork.  It was taught by Mary Jane Mucklestone.  At the start of the class, she displayed a pile of her creations - an array of sweaters, mitts, hats, scarves, all in the fair isle tradition.  One of those lovely designs that caught my eye was her Fair Isle Sampler hat.  Leave it to me to choose something crazy big.  Not a tam or pair of fingerless mitts.  Nope.  A 26 inch long stocking hat, using 14 colors of Jamieson's of Shetland Spindrift.  Inspired by my new color skills, I gathered up those 14 colors , pulled out my 16" US 3 needles (of course, tiny needles), and started the ribbing.  Then, as is always the case with my knitting projects, something else came along and grabbed my attention, and my hat became a UFO. It did stay nearby in the perfectly sized basket I'd selected for those many colorful balls, occasionally getting a peerie or two completed.  But alas, not near to being finished.
Fast forward to 2020.  A year spent at home more than ever imagined.  With time to knit. Inspired by the preview of Mary Jane's upcoming new book, Fair Isle Weekend (due out mid-November), and encouraged by my recent success at cleaning up UFOs, I decided to finally give that Fair Isle Sampler hat its due.  I've knit nothing else for the past week.  And ta da! Yesterday I wove in the very last end (another story, as there were 192 rounds, with each pair of colors lasting only 2 rounds before changing), and blocked that fabulous hat.  All it needs now is a pom pom.  Whatcha think?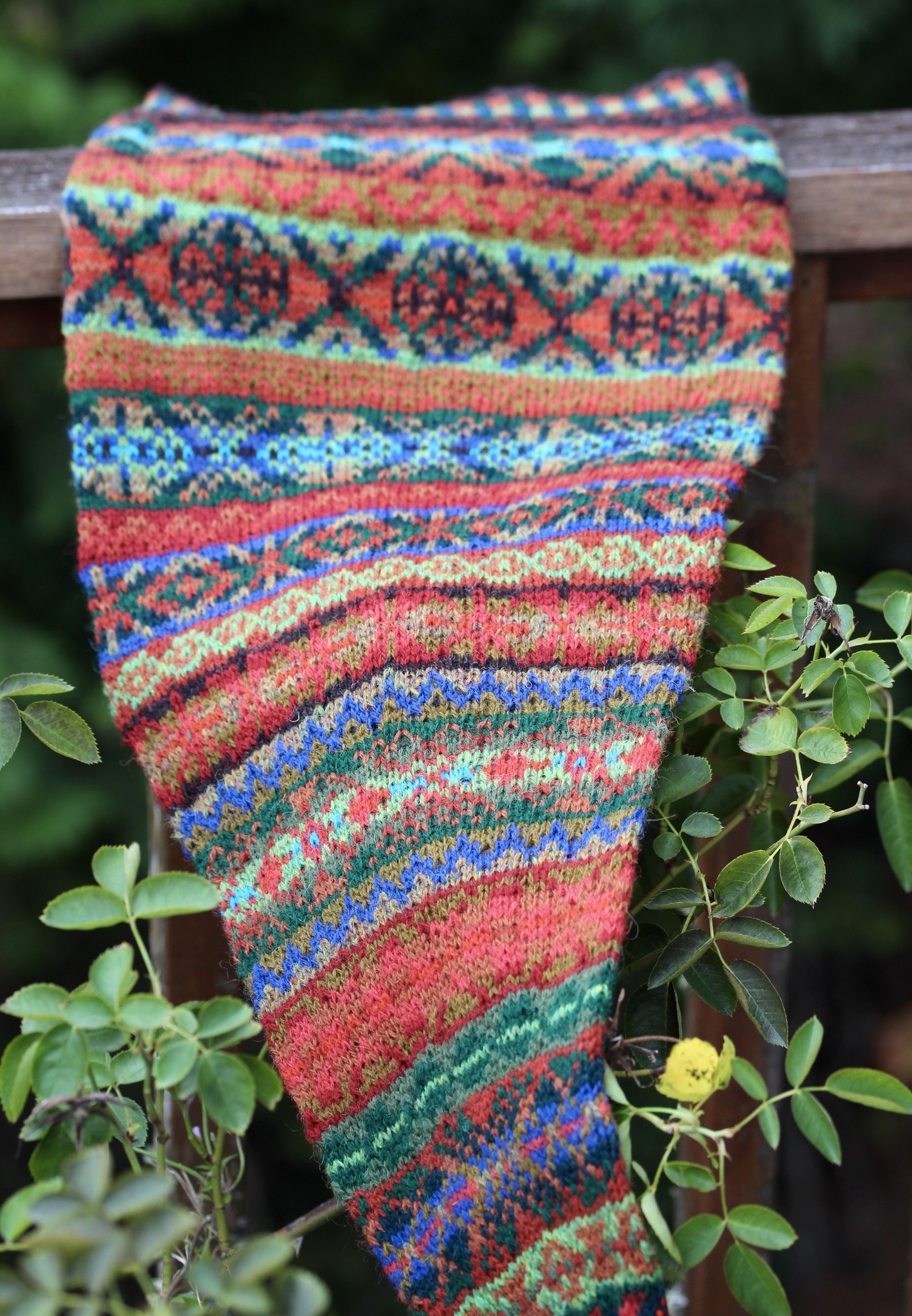 On to my next endeavor.  I think, after all those ends, it may be a little 'ole single colored sock. Lots of those in my UFO basket, for sure.