It's soooo hot! How does a blustery coastline at the Northern end of Scotland sound right now? Lavender covered hills. The amusing gaelic phrases bandied about. Sheep. And oh yes, lovely, crunchy, colorful Shetland wool. Definitely on my bucket list. Some day.

Like most fiber lovers, I adore a good festival. Oregon Flock and Fiber. Black Sheep. Madrona. Rhinebeck (another destination on my to-do ist). Several years ago, I stumbled across the Shetland Wool Week. What?! A business related reason to travel to Scotland? Oh my. I ran it by my husband, and he was intrigued. Until I explained that he'd be on his own during the days, as I'd need to be taking a multitude of knitting classes. Even the enticement of more than a few good pubs didn't convince him. Still working it, though. In the mean time, I enjoy the essence of Shetland Wool Week vicariously through my needles, and the occasional Shetland inspired book.
So what is Shetland Wool Week? This awesome annual event is a world renowned celebration of Britain's most northerly native sheep, the Shetland textile industry and the rural farming community on these islands. Over the past eight years, Shetland Wool Week has grown into an internationally acclaimed affair, with an extensive range of exhibits, classes and other events covering a wide array of fiber related topics. Weaving, spinning, dyeing, Fair Isle and lace knitting, as well as many other fascinating subject areas are explored over the course of the week, and take place throughout the Shetlands, from its most southern tip to the most northerly island of Unst, famous for its beautiful lacework. Sounds fabulous, right?
Well here's the best part. A special treasure for those of us who can only attend in spirit. Each year, the organizers work with a designer to create something Shetland inspired, then share it with all of us for free on their website. All that's required is you join their newsletter list. Easy peasy lemon squeezy! This year, the guest Patron is Shetland born and knitwear design aficionado Gudrun Johnston. And the design is spectacular - The Bousta Beanie. A fabulous slouchy hat with an easy to memorize stranded color-work pattern. Gudrun offers up 3 separate color combos of Shetland yarn, but the possibilities are endless,, what with the countless shades of Jamieson's Shetland Spindrift, most of which we have at the shop. Uh oh!!! I have at least five pictured in my head. If I close my eyes whilst knitting with my crunchy, woolly yarn (and better yet, with a peaty wee dram of scotch wafting nearby), I can almost hear the bagpipes and feel the ocean breeze on my face. A much appreciated mirage, as we head toward the 100 degree mark in the coming days.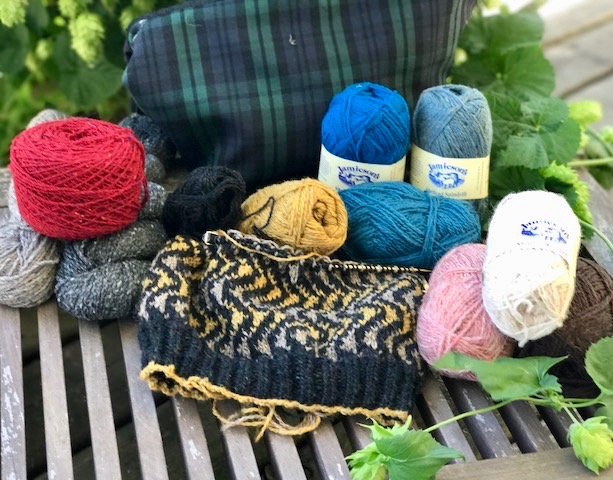 Learn more about Shetland Wool Week at www.shetlandwoolweek.com. And knit a hat (or 5) with me!