Oh my, a new sock design. Time to break out a new pair of teeny tiny needles. Mark, get set, knit!
Last week, as I settled in with my early morning cup 'o joe, I heard 'ping', and was met with a newsletter from Drea Renee Knits.  Another sweater design, shawl, cowl?  Nope!  This time, Andrea Mowry gave us a pair of socks.  Whaaaaat?!  She borrowed the pattern theme from her latest phenom sweater design, the Spark Cardigan, and wove it through a pair of cuff down socks.  Same yarn - Spincycle's Dyed In the Wool - but on a tinier scale.  Lovely.
I actually adore knitting things with DITW.  The way the colors gradually change really hold my interest.  I often look at multi-colored designs and ponder how they'd look when knit with this yarn.  The rustic feel and the delightful, fun color play is a dream to knit with.  So when this pattern dropped, I could barely contain my excitement.  And I knew just the perfect yarn combo - the gorgeous new Amble sock yarn from The Fiber Company paired up with For Yarn's Sake's very own Spincycle exclusive colorway, Goddess.  Originally called 'Goddess Above the Clouds,' the Spinsters shortened it so as to fit the title on the yarn band.  The back story.  For years now, I've been knitting weekly with a very wonderful group of friends.  Somewhere along the way, we dubbed our little group the Knitting Goddesses.  While on one of my many plane flights, sitting next to the window and admiring the play of colors as we cruised above the clouds, I thought, 'hey, that'd be a beautiful colorway.'  A sometimes delicate, other times intense dance of pinks, purples, turquoise and sky blues, silver and white.  And thus, Goddess was born.  In concert with the sumptuous alpaca / merino blend in Amble, these are gonna be my go to hand-knit socks, no question!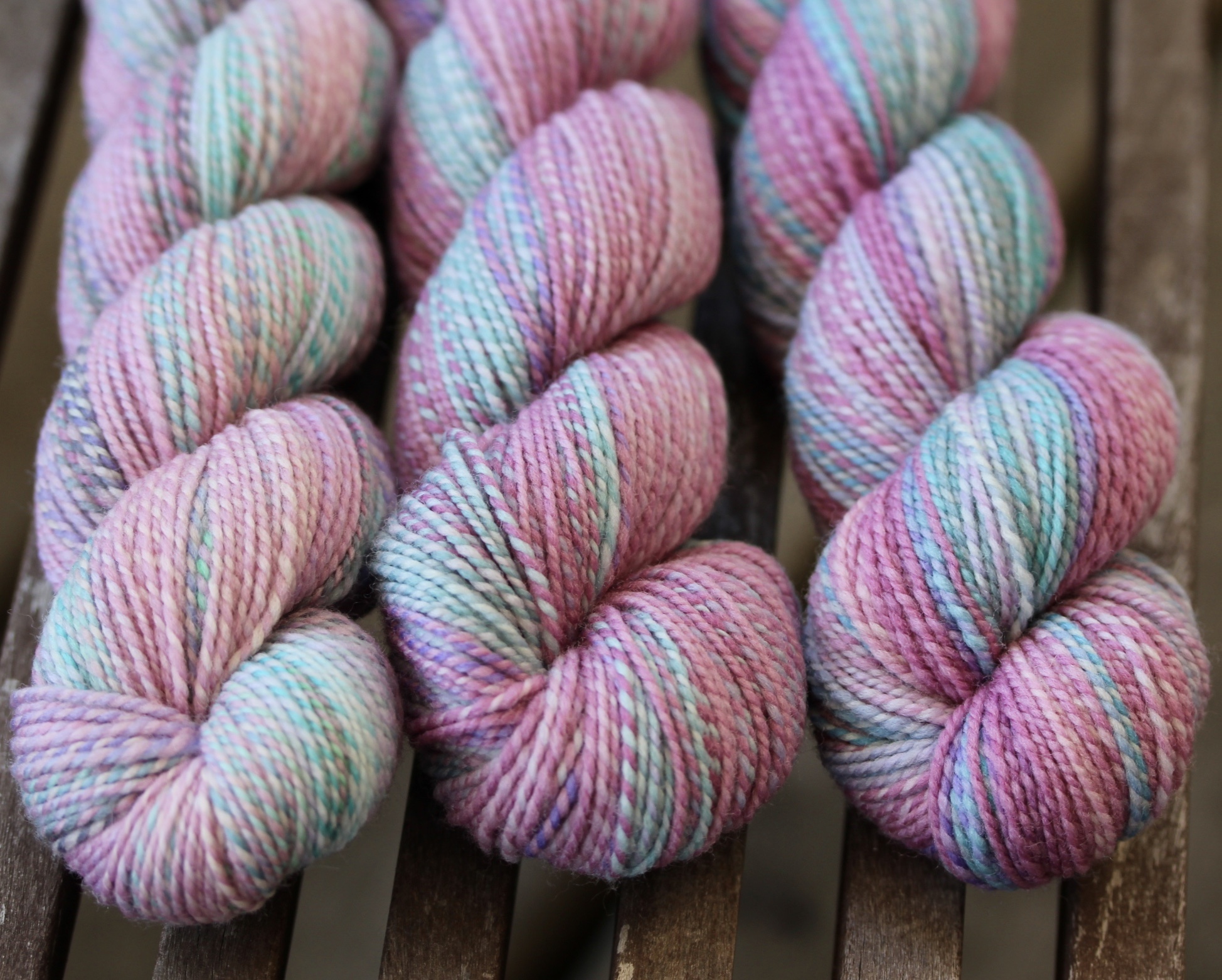 Now you all know, I love knitting socks.  But colorwork still remains a challenge.  No matter how hard I try to keep the floats loose when moving from one needle to the next, my floats get tight, and my side stitches get loose.  To my delight, that isn't as much of an issue this time.  The two yarns interact beautifully, with the rustic quality of DITW grabbing rather than slipping, and the tad bit of alpaca blooming just a touch to fill in between stitches.  And the Amble is a wee bit thicker than most sock yarns (355 yards / 100 grams), resulting in a slightly quicker knit.  Ok, yes, its still sock yarn on US 1 needles.  But it does seem like I've hit the requisite measurement for the ankle length in record time.  Maybe it's just the color change that's holding my attention and keeping my needles working away.
I strongly recommend you choose your favorite colors and knit a pair of Sparks.  Get crazy with it - maybe Dark Charcoal Amble with a bright, eye-popping red, orange, yellow or blue DITW.  Or something more subtle and soothing, like a soft Grey background with, oh I don't know, Goddess?!  Have some fun with color and knit these socks!