I did it! After hours and hours and hours of garter stitch with the occasional eyelet or rib distraction, as well as the periodic color change, and I have a completed Joji 'Starting Point' wrap. Or as I like to call it, a "Shlanket." Thank you Megan H. for coining the term (sorry Stephen West, she came up with it first). A few straggling ends to weave in, and then it's off to the blocking mats. Woohoo!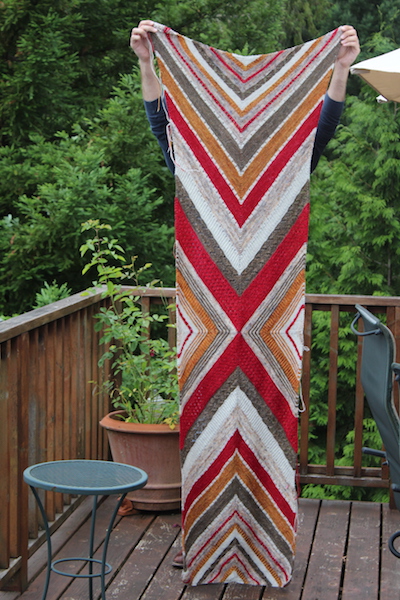 So now what. Well, I think it needs to be something small. You know, that you can hold in your lap on a hot day without overheating. Socks? Hmm. Several in my 'to finish' basket. But no, I think a hat. Or better put when considering my overzealous knitting style, hats (plural).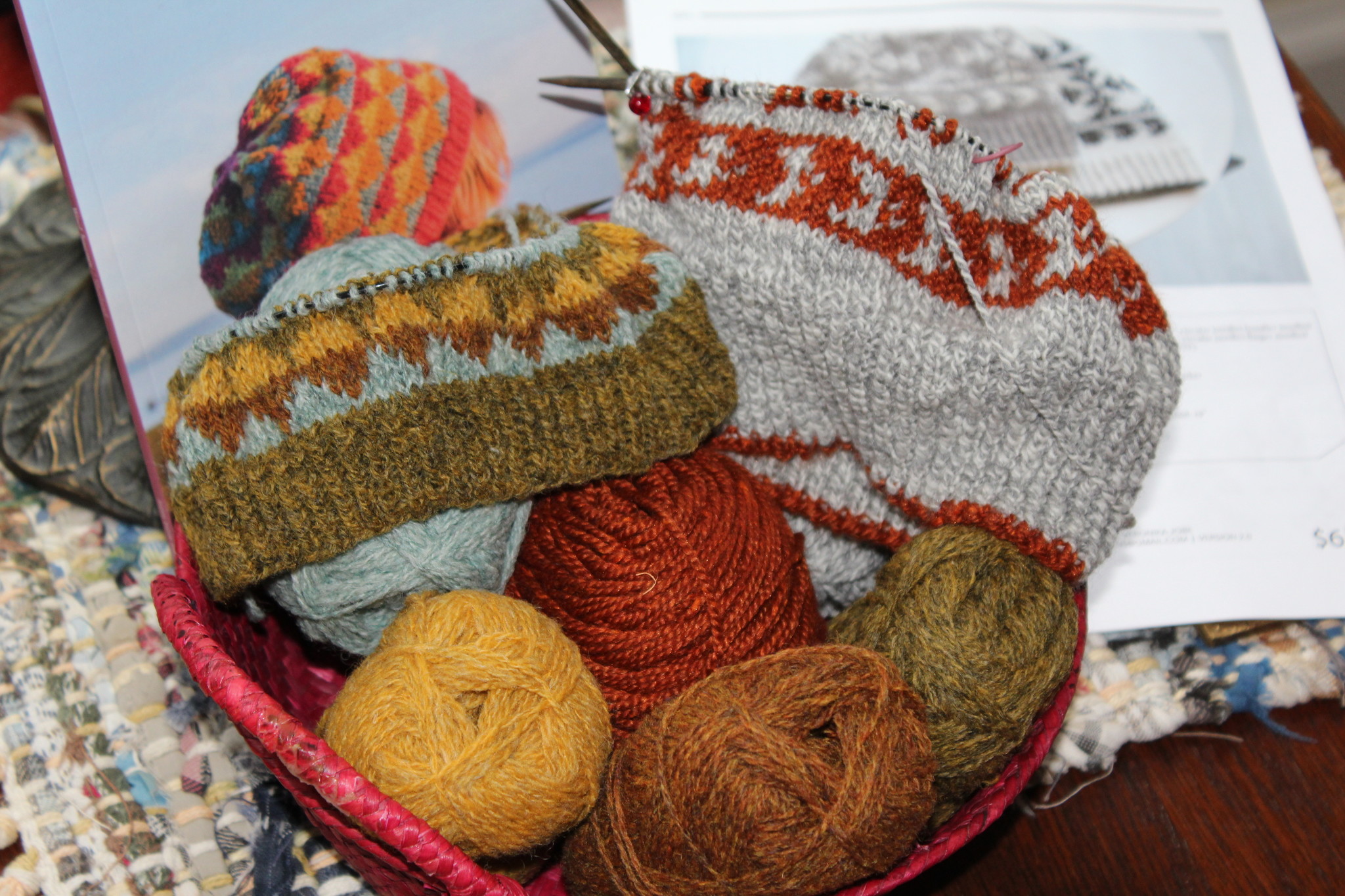 Over the past few weeks, while I was toiling away on that huge mystery wrap, several new items crossed my path at the store. I resisted, focusing on the weekly clues. But now? I can indulge! There's that awesome Spincycle Versus yarn that needs to be knit up into a sample. OK, it'll be the Izel hat designed by Veronika Jobe. "Slow and Steady" versus paired with The Fibre Company's Acadia in a lovely burnt orange shade. And a new book from Pom Pom arrived a few days ago, "Wool Journey – Shetland," sporting a gorgeous Fair Isle hat on the cover. I love anything made with that crunchy, sticky, simply awesome for color work Spindrift. But what colors? There are 2 different versions shown in the book, so . . . yup! I'm doing both. How long does it take to knock out a hat, anyway?
Then there's the new yarn from Blue Sky Fibers, American Scenic. Oh my golly, my gosh, its spectacular! I actually moaned in delight when I took it out of the box. And there's a free pattern – the East Bethel Cap. Yay! I'm thinking the brown color (River Rock) with a splash of red and white along the brim to give it an outdoorsy camping look. Size 9 needles (a little big for me) – should be done in a wink and a twinkle.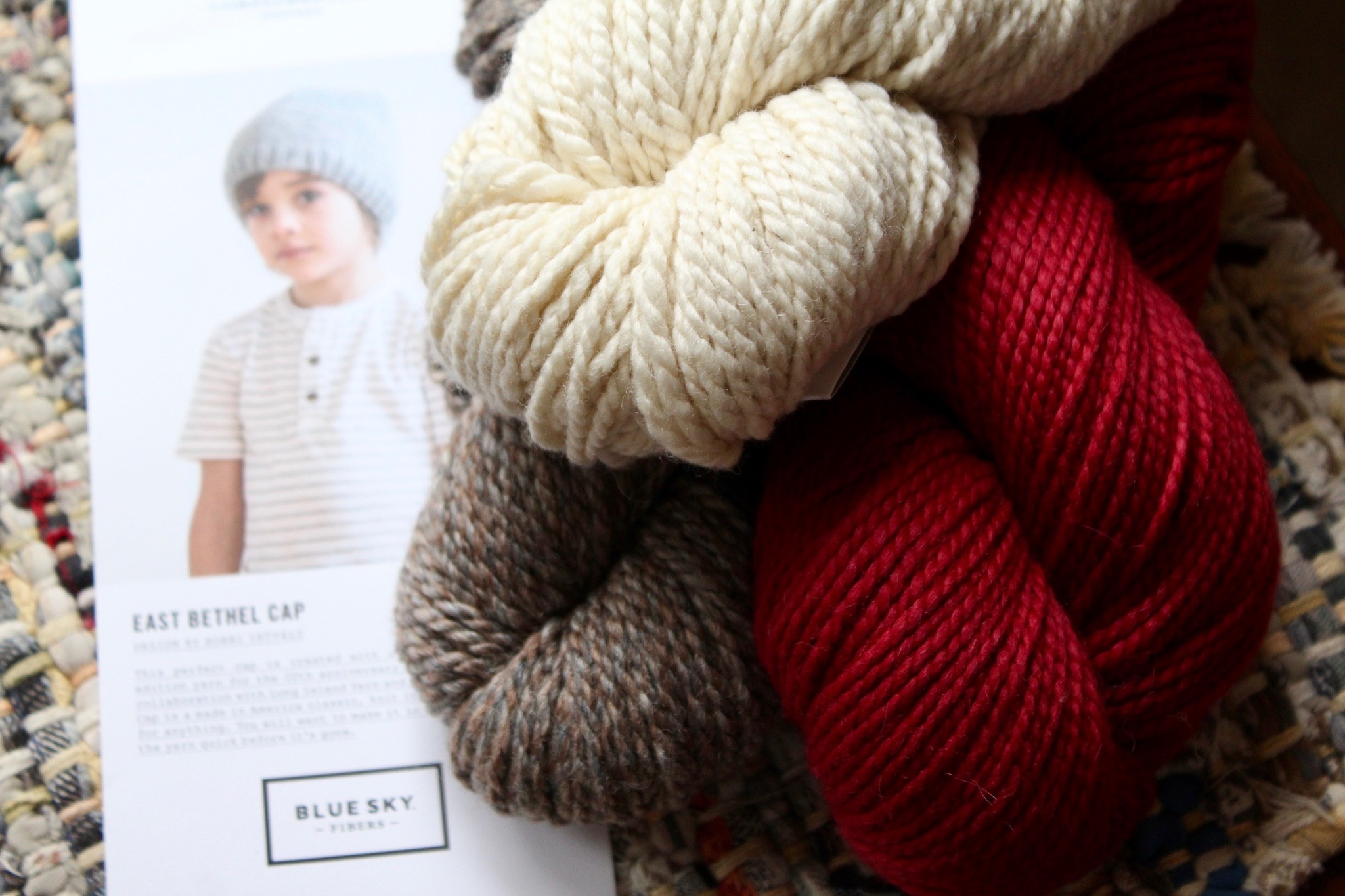 So, cup of Joe in hand and dogs surrounding me, my hat knitting mornings begin. You can't see it, but there's a ginormous smile on my face as I gaze upon the pretty basket of string in front of me. Ahhhhhhh, knitting!