Weather's turning. Chilly nights. Leaves changing colors and falling all over the lawn. Grab a sweater as I head out the door. Wait, a sweater? Time to get those needles humming and knit one. Or two. Or three. Or . . .

With the abundance of new fall magazine and book releases, plenty of tempting designs have flashed before my eyes. Laine, By Hand, Making, Amirusu, Pom Pom, Knitscene, . . . the list goes on and on. Holy smoke, so tempting! Not to mention the many lovely new fall yarns calling my name. And this new book, Shetland from Marie Wallin? Sweat pouring down my brow. What's a notorious project starter to do?!
Well, you'll be shocked to hear me say this. "I think I should finish one or two of the sweaters I have partially done before casting on something new." What!!!! Yes, it's true. I have, let me see, two, no three, no (sigh) six sweaters on needles, with at least half a dozen more neatly tucked in project bags, pattern and yarn patiently waiting for an empty set of needles. And not a one has moved into the "out of style" realm. So time to dive in! Here's what I'm working on:
#1. Veronik Avery's Hadley. I started this one last spring, when the Mason Dixon Fair Isle Field Guide came out. Fiber Company's Arranmore in St. Claire (cream), with the yoke lit up in pink, green, blue and yellow colorwork. I'm a little worried about the largeness of it – I've lost a little weight since starting, and my gauge was a bit spotty. But charge ahead I will. It might be my cozy oversized 'curl up by the fire with a glass of wine and dogs' sweater. Am starting the yoke colorwork chart now, then its off to the turtleneck collar and done.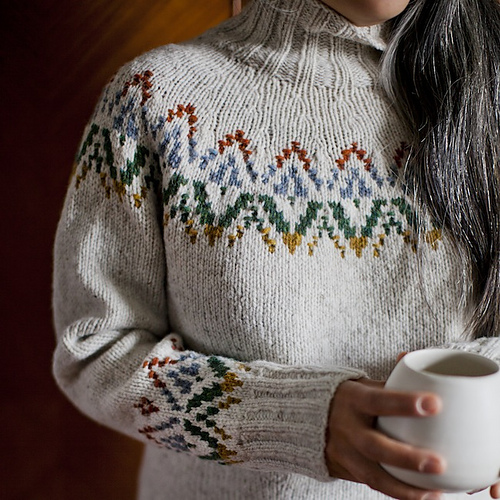 #2. Gudrun's Nikka Vorde. Ah, my beloved Clara Shetland Wool. What perfect timing too, as Wool Week 2017 comes to a close. A little less complete than the Hadley. I have 2 sleeves complete, and the lower colorwork band of the main body done, but this sweetheart is a sport weight / light dk weight yarn being knit on US 4 needles. Round and round and round in stockinette with little progress to show. But I press on. This will be a long time favorite once finished.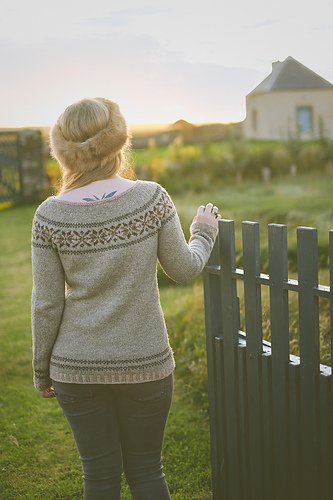 #3. Kate Davie's Finlaggan Cardigan. This is the beautiful cream colored sweater she wore for her Islay wedding, with the most lovely tartan kilt. Mine is definitely at the beginning; two sleeves cast on with ribbing nearly done (I always do the sleeves first so as not to be disheartened by the need to knit them when its time to join with the body). The yarn – West Yorkshire Spinners' BFL – is delicious, with a hypnotic sheepy smell wafting up as my hands ply the stitches. Close my eyes, take a deep breath and yes! I can almost feel the lambs rubbing against me as I sit in a heap of british hay. Gonna get a lot of wear out of this baby.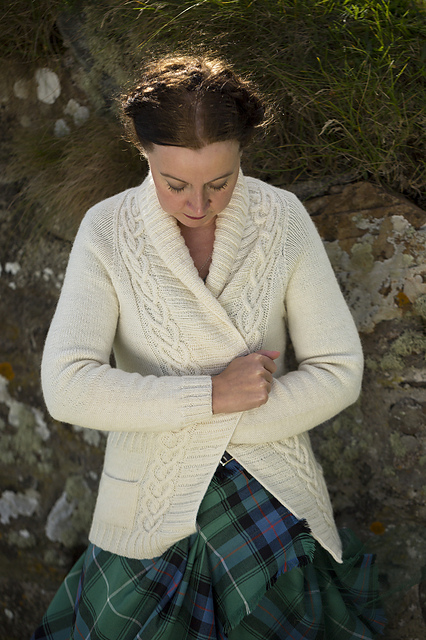 Then there's two other Kate Davies designs underway – her Icelandic style Asta Sollilja, featuring the traditional hammer rose motif in the colorwork (sleeves on needles in Lettlopi), and Deco – a feminine fitted cardigan (again, 2 sleeves started in pretty pink Sincere Sheep Targhee Sport). And another yoked colorwork pullover by Bristol Ivy, Second Grace. This one has only been swatched using Cumbria. It'll be a while, I think.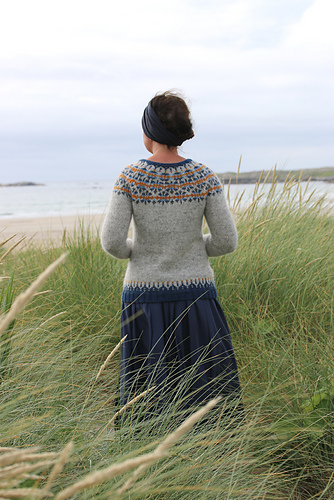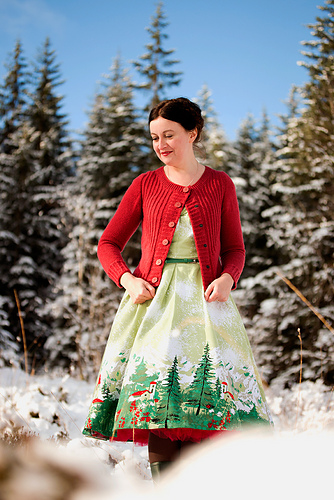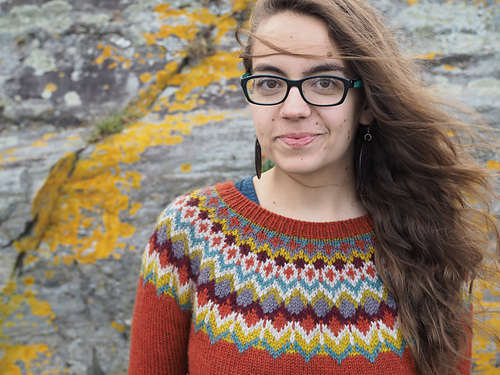 Phew! I won't even tell you about the ones on my waiting list. How many can I get done before summer comes back? And how many more will be in my cue by then. Bwahahaha!