What's the famous saying? Diamonds are a girl's best friend. I beg to differ. Yarn is my bestie. And my very own colorway? What could be better!
One of the perks of owning a yarn store is free rein to buy yarn.  Lots of yarn.  And having insider access to the yarn companies and their lovely, talented dyers.  Prior to opening For Yarn's Sake, I'd always thought it so cool when a store had an exclusive colorway that could only be purchased from that shop.  So when we opened nine years ago, it was only natural to want that too.  Our very first exclusive was from Lorna's Laces, and was named in honor of my late step-mom, Susan Courier.  Susan had passed away several years earlier from breast cancer.  She was a knitter herself, and loved purples and lavender.  In her honor, we created 'For Susan's Sake', and donated a portion of each sale to an organization supporting families of breast cancer patients.  Needless to say, it was a sought after color, selling out quickly.
In 2013, we welcomed our granddaughter, Sophie Mae.  Hmm? Perhaps I should look into a yarn color bearing her name?  A few email exchanges with Madelinetosh and voila!  'Sophie's Rose' was created.  The perfect blending of deep pink and brown.  And just in time for the Rose City Yarn Crawl and designer Michele Lee Bernstein to design a shawl, also bearing her name.  One lucky little lady - her own Tosh color.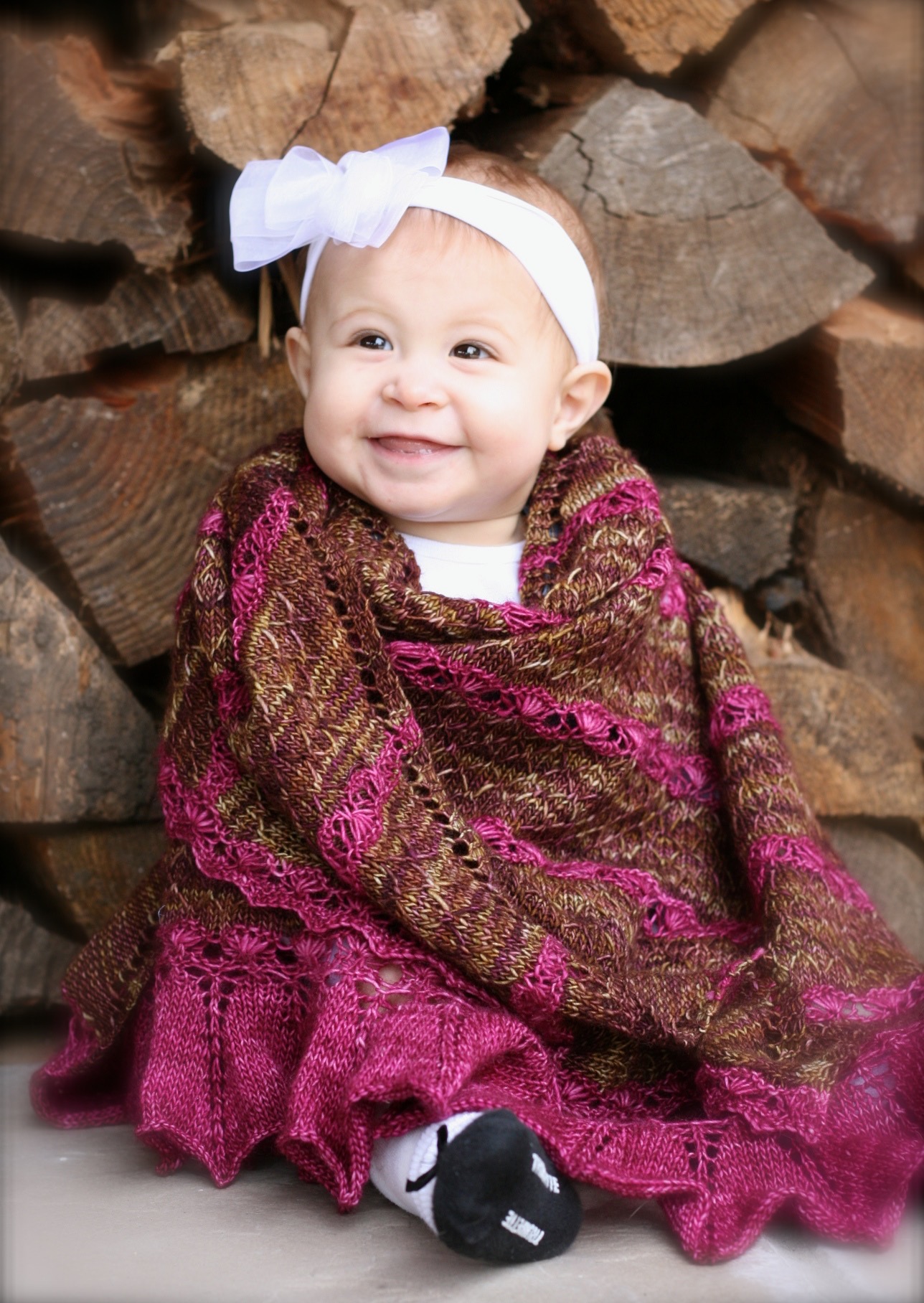 Two years later, when Sophie welcomed a baby sister, it was time for a second little girl to have a namesake colorway.  This time it was local Indy dyer Alpha B.  A perfect ballet pink for a perfect little ballerina.  And simply named 'Claire,' for the newest addition to my daughter's family, Claire Isla.  Beautiful!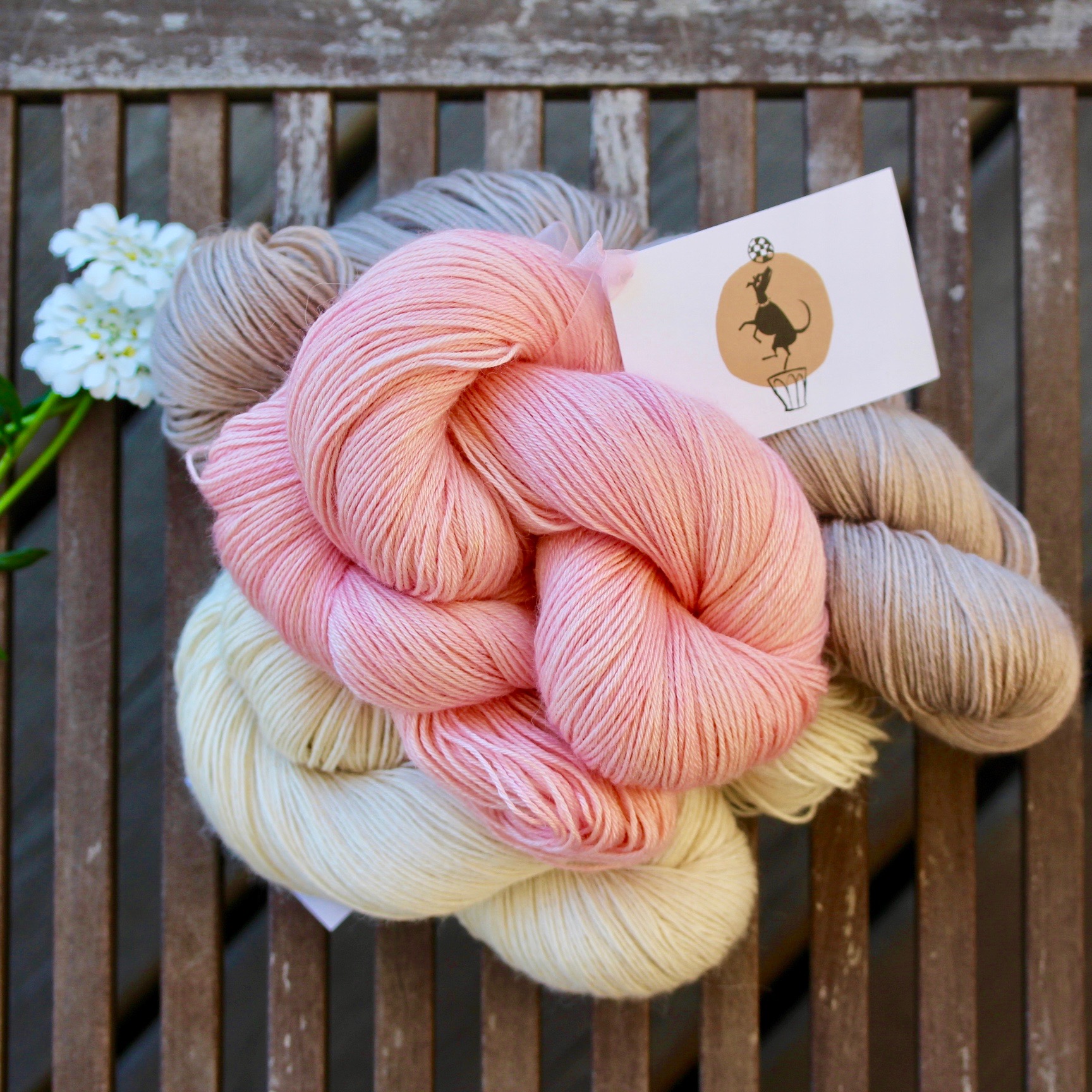 Fast forward to last January and the birth of little sister number three, Rosalie Lorelei.  Time for another new color.  Melanie of Black Trillium Fibres was delighted to oblige, and came up with 'Rosalie's Rainbow.'  Pops of every color in the spectrum dancing across a caramel colored background.  Hanna is a stickler for dressing them all in matching garb, so I whipped up three little hats with colorful, furry pom poms for the threesome to wear.  Cute doesn't begin to describe them - the little girls, not the hats (although those were pretty adorable, too).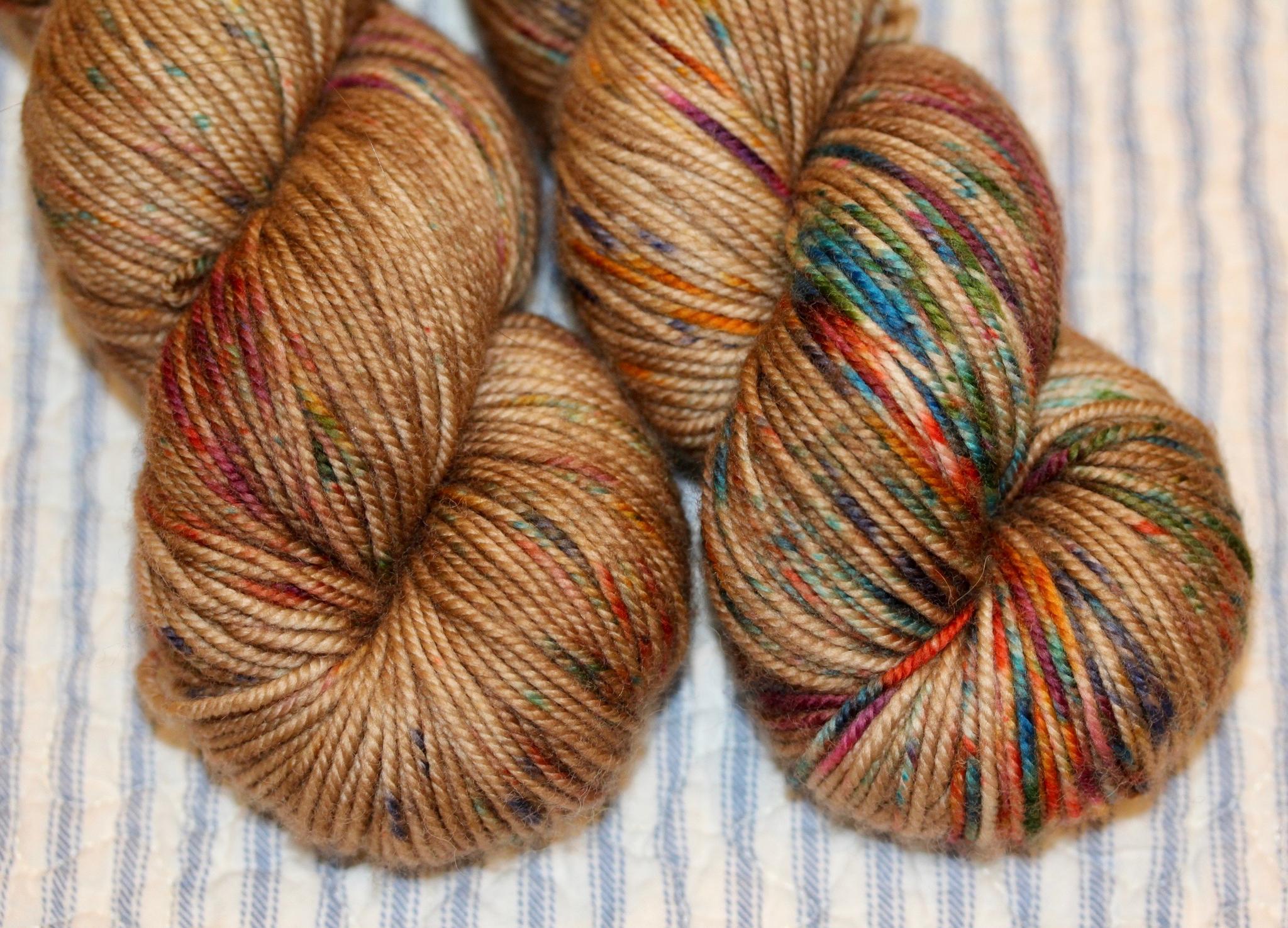 Each granddaughter with their own special, unique yarn color named in their honor.  So what next?  How 'bout a color for the trio - or as a friend loving calls them, "the gaggle of girls."  Yes!  There's a Tosh color called 'White Wash' that's mostly cream with swashes of wedgewood blue mixed in.  Love it, but wished it were pink instead of blue.  That's the ticket!  I contacted Tosh, and within a month, had a sample.  After a few tweaks to the shade of pink, FYS had yet another beautiful exclusive colorway, inspired by my three little angels.  All that was left to do was give the new colorway a name.  Easy peasy lemon squeezy.  'Gaggle of Girls,' of course!