Knitting (of course). Baseball. French Champagne, preferably pink. My grands. My puppies. And travels with my extra wonderful hubby. Some of my most favorite things! Well, I have a new love to add to the list - girls night at the theater.
Last spring, Hanna forwarded an email to me, announcing the 2017-18 Portland in Broadway season.  Two ginormous productions jumped out at us - Book of Mormon and Hamilton.  HAMILTON!  Wouldn't it be fun to get three tickets - one for yours truly and two for my favorite (and only) daughters.  Seven special nights throughout the year.  What a great idea!  So jump I did, securing us great balcony tickets, plus front and center seats for The Book of Mormon.  Starting in November with The Body Guard, the three of us began enjoying 'Girls' night at the Theater.' Valet park at Morton's (conveniently, directly across the street from Keller Auditorium), reserve an after dinner table and order up a dessert souffle, enjoy a good show together, then end the evening with sweets, bubbles and conversation.  A wonderful way to spend time with my girls!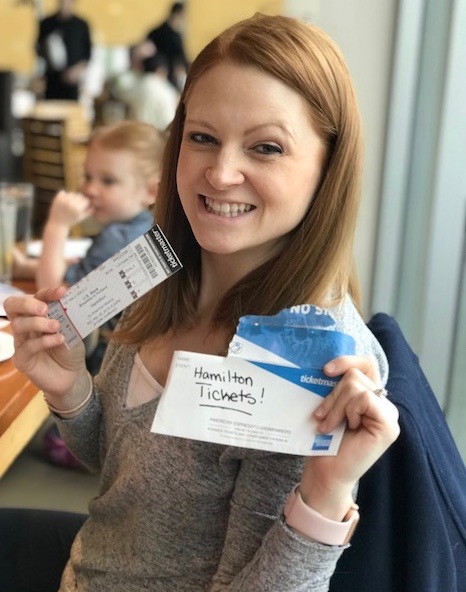 Last night was the piece de resistance.  Hamilton!  We started a little earlier than normal, and invited the rest of the gang for an early Sunday dinner (another family tradition).  At 6:15, we made our way down the block, took a photo in front of the theater, stopped at the souvenir booth for a T-shirt, bought our drinks for intermission (yes, you can bypass the long line by pre-ordering your refreshment), and settled into our seats just as they lowered the lights.  And wow, what a treat!  Fantastic dancing, music, costumes, and an all-American very unique history lesson.  Never thought I'd enjoy rap music, but hey.  A show not to be missed.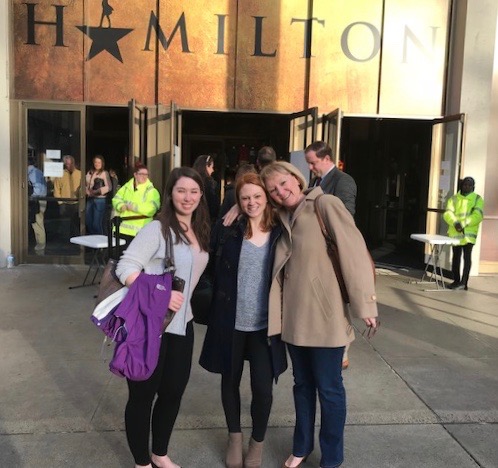 So while it takes me away from my beloved needles and string, I can manage to step away seven nights each year.  Spent this morning knitting and humming "My Shot."  I've already re-subscribed for next year.  Some of the highlights?  Wicked, Aladdin, The King and I, and Gloria Estefan's "On Your Feet."  And yes, seven blissful evenings, just my daughters and I.  Heaven!