Back from vacation, and right into the bag of mini skeins for the next little creature. Imagined Landscapes' tenth Mystery Knit-Along started on September 4th, and I'm all in!
As many of you know, I love a good mystery knit.  I just can't resist.  Shawls, socks, mittens, and now gnomes.  Woohoo!  Sarah Schira (aka Imagined Landscapes) just launched her latest MKAL - Choose your Gnome Adventure.  Over 4 weeks, Gnorton, an international gnome of mystery unfolds, with choices at each step of the journey.  How tall, how big (worsted weight versus fingering weight yarn), stripes, texture, simple, complicated, . . . the options are endless.  I stuck with my favorite sock yarn and tiny needles, and chose to combine stripes with a little texture.  And a deep, dark magenta, keeping with my pink obsession, paired with creamy white and bluish gray.  One of the things I like about gnome MKALs is the clues - they're short!  Totally doable in the time given.  And of course, you end up with a dang cute gnome when you're done.  So far, I've finished the first two clues with time to spare.  So what to do with that extra knitting time?  Why, another gnome, of course.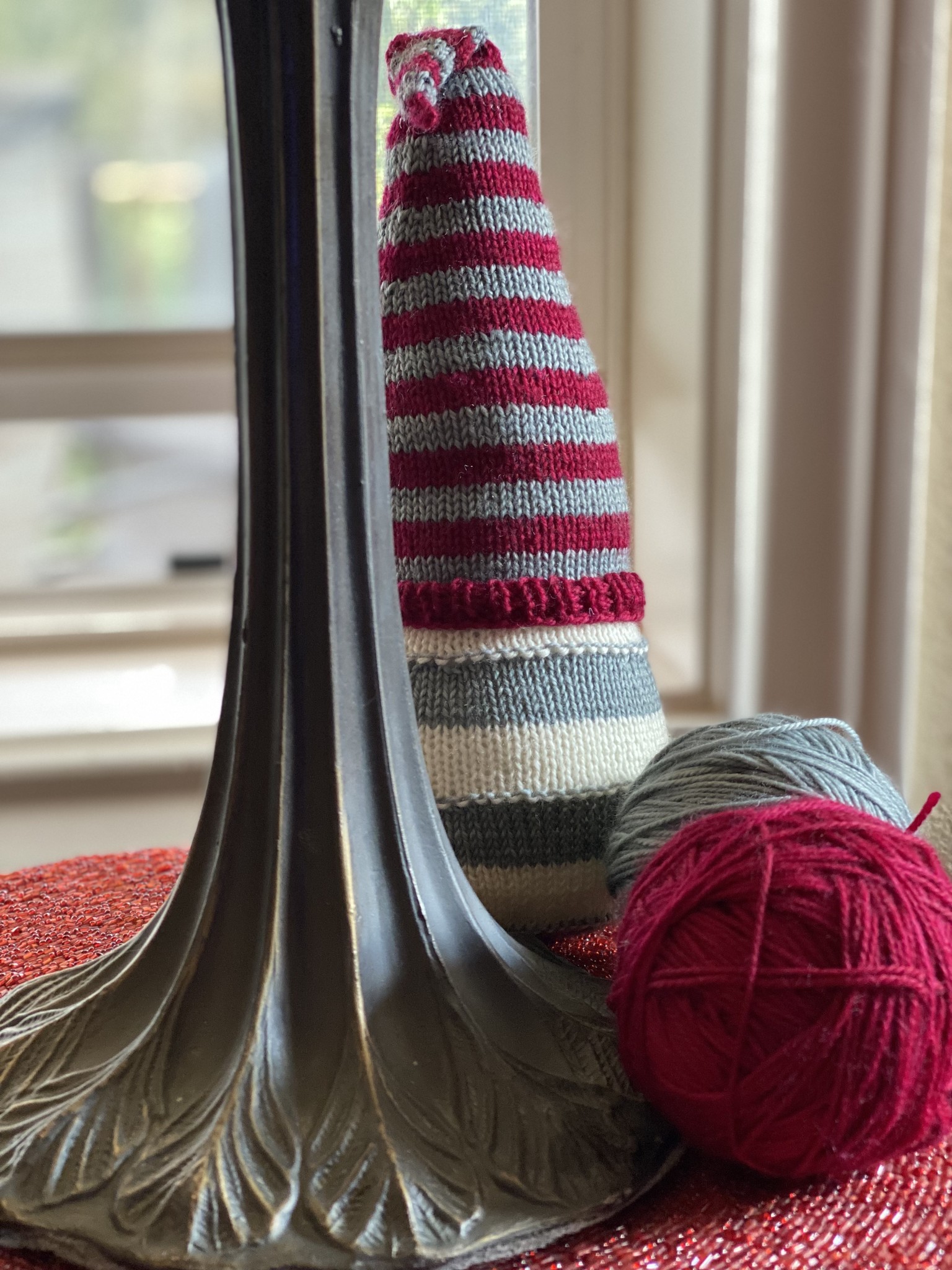 Actually, a gnome's tree.  Earlier in the summer, I'd started Sarah's Wee Apple Tree, so I decided to finish it.  A really fun knit, picking up stitches several rows below on the wrong side and knitting them with the stitch on the needle to create tucks.  The effect is a really adorable canopy atop a dark brown trunk.  After the tree is all done, you add little red apples, and whala!  My gnomes have shade.  But still a day away from Clue 3.  What to do, what to do?  I know - a mushroom!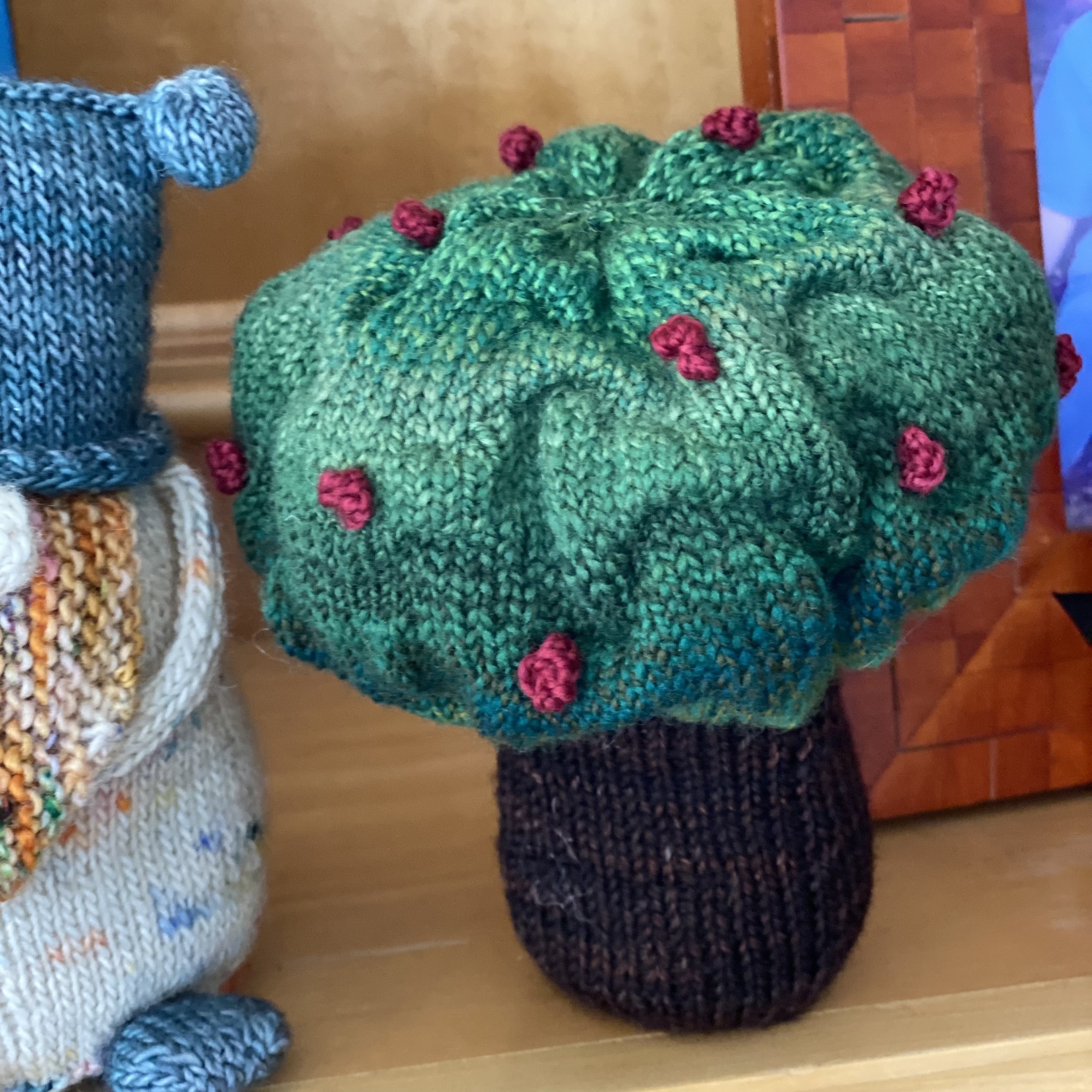 Another store that I follow (yes, even though owning a yarn store, there's just other fibery things I simply must have) advertised a 6 month Imagined Landscapes Club - 6 months of gnome knitting.  Each month through December, a cute little box that says 'Gnome Under Construction' on the outside arrives on my doorstep.  A pattern, little balls of color coordinated yarn, stuffing, weighted beans, and some little goodies - gnome-themed stickers, markers, buttons, and other various notions. By Christmas, I'll have a gnome advent scene - Grimblewood.  What fun!  My August box had everything needed to make Grimblewood's Toadstool - a very cute little mushroom, just like you might find if stumbling into a gnome's home in the forest.  So with a day left until Gnorton, international gnome of mystery needed attention, why not make him a mushroom.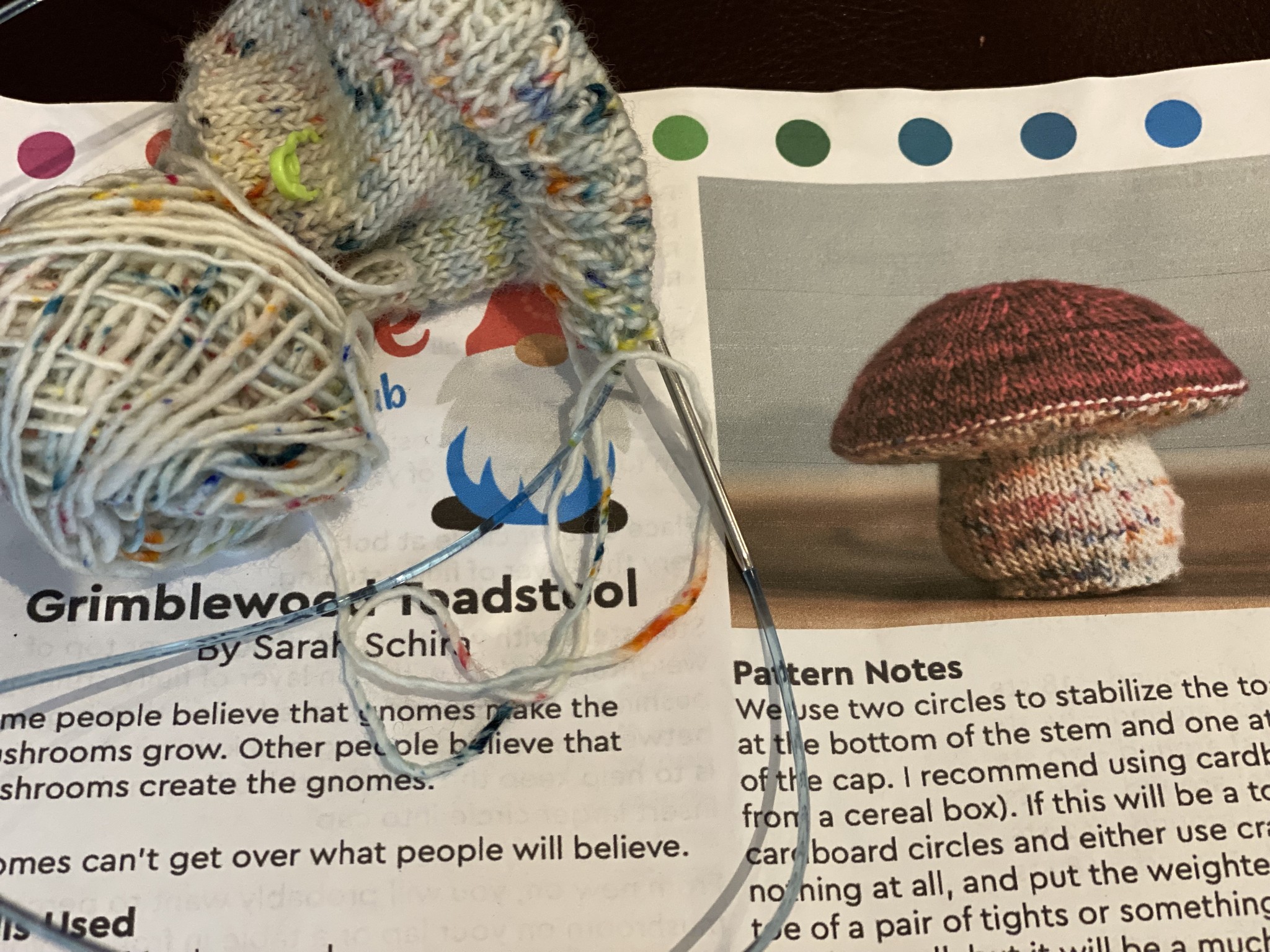 So there you have it - my knitting life has become totally consumed by gnomeness.  After Gnorton is a full fledged gnome, I've got 4 more little 'Gnome Under Construction' goodie boxes to occupy my time.  And I think my gmenagerie will need some more trees - maybe a Wee Evergreen next.  And wouldn't you know it!  Another MKAL is scheduled to blast onto the scene for the holidays.  I'm thinking a Christmas themed little Gnellie or Gnorman, maybe with a little sparkle or bling added for party-going.  We've got tons of pretty mini-skeins at For Yarn's Sake, just perfect for holiday gnome knitting.  Anyone up for a new adventure?