Bijou Basin Ranch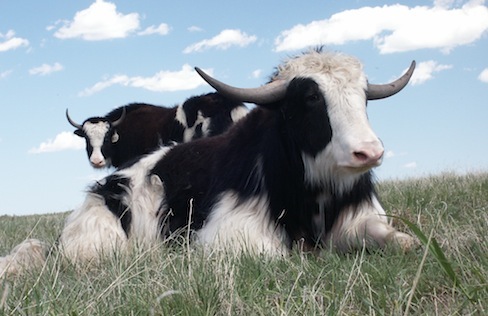 Established in 2005, Bijou Basin Ranch is a small family owned and operated yak ranch situated on the open plains of the Colorado outback. The ranch is located about 65 miles southeast of Denver, Colorado, just outside of the small town of Elbert.
Our primary goal is to produce and sell high-quality fibers and yarns made with premium yak fibers and other luxury fibers. We raise registered, full-blooded Tibetan yaks that have superior glossy coats which are harvested annually. We also supplement the fiber we harvest from our yaks by purchasing quality yak fiber from other yak ranchers across the country and abroad.
Our yarns are made in the USA as well as abroad, and many are hand-dyed with care by color experts at various large and small dye houses primarily here in the US but in some cases abroad as well. Our full range of yarns and fibers are sold under the Bijou Spun label through our online store and other yarn retailers across the US. Bijou Basin Ranch also attends many, fiber shows, sheep & wool festivals and other knitting-related events each year; click here to view our event calendar.