2023 Shop Patterns
"The finest of pleasures are always the unexpected ones."

Our patterns this year speak to the Crawl's theme - Magic.  We have two lovely scarves for you, both inspired by Erin Morgenstern's magical novel, "The Night Circus."
Rêveur Scarf (Knit)
Designed by Anne Lindquist

The name "Rêveur" refers to members of the Night Circus' unofficial fan club.  Its literal translation is "Dreamer."  Rêveurs are extremely devoted to all things Night Circus, and distinguish themselves from others with their uniform - all black or white clothing, with a single red accent (such as a scarf).  Our Rêveur Scarf captures the novel's magical theme of the unexpected, starting with a soothing Fisherman's Rib pattern, then transitioning at the half-way point into a lively play of knitted and slipped stitches.  A sprinkling of optional black beads in the basketweave section of the scarf recreates the Rêveurs' official uniform of bold red against black.
Dreamers (crochet)
Designed by Shelly Dinh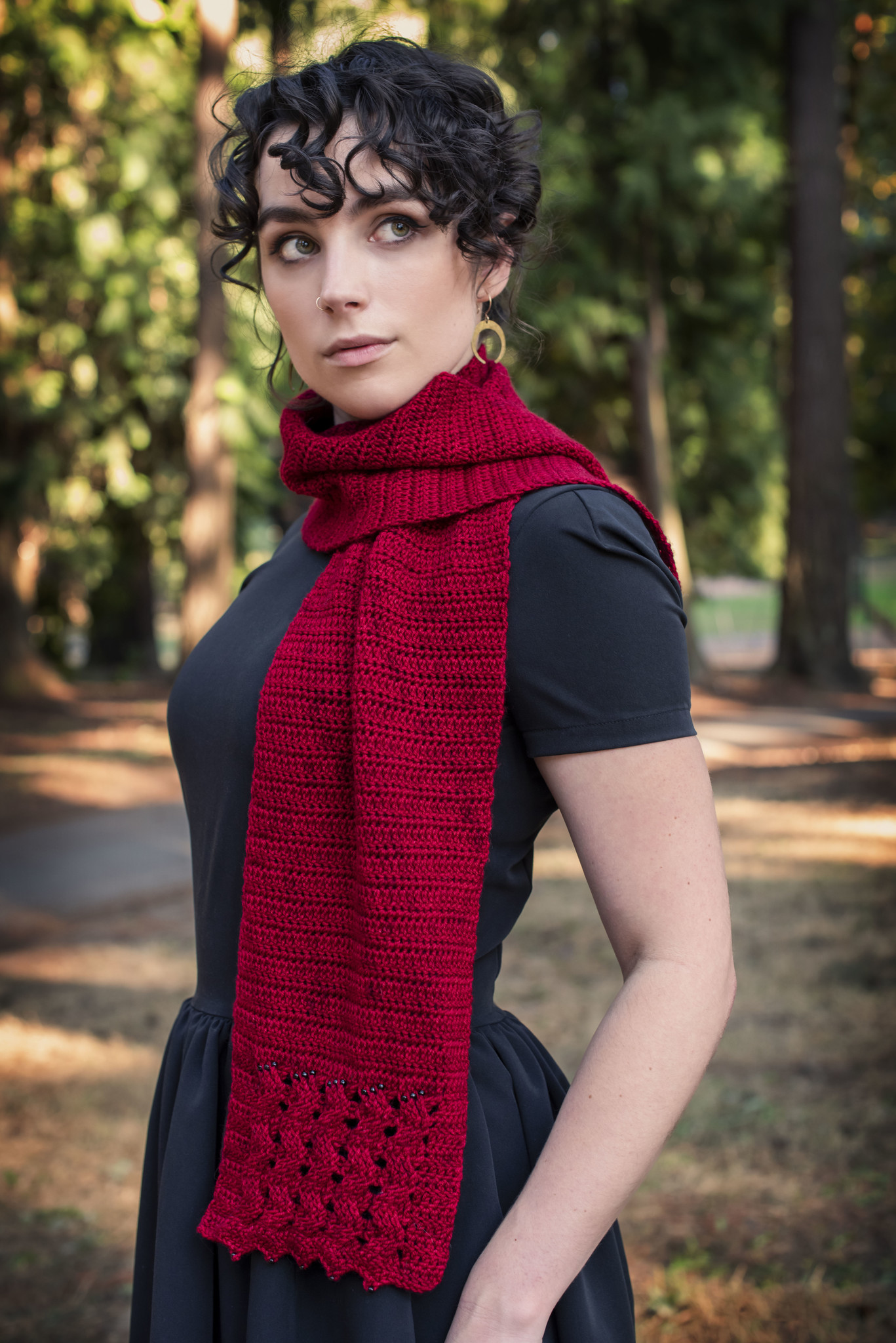 The Night Circus is a magical traveling circus in which real magic is disguised as sleight of hand.  The tents, as well as all other aspects of the circus are exclusively black and white.  The designer chose cable stitches for the decorative accent because they're reminiscent of the cables in young Night Circus devotee Bailey Clarke's own scarf, as well as the design of the cauldron - a centerpiece of the Circus.  The cable stitches and edging also reflect the constantly burning fire, which is the source of the spell that binds Celia and Marcus to the Circus.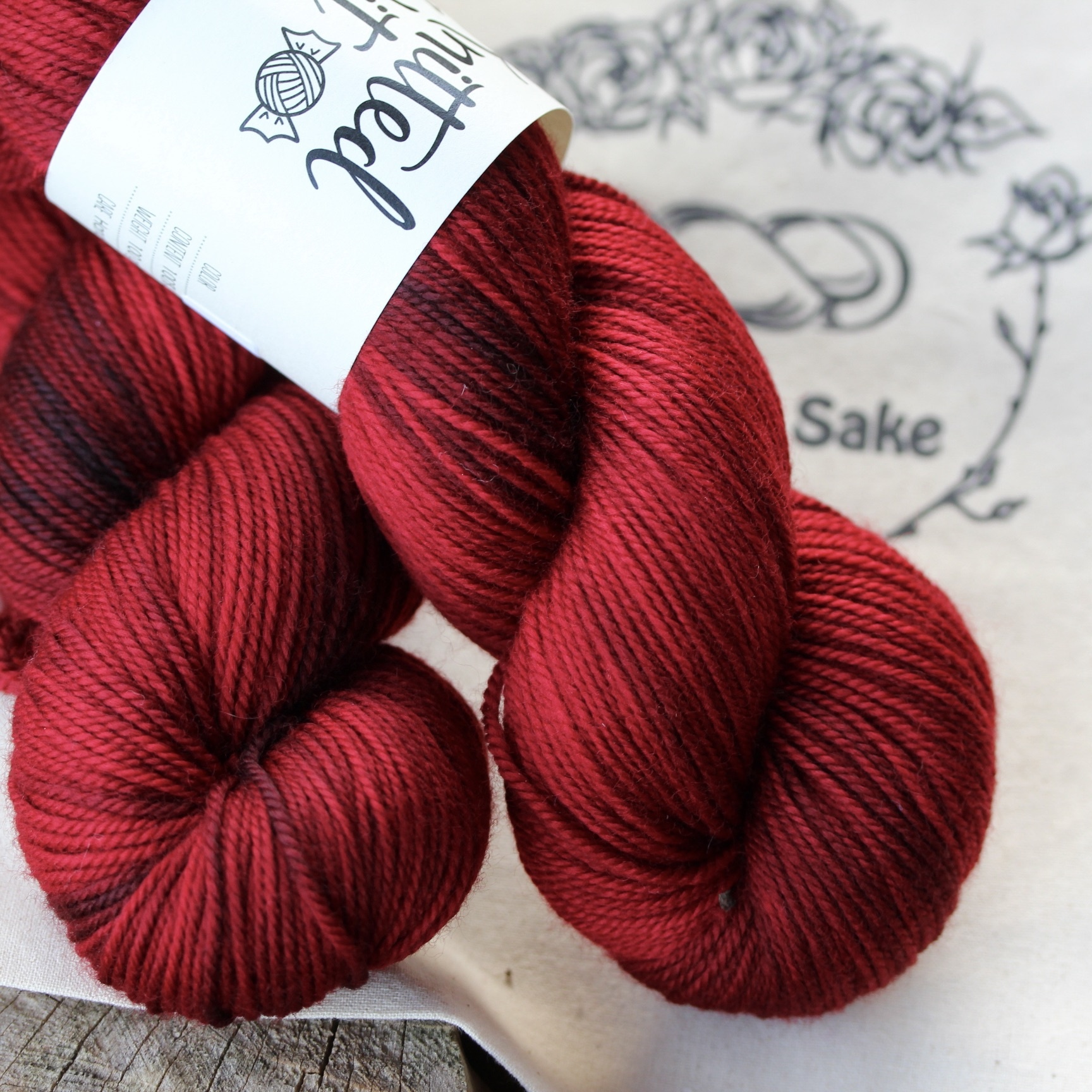 Rêveur (knit) and Dreamers (crochet), are both worked with the same yarn - Knitted Wit's Sport (USA sourced sheep to skein, 100% SW Merino, 380 yards / 115 grams).  Knitted Wit created this gorgeously deep red colorway, Rêveur exclusively for us and the 2023 Rose City Yarn Crawl.  Each Rêveur kit includes 2 skeins of yarn tucked into an exclusive For Yarn's Sake project bag, plus a small package of black seed beads; an optional addition to your scarf.  Make a purchase from For Yarn's Sake during the Crawl, and these lovely patterns are yours to download for FREE!


Available for purchase beginning February 23rd
Supporting our Community
As in past years
,

10% of our shop pattern kit sales will be donated to Michael's Place.  Created in 2005, Michael's Place is a 501 (c) (3) non-profit organization where adults with developmental disabilities have the time of their lives working and playing with 50 Miniature Horses, 6 alpacas, and gathering eggs from 25 chickens. Individuals with disabilities who may be afraid of a standard size horse jump at the chance to embrace the small ponies. Their goals are to help each participant have a good day, teach skills, increase self-esteem, increase confidence, mobility, and recognized as productive successful individuals. We're incredibly excited to support the ongoing good work of this wonderful organization, offering a unique environment for adults with special challenges to thrive.