Knit For the Soul Trunk Show + The Fibre Co.
Saturday February 25th
10am to 4pm

"There's just something about creating beauty with two sticks and a ball of string that is good for the soul."
Kay Hopkins
Simply elegant knitwear that's fun to make and to wear. Kay is a big fan of seamless and top-down designs that can be tried on as you knit for that perfect fit, eliminating those unfortunate surprises at the end. With an emphasis on versatility for both the making and the wearability of her designs, Kay includes options within most of her patterns so that knitters can make them their very own. Choose a design, and we'll help you find the perfect yarn.
Kay's designs can be found on her website knitforthesoul.com, and on Ravelry.

The Fibre Co.'s story began in 2003 in an old warehouse on the working waterfront of Portland, Maine, USA with a small spinning mill, lots of raw natural fiber and owner/founder Daphne Marinopoulos' vision of creating yarns that she couldn't find on retail shelves. From these humble beginnings to today's global brand now based in the United Kingdom, The Fibre Co. works with a variety of producers and artisans to continue creating elegant yarns that delight and inspire the enthusiast maker.

Join us on Saturday as we welcome Kay and her beautiful designs knit with The Fibre Co. yarns - Cumbria (60% Merino, 30% Brown Masham, 10% Mohair; 238 yards / 100 yards), Cumbria Fingering (60% Merino, 30% Brown Masham, 10% Mohair; 328 yards / 100 grams), and Amble (70% Easy-wash Merino wool, 20% Easy-wash alpaca, 10% recycled nylon; 355 yards / 100 grams).  Purchase the yarn to make one of her creations, and we'll tuck it inside of a lovely project bag, compliments of The Fibre Co.  In store purchases only, while supplies last.
Here are just a few of our favorite Knit for the Soul designs, all created with The Fibre Co. yarns!

  

Multnomah Falls Hat
A cozy and squishy hat with easy braided cables and a deep foldover brim.  The hat is truly unisex, is offered in three sizes, and can be made in many yarn weights. Size and height of hat are easily adjusted (instructions are included).  Add a furry pom pom to top it off . . . maybe a contrasting color? Or leave it simply unadorned, showing off the beautiful cable work at the crown. So many options!  Instructions are both charted and written.
Multnomah Falls is knit with The Fibre Co.'s Cumbria, available in 26 gorgeous colors.
Purchase Cumbria HERE
Multnomah Falls hat pattern is available HERE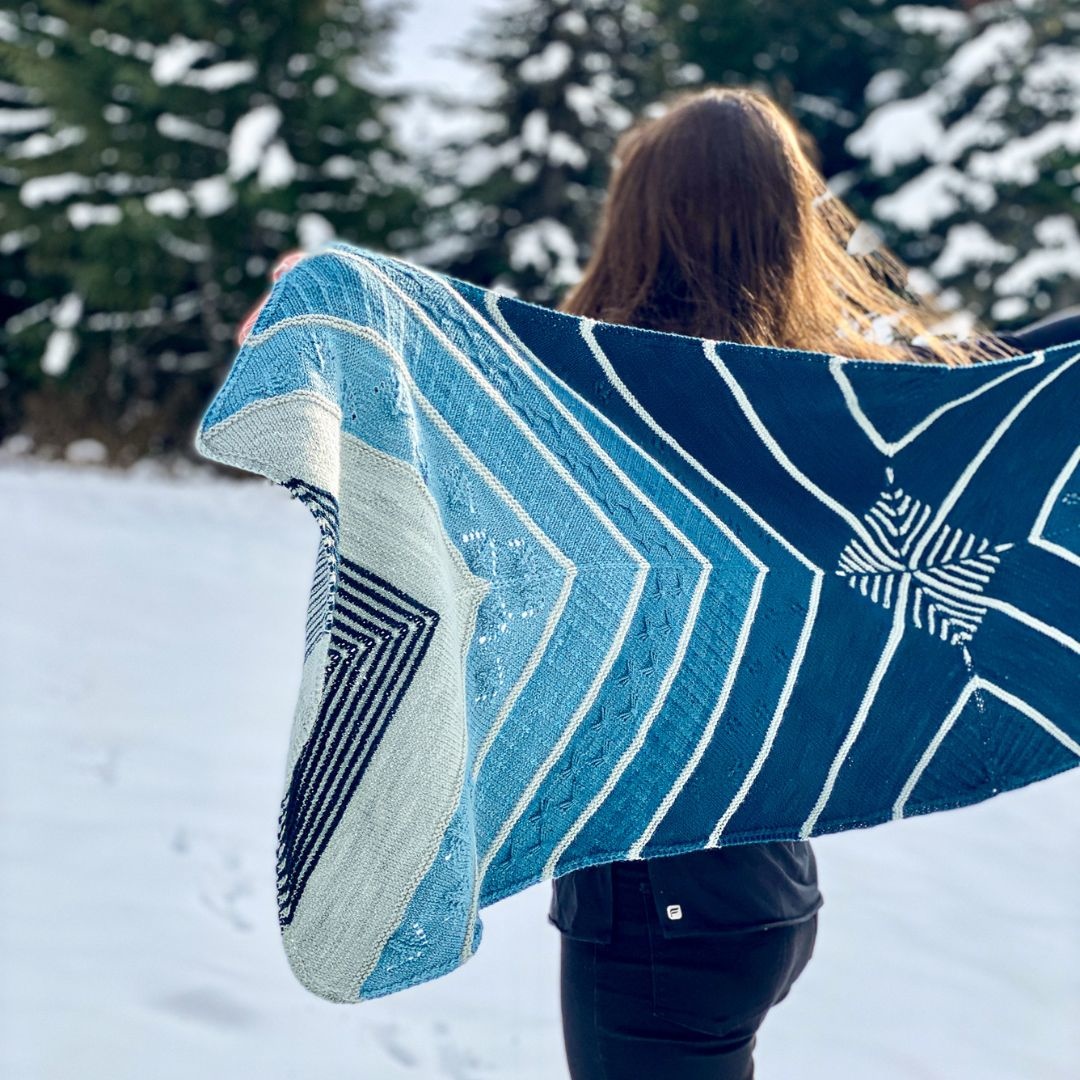 Winter Wonderland Shawl
Inspired by snowy, wintery scenes, and a few iconic holiday movies.  Winter Wonderland is simply elegant, truly classic design with a modern twist, unusual construction, and a fun surprise at the end!  The rectangular wrap uses a variety of stitch patterns to keep it interesting - easy texture, and simple lace with no brioche, and no stranded or mosaic colorwork.  Designed by Kay with four winter inspired colors of The Fibre Co.'s phenomenal Amble yarn.
Choose your own color combination of Amble yarns, or let us do the work for you - we've put together a limited number of kits using the original wintery colors.
Each Winter Wonderland kit includes:
100 grams Amble (70% Easy-wash Merino wool, 20% Easy-wash alpaca, 10% recycled nylon, 355 yards), colorway Windermere
100 grams Amble (70% Easy-wash Merino wool, 20% Easy-wash alpaca, 10% recycled nylon, 355 yards), colorway Eden Valley
125 grams Amble (70% Easy-wash Merino wool, 20% Easy-wash alpaca, 10% recycled nylon, 443 yards), colorway Blackbeck
125 grams Amble (70% Easy-wash Merino wool, 20% Easy-wash alpaca, 10% recycled nylon, 443 yards), colorway Isel
Pattern sold separately on Ravelry

Purchase the Winter Wonderland Kit HERE
Purchase Amble HERE
Kay's Winter Wonderland pattern is available on Ravelry HERE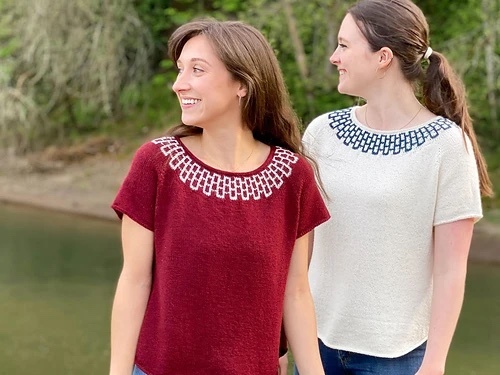 Forbidden Cliffs Tee
"A secret place for good reason (it's dangerous as hell) - Forbidden Cliffs is one of the stranger and more startlingly beautiful places on all of Oregon's Coast. Wild and untamed barely describe what's happening here."
(Courtesy of Oregon Coast Connection)
Forbidden Cliffs is the perfect top to knit up fast for warmer weather, or to layer under a sweater or jacket. The slip-stitch colorwork at the neckline is easy, and uses only one color per round. Choose a bold contrast, a more muted contrast, or even invert the colors.
Other design features include a wide neckline raised in the back by short rows, and a gentle shirt-tail hemline that is flattering on many figure types, making for a comfortable wear. Construction is top-down and in the round in a completely seamless manner. It starts with a circular yoke for easy colorwork, then transitions into raglan seams for best fit. And there's no finishing to be done at the end except for weaving in a few ends.
There's also a long-sleeve version of the, the Forbidden Cliffs Sweater.  Both versions are knit with either Amble or Cumbria Fingering.

Purchase Amble HERE
Purchase Cumbria Fingering HERE
Purchase the Forbidden Cliffs Tee on Ravelry HERE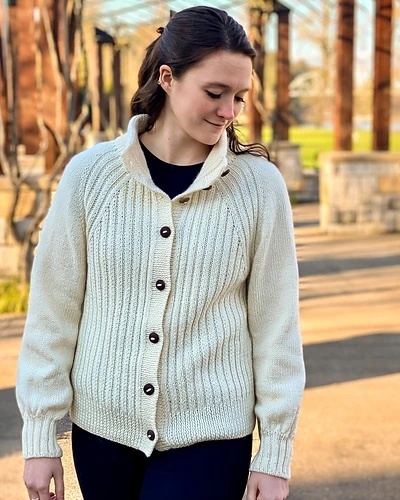 Santiam Canyon Jacket
Santiam Canyon is a jacket-style cardigan featuring wide ribbing for overall texture and angled details at the raglan seams. Construction is seamless and top-down, so you can try it on as you go and get the exact fit and length you want. And it's an easy stitch pattern that requires no charts - just an enjoyable knit.  A stunning and comfortable sweater to wear!
The double collar can be worn buttoned or open, and the body profile is a slight A-line for a flattering fit. Yoke construction with raglan sleeves, the body is worked in wide ribbing which is blocked open. The raglan details extend into the stockinette sleeves and on into the deep ribbed cuffs that can be rolled up if you want.
Kay also designed a pullover version of the Santiam Canyon Jacket.
Purchase Cumbria HERE
The Santiam Canyon Jacket pattern is available HERE