COVID-19 Status
"If there ever comes a day when we can't be together,
keep me in your heart, I'll stay there forever."
Winnie the Pooh
COVID-19 Status (Updated January 15, 2023)
We're Open For Business!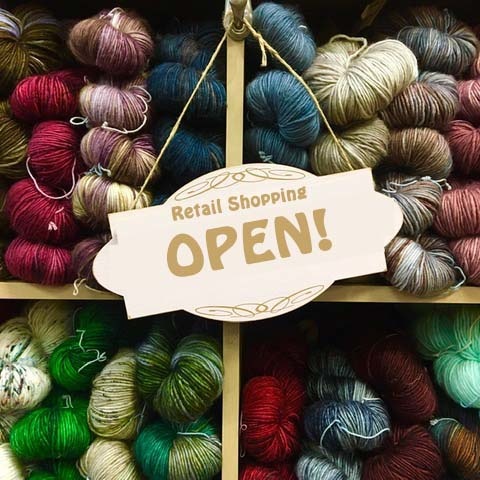 For Yarn's Sake remains open for in-store shopping, with some limitations.
Here are the steps we're taking to promote continued health and safety for all:
Face masks snuggly covering both your nose and mouth are greatly appreciated while in our shop. The CDC recommends N95, KN95, or KN94 masks to best protect against the Omicron variant.  Face shields, bandanas, or gators are not approptiate substitutes for face masks.
If you are not feeling well, or have any symptoms of illness, PLEASE visit us at another time when you're healthy.
Face masks are required for in-person instruction.
Social distancing is so important.  Please remember to maintain at least 6 feet between yourself and other shoppers and staff.  We've installed reminders throughout the store to keep us all on our toes.
Let's not dilly-dally; please limit your time in the shop to what's needed to find and purchase your fiber goodies.  Please make your selections as expeditiously as possible so that exposure to others is minimized, and those patiently waiting can come in to shop.
While we love to see all of you, this is still not the time for gathering. For the well-being and comfort of our customers and staff, we are not allowing private groups to use our space for crafting get-togethers.  Our weekly Knit Chat night is suspended until Spring 2023.
Please minimize touching and handling products.  I know - it's yarn after all.
While we're happy to wind your yarn, we ask that you either wait in your car, or leave it and arrange to pick it up at a later time via our curbside pick-up service.
We do not have a public restroom in the store, so please plan ahead.  Apologies - our employee restroom is a single space, and we just don't have the staff to properly clean and sanitize after each use.
Curbside pick-up is always available.  Simply place your order and select 'Curbside pick-up'; we'll let you know when its ready to gather up and upon arrival, place your goodies on our contact-free table outside the front door.
Thank you so much for helping us remain safe and keeping our doors open to all makers.  Together, we can truly make a difference.