Knitting socks has long been a love mine. As we head into spring and summer - arguably the very best time of year to knit these very portable projects - I'll offer up some of the wisdom imparted to me over the past 20+ years of knitting socks. Each blog post, a new tidbit to (perhaps) pull you into my passion for these fun little accessories. Let's get started!
Other than the obligatory baby blanket that often starts a new knitter's making journey, my first serious project was a pair of socks.  Cuff down, knit with Tosh Sock in the colorway "Pop Rocks."  Amazing that I can still remember that, huh?  I bought the yarn at a shop in Tigard that's long since gone, All About Yarn.  The lovely woman working offered me an alternative to DPNs - a little booklet callet 'The Magic Loop.'  I taught myself, and soon discovered my knitting passion - socks.  I actually still have that first pair - I look at them on occasion and marvel at how far I've come.  A humorous reminder of mistakes made (without a mentor, I wasn't aware to stop decreasing the toe stitches, ending up with a single stitch, very pointy toe), and techniques to make more perfect socks (my first pair has lovely round gaps at the gussets).  And a testimony to the things I've learned / come to love over my years of sock knitting.
Toe Up or Cuff Down?  Hmm.  I actually like both methods equally.  Toes are pretty fun to knit, watching them evolve with each round.  And you can try them on as you go.  But there are so many fun ways to make cuffs.  I love starting one, then going back and tweaking the design in different ways.  One of my absolute favorite sock designers, Helen Stewart (aka Curious Handmade) only writes patterns for cuff down socks.  Some people prefer knitting their socks toe up so as to avoid the Kitchener Stitch.  I really don't mind that one; I think the technique has gotten a bad rap over the years.  So long as I have a quiet, interruption free space to start and finish the graft, it's all good.  I also enjoy picking up stitches along the heel flap and watching a flat piece literally turn into a curvy heel.  I know some folks have a real preference.  Me, I find a pattern that I like, then go with whichever way it takes me - up or down.
There you have it.  A wee bit of my sock knitting wisdom.  While I've branched out over the years to mystery shawls, sweaters, colorwork, and most recently gnomes, my heart belongs to socks.  Single skein, portable projects that always make me smile.  Tune in to my next post for yet another nugget, from my knitting bag of tricks to yours.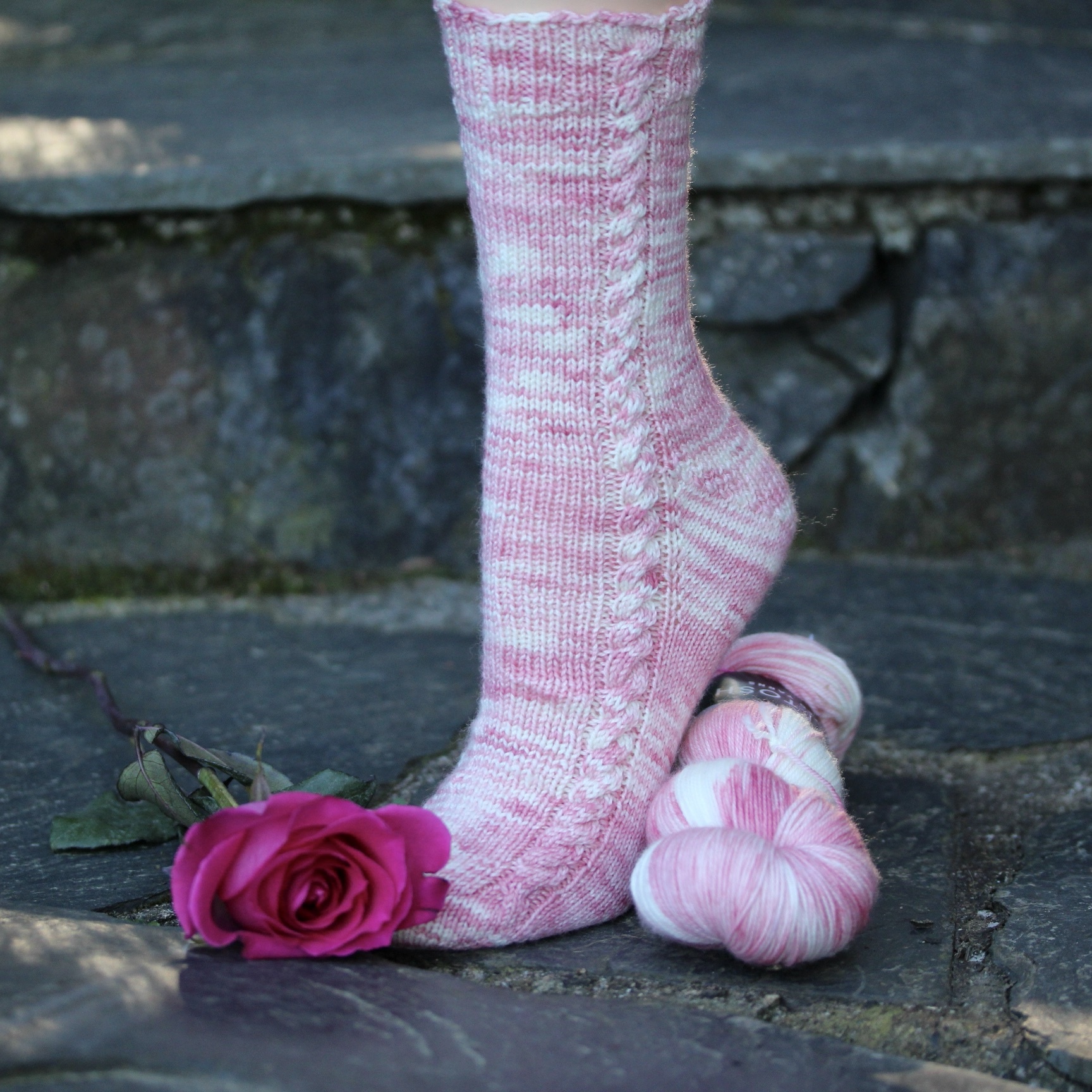 Simple Beginnings
Forever Pink Designs
(my very first sock design, available on Ravelry)