addi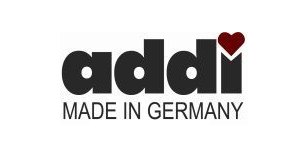 Nestled in the quaint hillside town of Altena, Germany, addi® needles and crochet hooks are still handcrafted by the same family who began manufacturing needlework tools in 1829. While technology and machinery have advanced greatly over the years, it still requires 25 production steps, and a considerable amount of hands-on fabrication, to create the high-quality, German-engineered needles which have set the world standard for circular knitting.
In a world where manufacturing is moving to regions with lower production costs and environmental requirements, addi® is now the sole full-line European needle producer, proudly crafting their products under strict environmental regulations, while also paying their employees a fair wage.

addi® Clicks
Click Tips

Click Cords

The addi Click system provides 8 to 10 different sizes of addi tips as well as interchangeable cord lengths for the perfect set of knitting needles!
Add an extra set of tips to your addi Turbo®, Lace, and Long Tip Lace Click kits!

Lace Click, Short Tip Cords
16", 20", 24", 32", and 40" cords as well as connectors for the addi® Lace Clicks.

Lace Click, Turbo & Long Tip Cords
24", 32", 40", 47", and 60" cords as well as connectors for the Addi Turbo® Clicks and the addi® Long Tip Lace Clicks.
SOS Click Cords

24", 32", 40", and 60" SOS cords for the addi Turbo® Clicks, addi® Bamboo Clicks, and the addi® Long Tip Lace Clicks.
addi® Needles and Crochet Hooks
Double Points

Circular

Aluminum
Addi® Steel double pointed needles, in 8" length, are available in lace sizes for effortless lace and sock knitting.
FlexiFlips
Made specifically for North America, these specially designed 21cm circulars (3.5" tips with 1" cord) rest comfortably in the hand, and act as flexible double pointed needles.
FlipStix
Made from high-grade aluminum, these colorful ultra-lightweight wonders feature both a Turbo and a Lace tips.

EasyKnit
These 10" circular needles feature one short tip and one long tip to help you comfortably grasp the needle while knitting!
Lace
Created for precise knitting and ideal for lace, sock and all-around knitting!
Sock Rockets & Turbo Rockets
these extra-pointy tips feature the same great plating that gives the classic addi Turbo® its incomparable zip.
Turbo
Addi Turbo®, the circular needle that started it all, and the true choice of professional knitters worldwide!
Crochet Hooks
Comfort Grip
The famous Addi® Comfort Grip hook features color-coded handles for ease of use.
Swing
A favorite among crochet hooks, the ergonomic addi® Swing Hooks have just a hint of flexibility.

Steel with cap
addi® steel crochet hook with a handy cap that doubles as a handle.
Colours Set
9 addi® Color-coded crochet hooks, in an easy-to-store travel case.