A hesitant convert at first, my knitting journey is now heavily sprinkled with all sorts of projects involving strands of color. Let me share just a few nuggets I've learned along the way.
Like knitting cables, I'm embarrassed to admit that for the longest time, I avoided knitting anything involving stranded colorwork.  It looks so difficult, only a master knitter could do that, right?  Silly me.  Just as I learned the first time I used that curvy needle to hold a stitch while knitting the subsequent one first, colorwork is easy peasy.  OK, maybe a few more things to know than with cables.  But practice, practice, practice (and a lesson or two from an expert) really does make closer to perfect.  Here's a few things I've learned along the way.
Loosy, goosy loops are a good thing.  My very first stranded project was a hat - Selbu Modern designed by Kate Gagnon Osborn.  A friend suggested it as a good first dive into colorwork, as it only uses two colors, and had a fairly easy to memorize pattern.  She was right.  But what she didn't tell me (at first) was the importance of not pulling your floats tight.  Oops!  When just knitting stockinette, I prized myself in having consistent, even tension.  The thought of having those sloppy, loopy strands of yarn dangling down on the wrong side seemed weird.  That would look aweful when finished, right?  Oh, soooo wrong.  After a dozen or so rounds, I was baffled by how my hat was puckering.  I didn't want searsucker, but pretty, smooth fabric that showed of the lovely motifs.  After giving my hat a look, my friend suggested I take it out and try keeping my floats more 'loopy.'  The result, a lovely hat - a great first go at colorwork.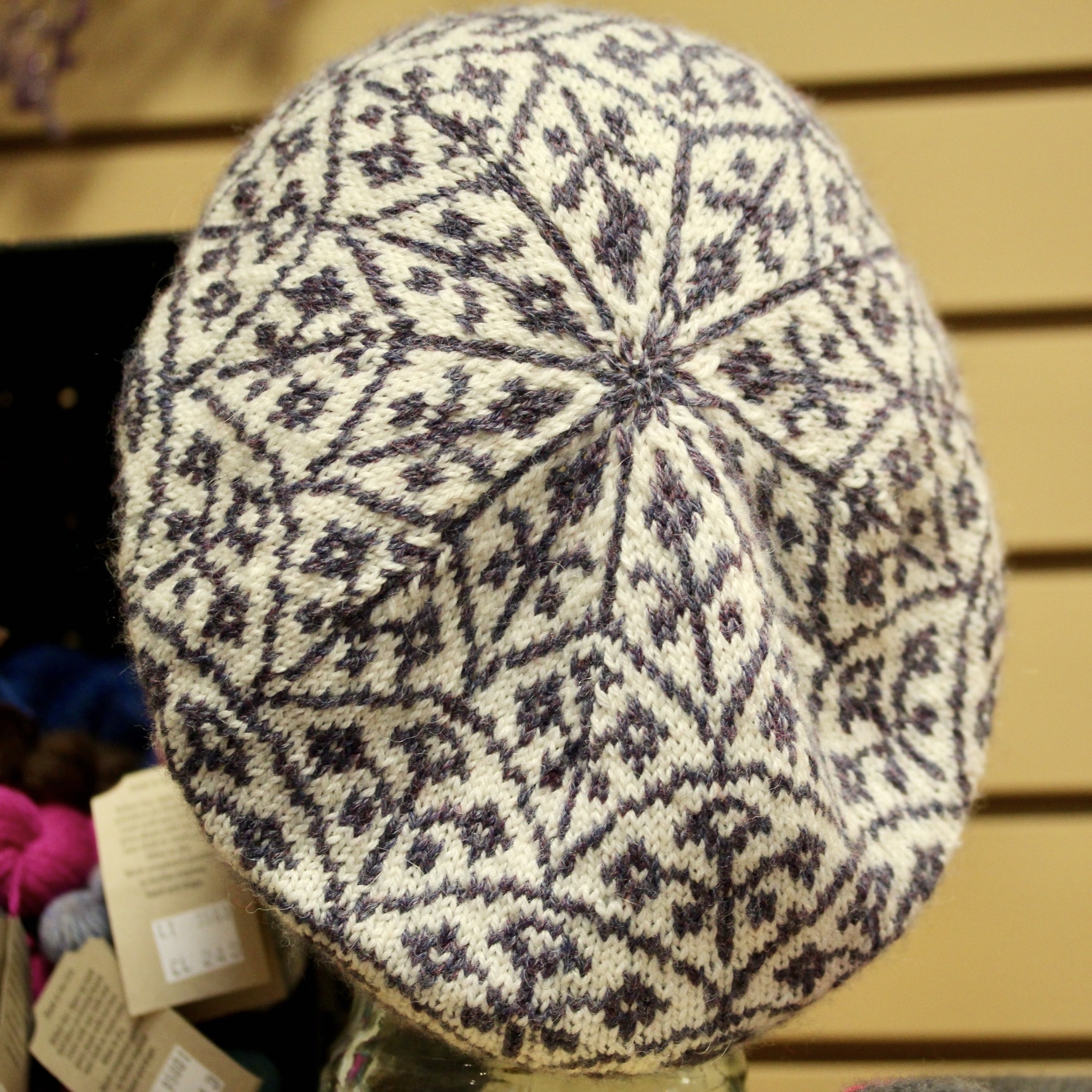 My first colorwork project - the Selbu Modern Hat
Since then, I've made quite a few hats, cowls, and even a sweater or two.  All with perfectly sloppy floats.  And no puckers.  Of particular pride were my Fair Isle Sampler Hat (Mary Jane Mucklestone) - a long stocking hat using 14 (yes 14) different colors of Shetland wool, an 'Elsa' sweater for my granddaughter that required steeking, a yoked cardigan, Epistrophy (Kate Davies), again requiring a steek, and most recently, a pair of mittens (Skeindeer Knits) with holiday motifs.  And I can hardly stand the wait each spring for the release of the annual Wool Week Hat, never being able to choose just one color combo, but several.  Since that first hat nearly 10 years ago, I'm proud to say I've mastered the float!
The right yarn makes all the difference.  We all love those lovely, soft, hand-dyed superwash yarns. They feel so good as the string runs through your fingers.  But I quickly learned that there's a downside, too.  Especially if stranded colorwork is involved.  With 'soft' comes 'slippery.' As in "my floats start out loose but slip back to tight with every stitch" slippery.  Hence, the beauty of grabby, scratchy, crinkly non-superwash yarn.  One of my faves if Jamieson of Shetland's Spindrift.  No slippage there.  And often, enough bloom to fill in the gaps around each stitch, creating a more fabric-like piece.  Love it!  An instructor at a workshop once shared another advantage non-superwash wool brings to colorwork - it lightly felts with wear.  Imagine the inside of a mitten.  Over time as you wear it, the warmth, friction, and moisture cause the ends and floats to felt, creating a cohesive fabric.  Have you ever worried about catching your fingertips or rings on the floats as you put your hand in a glove or mitten.  There you go!  The magic of wool's wool.
Inside Out.  Here's my last, and most recently learned trick. Even though I came to love stranded colorwork over time, I still avoided projects with small circumferences, like socks and gloves.  No matter how hard I tried, I just couldn't get the floats to work when transitioning from one double-point needle to the other. The seams looked messy and wonky and just plain amateurish.  Then, while knitting one of my beloved gnomes, gnome designer extraordinaire Sarah Schira shared a tip - turn your work inside out so the floats have to travel around the outside of the circle rather than on the inside.  It was like magic!  I couldn't try knitting colorwork socks and mittens fast enough.  If you haven't given this technique a try, I highly recommend it. You'll be amazed.
There you go - brief history of my coming of age with stranded colorwork.  A whole lot of fun, to be sure.  The biggest lesson to be learned - be the Little Engine that could.  'I think I can, I think I can, . . ."  You can do it!