Our craft is amazing! I thought my bag of knitting tricks was pretty full. But along came a new, spectacular skill that has made my creations even more special. Knitting inside out!
Update (6/3/2022)
The Mystery is over, and I can now reveal my newest adorable little gnome, Gnocchi.  Or more accurately, Gnocchi 1 and Gnocchi 2.  You see, I couldn't make my mind up about which colors to use, so I made two.  Of course - what else would you expect from me.  What a fun knit!  I cannot wait to do another.  Hopefully, Sarah will do a holiday MKAL like last year.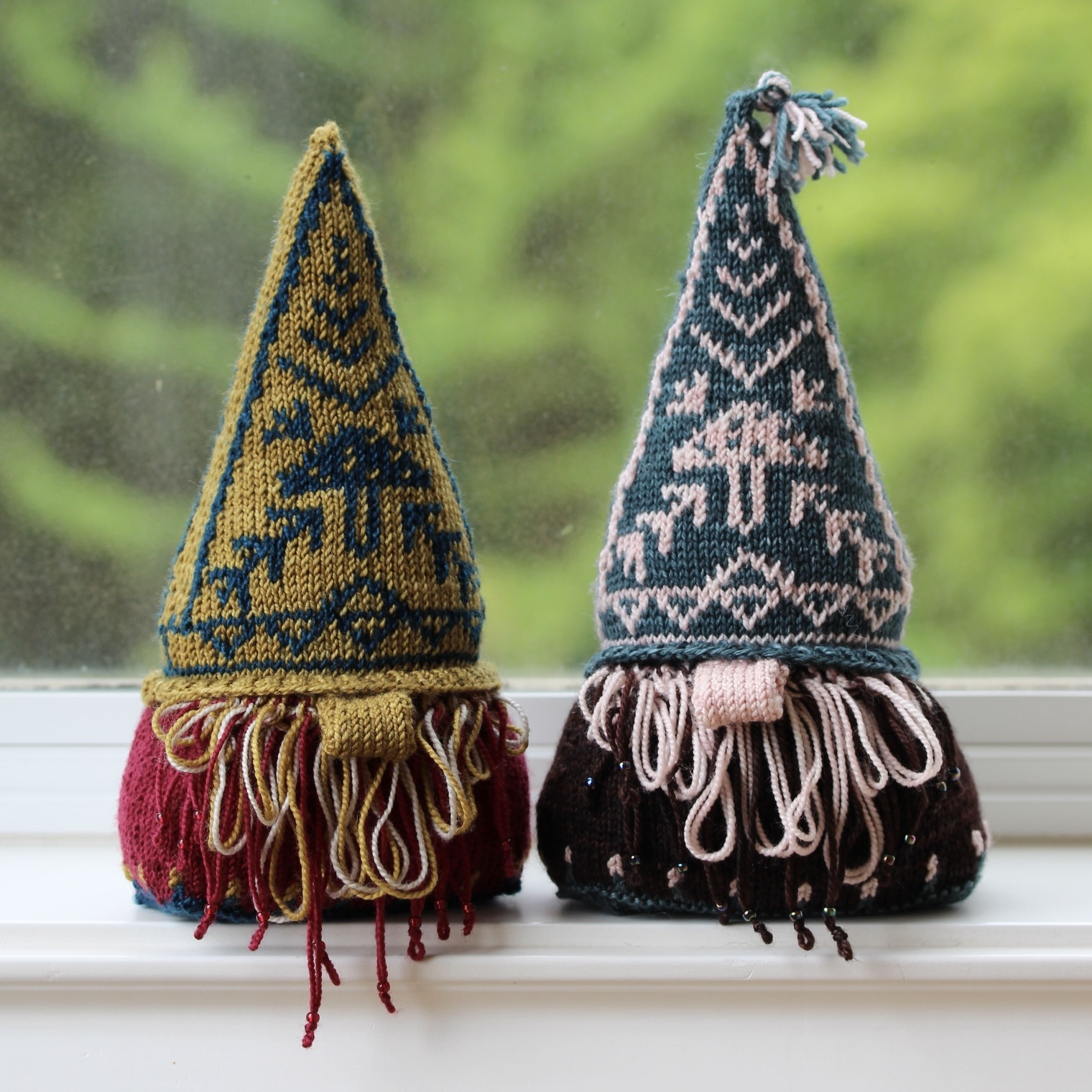 5/23/2022
I love knitting socks.  And I also love stranded colorwork.  But until now, I didn't love those two things together.  Pretty much any project that involved both a small circumference and colorwork.  Making the floats work when transitioning from needle to needle never seemed to work out.  Either they were messy and too loose, or they puckered from being pulled to short.  I've tried both the magic loop method and double points, wood versus metal needles - nothing seemed to work and my transitions looked ugly.  No fun.
Until recently!  On May 13th, Imagined Landscapes launched her newest Gnome Mystery Knit-Along, 'Make Gnome Mistake.'  It's still unfolding, so sorry, but no spoilers today.  I share that it includes some lovely stranded colorwork.  But alas, that also means working through my maker's weakness - knitting gnomes involves some very small circumferences.  Hooray for designer Sarah and her YouTube tutorials.  Clue 1 included "Float Notes," which had a discussion about knitting inside out.  What?  That sounds even more difficult than making my strands look pretty.  But heck, one of the things I adore about a good mystery is the chance to learn new things.  So I plugged in my earbuds and linked to Sarah's 2-Color knitting tips tutorial.  I was pleasantly pleased to discover that knitting inside out isn't that complicated after all.  Just flip your work and knit on the back needle rather than the front.  Nothing weird like trying to pearl and carry the floats in front - you're still working on the right side; it's just in a different place.  The idea is that by carrying the floats on the outer curve of your work, it forces them to stretch out more.  Ingenious!  I gave it a go, and easy peasy lemon squeezy!  The only wonky part was when you get started - my gnome kept trying to turn itself back to right-side out until there was a substantial amount of fabric to hold it in place.  Best of all, the transitions look fantastic!
So there it is - an old knitter can learn new tricks.  The results were so amazing, I can't wait to try it on socks.  In fact, I dug through my gigantic pile of UFOs (gigantic is an understatement), pulled out several partially knit socks and mittens that involve colorwork, and am reworking the stranded portions.  So far, so good.
And by the way, the mystery gnome is a gas.  If you're not knitting one, you should be.  Details in my next post.  Promise!