My original knitting passion - making socks. And spring and summer is the very best time of year to knit these very portable projects. I'm delighted to offer up some of the wisdom imparted to me over the past 20+ years of knitting socks, sharing a new tidbit to (perhaps) pull you into my passion for these fun little accessories. Here's yet another insight into why there's nothing quite like knitting socks - at least for me.
My Favorite Designs.  Ooooo, there are so many.  But I'd have to say that Curious Handmade (Helen Stewart) is by far my fave.  I love the way Helen writes out every round (and for every size), and notes the percentage completed so you can gauge where you are as you knit.  I must admit, at first glance, a 30 page sock pattern was a tad bit intimidating.  But once I read on and understood her very unique style of writing patterns (the Curious Handmade Percentage Checklist Pattern™ format), I fell in love with her designs.  Usually very simple, with an easy to memorize stitch pattern.  Love them!
And I wait with anticipation each year for her annual Handmade Sock Society to be released.  6 mystery sock designs released over six months, always around a common theme.  Season one celebrated the rich life of the earth beneath our feet with botanical themed designs.  The second took us on a relaxing trip to the seaside. Followed next by an exploration of the atmosphere and the stories of those who've found enlightenment and meaning there.  With the Fourth collection of socks came a celebration of life lived close to the landscape, whether it's just a few days' escape from the city or a family tradition stretching back generations. All phenomenal designs, both beautiful, inspiring, and fun to knit.  And all available on Ravelry - check them out!
So imagine my delight when the The Handmade Sock Society Season 5 was released just a few weeks ago.  Yay!  This year takes us on an exploration of natural wonders and a celebration of our natural curiosity. Here's Helen's prelude to the season:
"We live in a world that's bursting at the seams with small mysteries and marvels. Glittering crystals and smooth pebbles. Fossils and feathers and the cast-off shells of strange creatures. Ancient coins from lost civilizations and handmade trinkets from far-off countries. The urge to collect and preserve these things has probably always been part of being human, but a few hundred years ago, it became an obsession. Cabinets of Curiosity were all the rage in the mid-sixteenth century, and they're still completely irresistible to those of us with creative minds. A miniature museum, curated by your own fascination. Rare artifacts. Precious specimens. A peculiar blend of science, art, and magic. What could be more inspiring?"  Helen Stewart

The first sock - Shadow Box Socks - was released at the end of April, just in time for my birthday.  Double Yay!  And like all the others, is delightful.  I have two socks on needles (I always do both socks at the same time on two separate needles to avoid 2nd Sock Syndrome - the next blog topic), and am having a blast.  Inspired by Helen, I too am knitting all six sock designs with a central theme - pink.  Oh come on, are you really surprised?!  For this first one, I'm using Pixie Plied 'French Court.'  Lorajean (aka Knitted Wit) delivered our last batch of yarn, and this one caught my eye - a dusty pink version of this fabulous color.  The sparkle is the perfect touch for this lovely yet moody pink sock.  And of course, I have an entire basket filled with pink possibilities for the next five releases.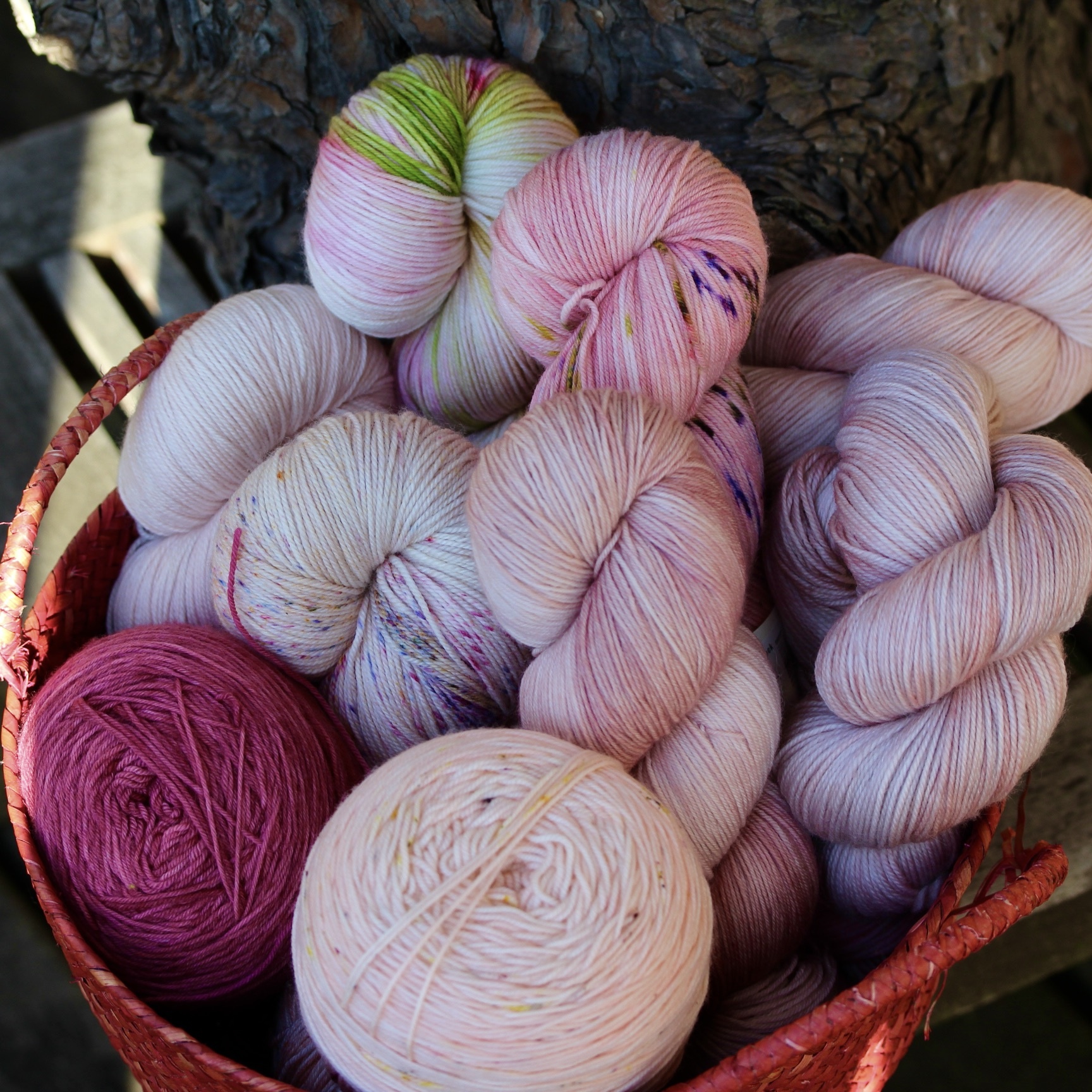 There you have it - my favorite sock designer.  If you haven't given Helen's sock designs a whirl, you're definitely missing out.  Still time to join Season 5 of The Handmade Sock Society.
A few of my faves over the years.
Season 1 - Red Robin Socks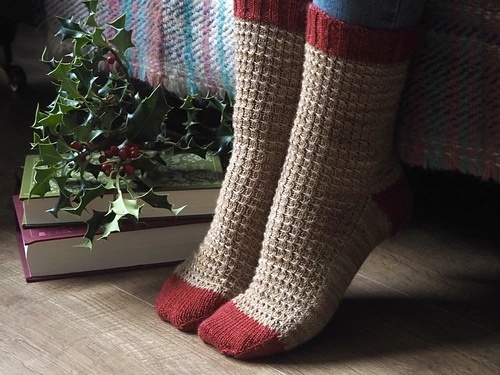 Season 2 - Shell Cottage Socks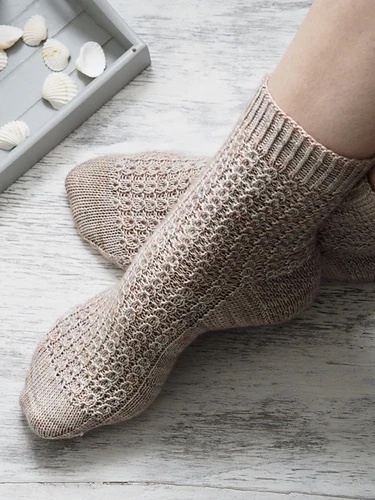 Season 3 - Luminary Socks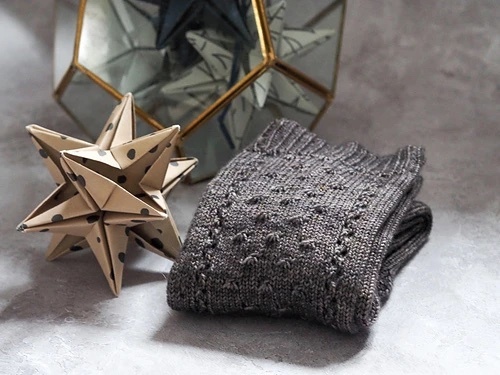 Season 4 - Picnic Blanket Socks (my very fave)