This past holiday season, I wrapped upwards of 100 Christmas presents, baked cookies and spiced nuts, decorated a 12-foot Christmas tree, hung stockings, went to the Nutcracker with my granddaughters, and did all the other things that are Christmas. Amidst the oh-so-joyous-but exhausting holiday rituals, I also managed to get some making done. Ho! Ho! Ho!
Oh, the things we do in the name of the holidays.  Years (and years) ago, I had this crazy idea that I had to do it all.  You know, bake all of the kinds of cookies you think everyone wants, only to toss them on January 1.  Or make sure every ornament is in its exactly perfect place on the tree.  I could go on.  But nope.  As life marches on, I've come to the wonderful realization that it's not about doing all the stuff, but more about doing a few of the things that bring joy to the occasion.  This year, I came darn close to that one.  By the time the ice storm hit, my packages were all wrapped, the fridge was stocked with everything for a Christmas Day feast, and I actually had time on my hands.  Woohoo!  What to do with that time?  Well knit, of course.  Here's a few of the things my needles churned out this past December.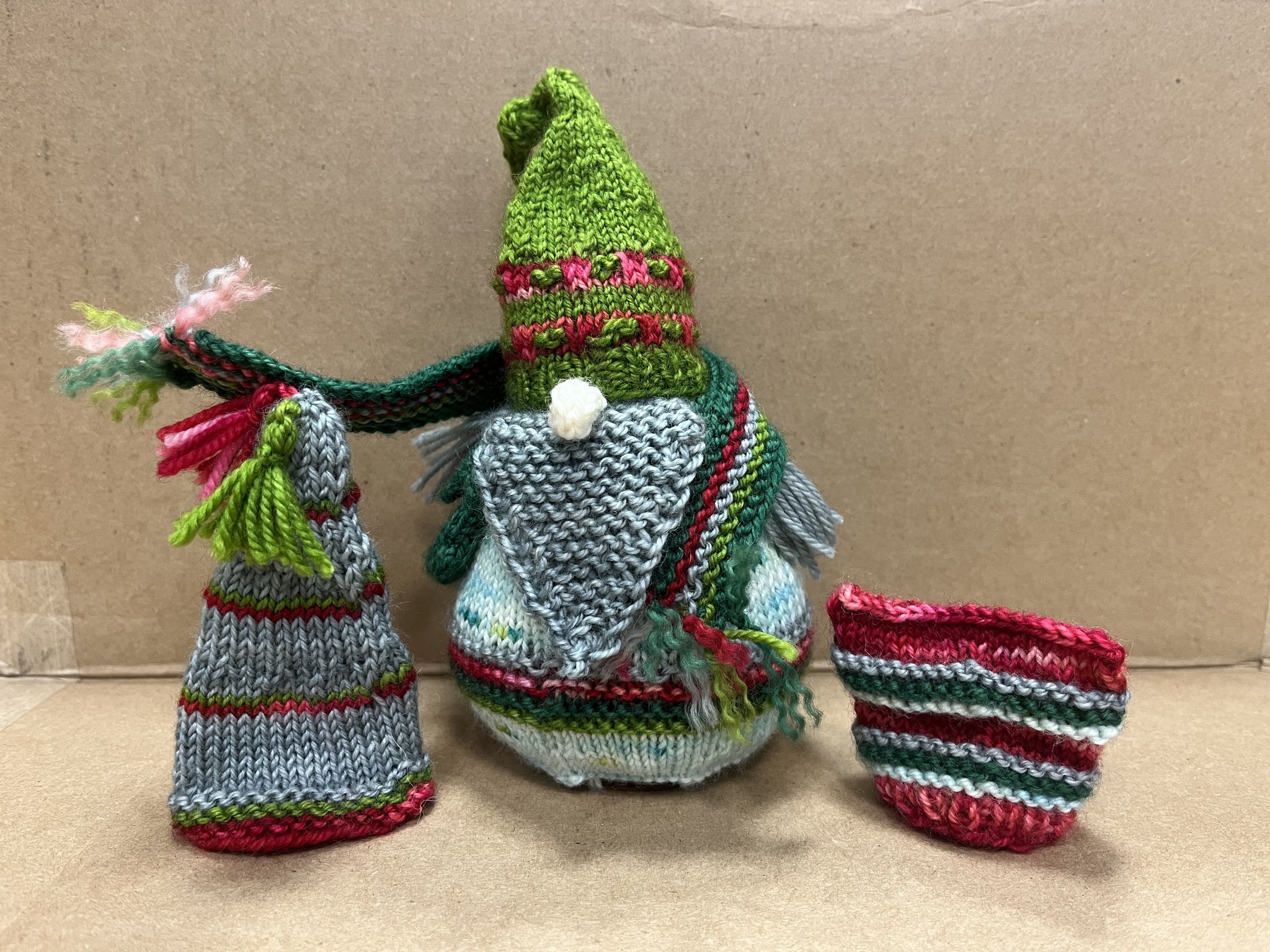 Gnome-Made Gifts.  It's no secret - I love making these little cuties.  And I adore a good mystery knit.  So put the two together, and I'm sold.  On December 1, I opened my Ravelry account for Clue 1 of 24, and got knitting.  This year's holiday gnome is Gnovi, and she's quite the Diva.  With 3 different hats, a scarf, and a purse, her mornings take a little time, deciding which outfit fits the day.  She's perched on the counter, so don't forget to say 'howdy' when you're buying yarn.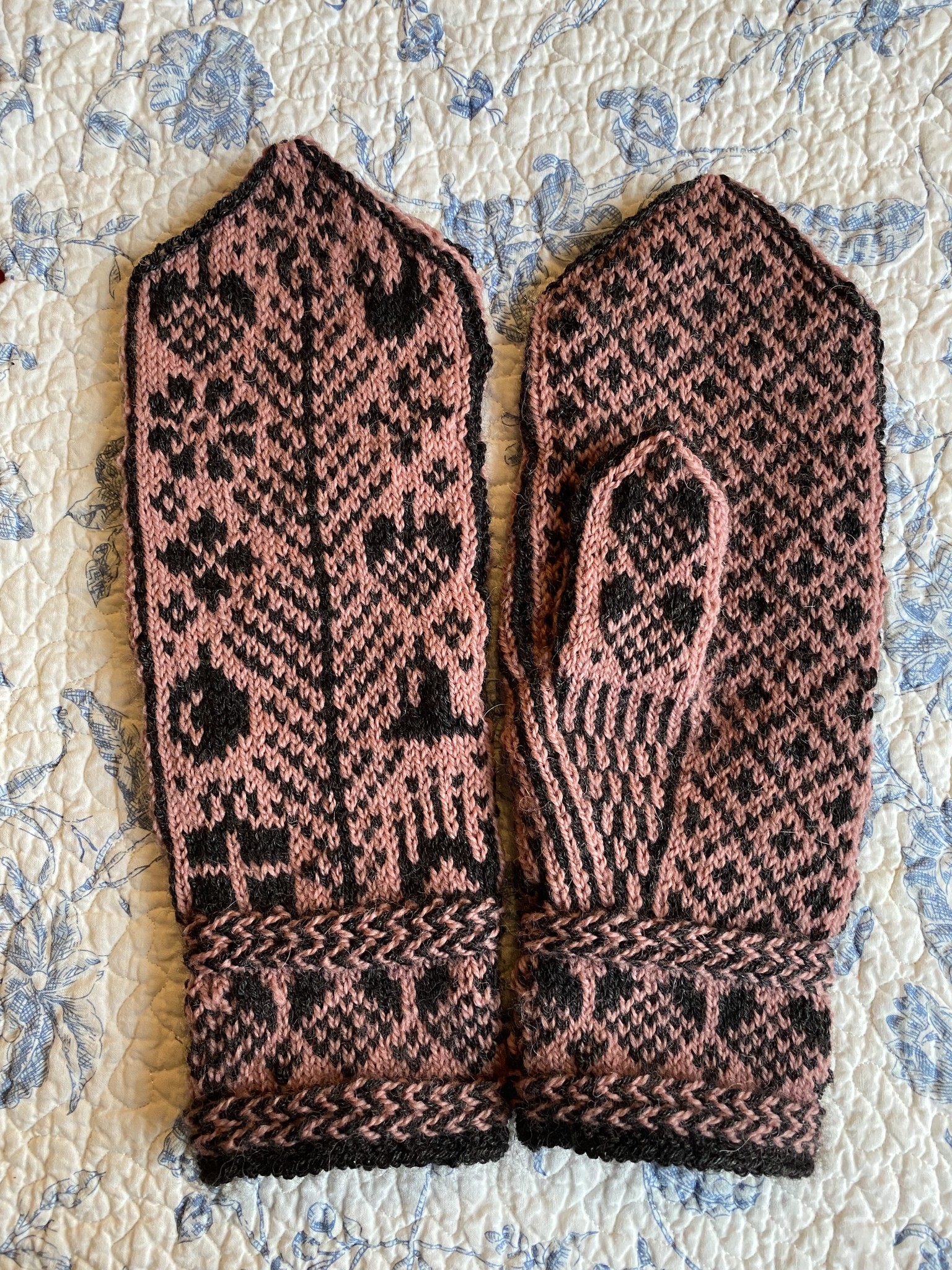 Festive Mittens MKAL.  On December 2nd, as I checked my email for my second gnome instruction, up popped a message from Skeindeer Knits - "Festive Mittens MKAL."  Whaaaaat?!  Can I do two mystery alongs at the same time?  Of course I can.  After a bumpy start (I chose two colors that were pretty together but didn't have enough contrast to show the colorwork motifs, so had to start over), I cruised through the Latvian braided cuffs, turned my work inside out so the floats didn't pucker (what a fabulous technique, by the way), and knit my way through the month of charts.  Even managed to stay on top of things, knitting two mittens.  On Christmas Eve, I turned my mittens right side out, and tada!  Two beautiful Christmas trees appeared in the design, with a package underneath, ornaments on each branch, and a star on top.  Will definitely be watching for this one again next year.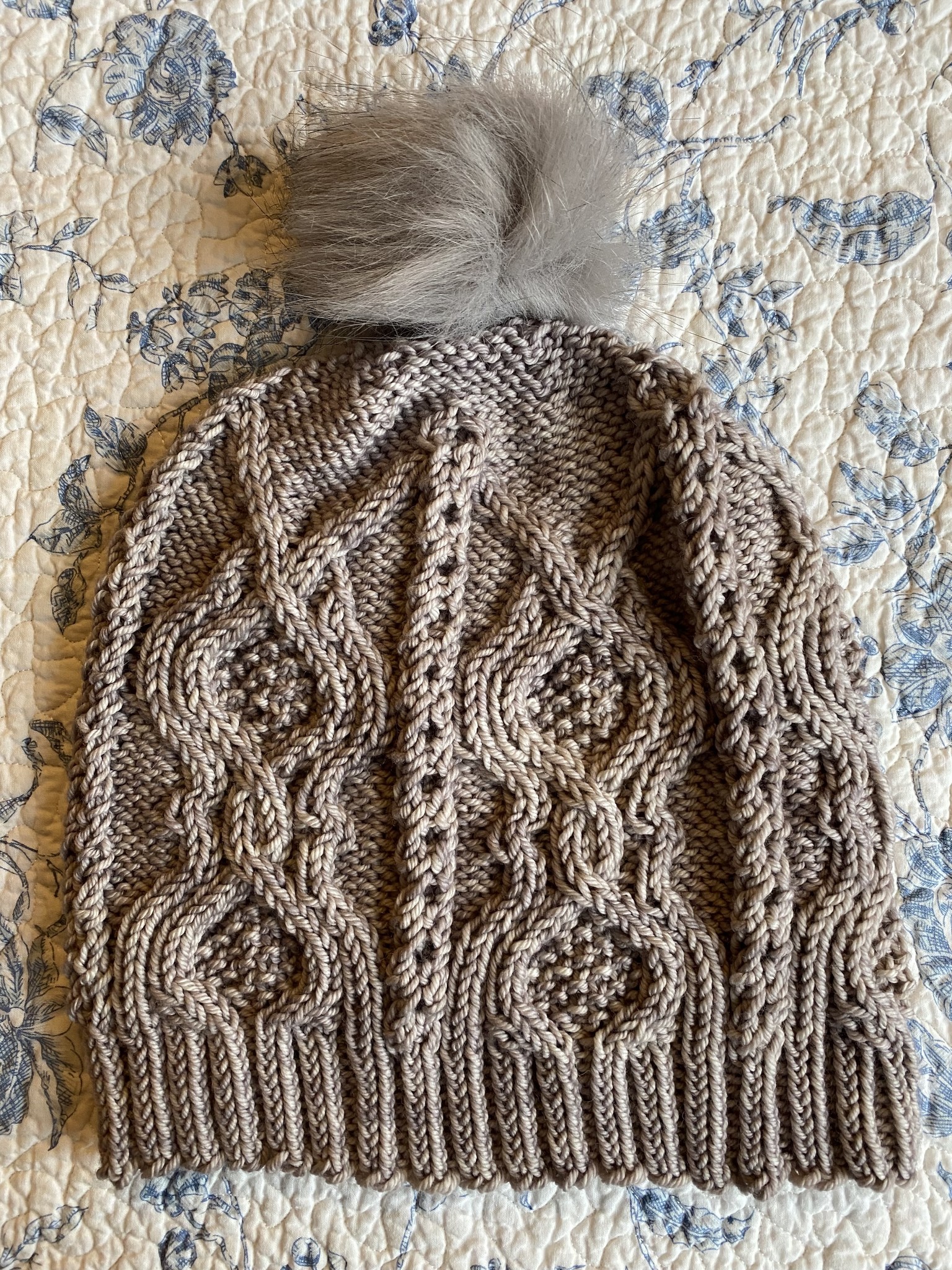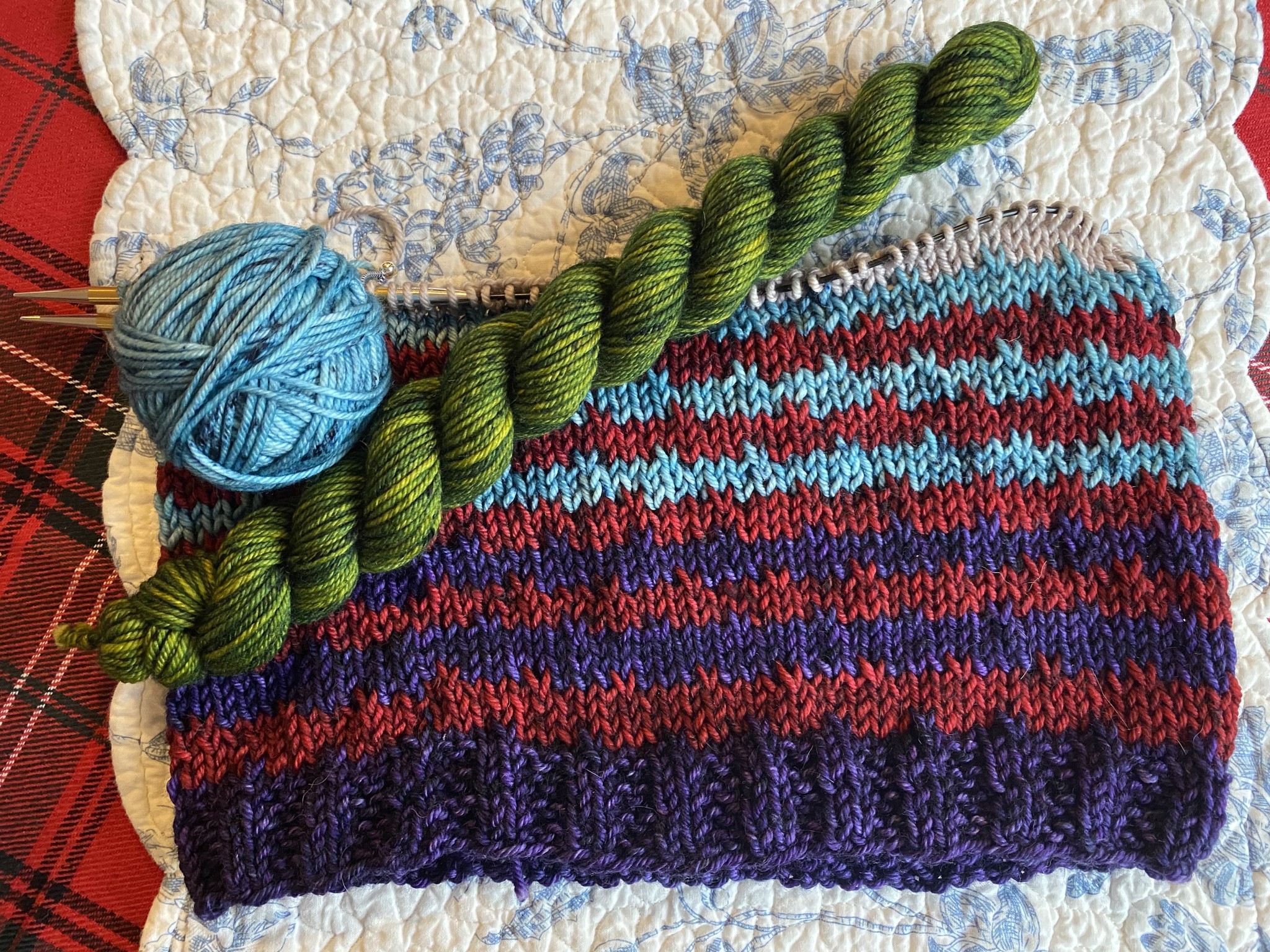 A 12-Day Hat & Cowl.  A gnome and pair of mittens complete, there was no stopping me.  On Christmas Day, I opened my first 12 Days of Madelinetosh mini box to find 4 patterns - two knit and two crochet.  The knit patterns included a gorgeous cabled hat and colorful coordinating cowl.  Day two revealed a full skein of a unique new MadTosh color of Vintage.  Off to the races!  After 12 days, I had myself a lovely new hat and an almost finished cowl, as well as lots of fun little makers goodies.
A pretty productive holiday season.  Pat on the back for me!  I like this pattern of life - a little bit of stuff that needs to be done (like taking down all the Christmas stuff - so sad), and a little time spent paying with all my pretty string.  2023 is looking good!